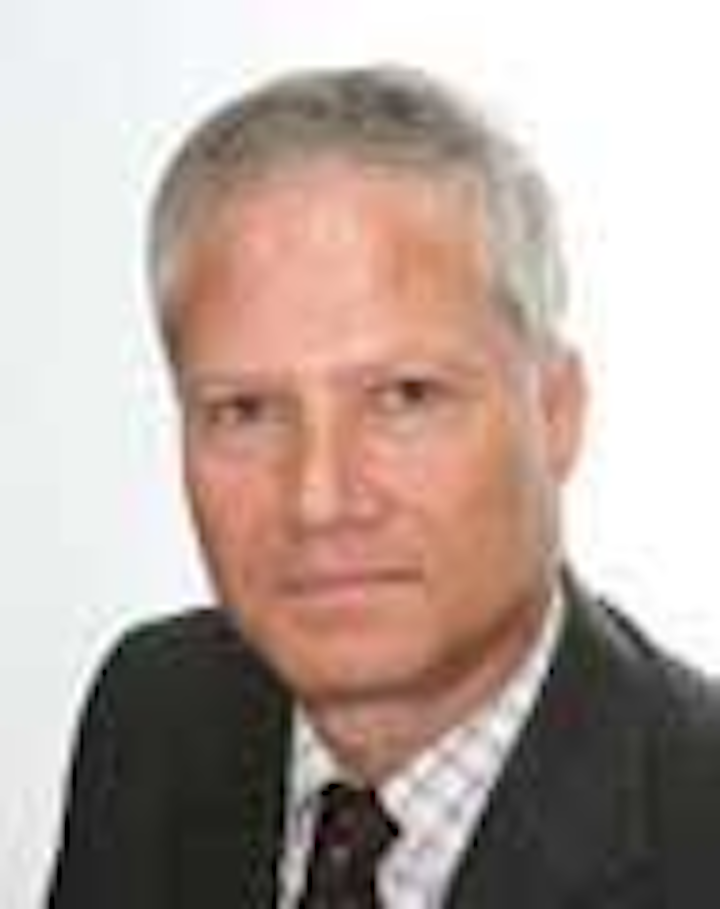 | | | |
| --- | --- | --- |
| | | Jeremy Beckman |
Two exploration wells have opened potential new oil and gas plays in the central and southern North Sea.
Statoil and partner Jersey Oil and Gas have identified late-Jurassic prospectivity in UK license P2170 in the Outer Moray Firth, 100 km (62 mi) northeast of Aberdeen. Their initial well this summer on the Verbier structure, drilled by the semisubmersibleTransocean Spitsbergen, encountered water-bearing sands; however, they then gambled on an updip side track which found oil in good-quality sands, with initial feedback suggesting recoverable resources in the range of 25-130 MMbbl. The partners will consider appraisal drilling to firm up volumes and will also re-examine other prospects in the license. These could include Cortina, a similar-size prospect that Jersey had worked up prior to Statoil farming in as license operator last year.
Hansa Hydrocarbons has proven gas in the Ruby prospect in basal Rotliegend sandstones on the GEMs license in the Dutch North Sea, close to the border with Germany. Results from the initial well and the downdip side track that followed, drilled by the Paragon jackupProspector-1 in 28 m (92 ft) of water, exceeded expectations, with a drillstem test flowing up to 53 MMcf/d. Orange-Nassau Energie (ONE) operated both wells on behalf of the N05 and Geldsackplate licensees. The program has clarified the extent of the basal Rotliegend sands in the offshore basin, said Hansa CEO John Martin. Ruby extends across four licenses, and more drilling will likely follow on other nearby structures.
Tulip aims for debut as gas producer
Tulip Oil is close to initiating its first North Sea project after raising $103 million via a bond placement. The company plans to allocate most of the proceeds to development of the shallow-water Q07A gas field which it discovered in 2015, 20 km (12.4 mi) from the central Dutch coast. This summer the Ministry of Economic Affairs awarded the company a 60% operating interest in a production license for the surrounding Q7/Q10A blocks, which are thought to hold other promising prospects, in partnership with state-owned utility EBN.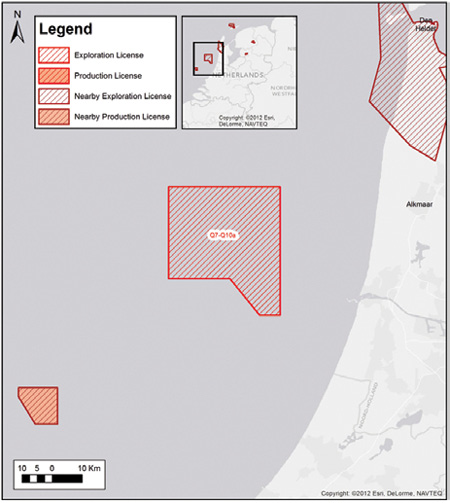 The Q7a/Q10a block. (Courtesy Tulip Oil)
Tulip claimed the field could become the largest offshore producing asset in the Dutch sector, offsetting declines in the country's other major gas fields. It is reportedly looking to produce 3 MMcm/d through the Q07a facilities.
Trio driving Norwegian CO
2

containment

Norske Shell and Total have joined Statoil on a project to further develop subsurface storage of carbon dioxide (CO2) on the Norwegian continental shelf. Gassnova, which manages the state's interest in the CO2 Technology Center in Mongstad, had awarded Statoil the contract for the project's first phase in June, the target being to develop a storage capacity of around 1.5 MM metric tons/yr (1.65 MM tons). Statoil continues to lead the program, with the other two majors providing personnel and financial support.

The project involves storing CO2 captured from industrial facilities in eastern Norway and subsequently delivered by ship to a terminal on the west coast. There the CO2will be offloaded for temporary storage in tanks before heading through a subsea pipeline to injection wells east of the giant Troll field in the northern Norwegian North Sea.

Independent of this development, Statoil announced that it had already achieved an in-house target set two years ago to cut CO2emissions from its Norwegian operations by 2020. In 2008, the Norwegian petroleum industry called for cuts across the Norwegian shelf of 1 MM metric tons/yr (1.1 MM tons) by 2020, of which Statoil's share was 800,000 metric tons (881,849 tons). After fulfilling its obligation five years ahead of schedule in 2015, the company then increased its own target by 50% to 1.2 MM metric tons/yr (1.32 MM tons). It is now seeking to reduce its emissions by a further 2 MM metric tons/yr (2.2 MM tons) by 2030.

Measures already taken include modifications to two gas compressors at the Åsgard A platform, and installation of a new check valve at the Kristin field to reduce pressure drop in the inlet manifold (both in the Norwegian Sea); and installing new control systems for the two main power turbines at Oseberg South in the North Sea.
Statoil plans further boost for Troll
Statoil is also looking to increase gas production from Troll, and has awarded Aker Solutions a front-end engineering design (FEED) study for a new topsides module for the Troll A platform. This will receive and process gas from Troll West for onward export to the terminal at Kollsnes near Bergen. The project is part of Statoil's long-term program to extend production from Troll beyond 2050.
Norway's Petroleum Safety Authority has approved another life extension project at Aker BP's Tambar field in the southern Norwegian North Sea. The jackupMaersk Interceptor will drill two new wells, with gas-lift equipment installed in both new and existing wells, the gas drawn through an existing subsea pipeline between the Ula and Gyda platforms.
IOG limits upfront project gas payments
Independent Oil and Gas (IOG) has negotiated novel payment arrangements with various contractors to move two new hub developments forward in the UK's southern gas basin. Heerema Fabrication Group has a letter of intent (LoI) to provide up to four normally unmanned platforms for the Blythe and Vulcan Satellite hub projects, the scope ranging from FEED to engineering, procurement, construction, and installation (EPCI) of the facilities, assuming positive final investment decisions. IOG is seeking full deferment of 50% of the FEED costs and deferment of 50% of the EPCI costs until first gas, to help meet its funding requirements for the two projects.
Similar agreements are in place with Doris Engineering subsidiary Offshore Design Engineering, which has an LoI to provide technical and operational support through to first gas, and to then serve as the project's operations and maintenance service provider. Schlumberger has an LoI and a consultancy master services agreement to work jointly with IOG to complete field development and execution plans and to support the drilling and operational phases. In addition, IOG has discussed pre-payment options with potential buyers of the gas to facilitate development funding. IOG claims its commercial model aligns the incentives of all the project participants toward efficient delivery of the gas resources.