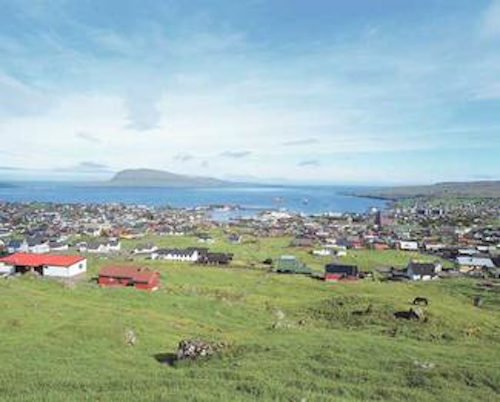 Jeremy Beckman
Editor, Europe
After a gap of nearly two years, drilling has resumed off The Faroes, a small group of islands midway between Scot-land and Iceland. Eni found only traces of hydrocarbons with the first well on License 002, in partnership with Faroese oil company Foroya Kolvetni. Up to four stacked, ind- ependent stratigraphic targets are being tested during the two-month campaign in 1,050 m of water.
A future success could have major implications not just for the partnership, but also for the North Atlantic Margin as a whole. It could lead to the creation of a new hub for oil and gas field developments either side of the Faroes/ UK median line.
Even though the first well failed to deliver, Foroya's parent company Faroe Petroleum sees bright prospects throughout this region. FP is a new independent oil company committed solely to the Atlantic Margin and recently registered on the UK's Alternative Investment Market. Its main shareholders include venture capital company 3i group and another UK independent, Dana Petroleum.
null
Last December, these two provided the £7 million required to fund Foroya's share of the current drilling campaign. Numerous institutional investors also participated in a recent £15-million fund-raising exercise.
FP has also agreed conditionally to acquire Eni's interests in licenses containing two substantial, undeveloped discoveries and numerous drillable structures west of Shetland. These are looking increasingly commercial, following BP's new investments in pipelines and platforms for its Clair and Magnus projects.
Drilling campaign
Foroya Kolvetni (FK) was formed in 1997 and registered in the Faroe Islands the following year. During 1998-2002, it received technical and commercial support from Dana in return for share options, which Dana exercised last December on the formation and financing of the new holding group Faroe Petroleum. FK is also the largest shareholder in the Atlantic Supply Base in the Faroe Islands, the sole company supporting drilling operations off the islands.
Anticipation built up in the mid-1990s, following BP's run of drilling successes west of Shetland. These led above all to the Foinaven and Schiehallion oil and gas discoveries, which were quickly brought onstream using FPSOs, with combined reserves estimated at 793 MMbbl and 304 bcf. Waters immediately west of these fields remained off-limits to exploration until the long-running Faroes/UK "White Zone" dispute was resolved in 1999. The following year, some of this acreage was included in the first Faroes offshore licensing round.
In August 2000, seven licenses of six or nine years' duration were awarded to five bidding groups. The six-year permits carried obligations for a total of eight wells, of which three were drilled in quick succession in 2001. Although the Statoil and BP-operated wells yielded only traces of hydrocarbons, the Amerada Hess-operated probe in License 001 intersected a 550-ft gross light oil and gas column. However, the discovery, named Marjun, also confounded the generally accepted geological models for this basin.
Eni and FK were jointly awarded License 002 (six years) and License 005 (nine years), both so-called "golden" blocks due to their proximity to Foinaven and Schiehallion.
They were due to spud their first well on 002 last summer, but were granted a year's grace by the Petroleum Ministry to re-assess their targets. This time was taken up reviewing selected data from wells on adjacent licenses and also analyzing new 3D seismic acquired in summer 2001.
These studies led to the identification of several prospects that appeared to be favorably positioned with regard to hydrocarbon charge from the diagnosed source rock. Four of these prospects, layered one above the other, are currently being probed by the two-year-old DP drillship Belford Dolphin, to a total depth of 4,250 m. The most prospective has been named Marimas. Prior to drilling, their collective hydrocarbon potential was estimated at 700 MM bbl recoverable. Each prospect is considered to hold potential for a commercial development.
Hopes were high, because Amerada made another discovery last year on its Cambo prospect in adjacent UK acreage. This appears to be a four-way dip-closed structure. According to Faroe Petroleum's Chief Executive Graham Stewart, "The reservoir formation appears to be relatively thin. But if you move off-structure, down-dip onto our area(on the geological map), we seem to have potential for much thicker reservoirs."
For a company FK's size, the $30-million well is expensive, Stewart admits, "although it could be justified in terms of the reserves, when you consider that a typical North Sea discovery would hold a maximum of only 100 MMbbl." Any resultant find will not be tested, to save costs, however the well is being logged while drilling. Concurrently, technical work on both licenses continues. This August, the partners were due to determine their next work phases, which could lead to drilling of further leads and prospects. The first well on License 005 – not a commitment well – could be drilled in late 2004 or early 2005.
Nominations are due this year for the second Faroes licensing round, which is scheduled for spring 2004. "Discussions have been held between oil companies and the Faroes' government about which areas could be most attractive for this round," Stewart says. "There were several blocks not awarded in the first round which we'd like to apply for. The Ministry of Petroleum is trying to encourage activity in the sub-basalt acreage, but this is less attractive due to difficulties associated with imaging."
According to Stewart, the islands' commercial terms as they stand are competitive, incurring between 27% and 54% tax on profits. Financing costs are also offsettable against tax, which is helpful for a company FK's size. Nor is there a potential clash of interests, as off northern Norway, since fishing is outside the deepwater exploration areas. "Some fish spawning grounds are of concern, but there is enough evidence that drilling activities won't impact fish stocks."
Gas no longer stranded?
Faroe Petroleum (FP) also plans to bid in future UK and Irish North Atlantic Margin licensing rounds, and to acquire further interests in undeveloped fields or existing production in this region. Its strategy is to build a balanced portfolio of assets, using cashflow from ensuing production to fund exploration elsewhere, or selling its more attractive properties "to realize shareholder value."
The company appears to have a nose for a bargain, having agreed to pay Eni $2 million in total for its respective 17.5% and 20% interests in the undeveloped Suilven and Laggan fields. Two years ago, Austria's OMV paid Conoco $28 m for 32.5% of Suilven. The Eni transaction was pending ratification this month from the fields' partners and Britain's Department of Trade and Industry. Stewart says Eni inherited these interests following its takeover of Lasmo and British Borneo. "But we believe they always considered them non-core, third party assets – most majors prefer to operate their own projects."
null
Suilven, discovered by BP in 1996, is an oilfield with a large gas cap in blocks 204/14 and 15. The location is 25 km north of Foinaven and 21 km northwest of Schiehallion. BP has made no commitment to development, but its current thinking involves subsea facilities to exploit the field's gas. According to FP, supplies would be piped to the Schiehallion FPSO for onward export through the recently installed Magnus enhanced recovery pipeline – this takes gas from Foinaven and Schiehallion north-eastwards to the Magnus oilfield, east of Shetland, and ultimately to the UK mainland via the Flags system. There are also two seismically defined prospects on the Suilven license – BP plans to drill one of these in 2004, although here the target is oil.
Laggan is a near-1 tcf gas field operated by Total in block 206/1a. It has basically lain dormant since discovery in 1986, but there is a commitment to drill an appraisal well by next July. This is one of several "stranded" gas accumulations of similar quality north-west of the Shetlands, others being Laxford, North Torridon, Torridon and Victory. A late 1990s study into harnessing the gas drew a blank, even with Foinaven and Schiehallion in the equation. Interest has revived, however, following BP's decision to develop the large Clair oil and gas field to the south.
Clair, which was discovered in 1977, is being developed in phases, the first based on a conventional steel platform, with oil exported through a pipeline to Sullom Voe in Shetland. First oil is due onstream in September 2004, after which Phase 2 will be sanctioned, targeting 300 bcf of gas on the field's northern flank. This too will require a new pipeline, which would likely be sized to accommodate other satellites such as Laggan. That would be in BP's interest, Stewart points out, "as the more infrastructure you can share, the more you can introduce economies of scale. We believe first gas from Suilven could be onstream in 2005-06, and from Laggan in 2007-08."
Foinaven and Schiehallion produce 10% of the UK's oil, and Clair will supply a further 5%. Stewart points out that the drive mechanism in the tertiary reserves is capable of producing 10-15,000 b/d per well, "so fields in this area can be very profitable, even at an oil price of just $13/bbl. Shell and BP are scheduled to drill a well on the Ben Nevis prospect in the far north of the UK sector. We believe there will be more discoveries, leading to further opportunities for our company."