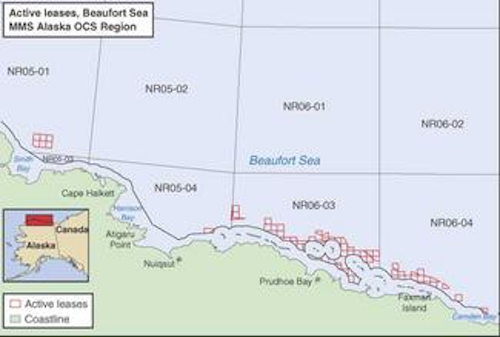 Judy Maksoud • Houston
Americas
The US Minerals Management Service took in $8.9 million in bids for only 39 of the 1,789 blocks offered in Lease Sale 186 in the Beaufort Sea off northern Alaska.
The MMS offered the entire sale area for lease with the exception of two deferral areas recommended by Alaska Governor Frank Murkowski. The MMS has deferred 26 blocks off Barrow (in the far northwest segment of the lease area) and 28 blocks offshore Kaktovik (just east of Camden Bay), which is used for subsistence whaling.
The sale area extends from the Canadian border on the east to near Barrow on the west.
In addition to existing MMS regulations that extensively cover safety, drilling, and pollution prevention, the final notice of sale includes seven lease stipulations intended to minimize effects to the environment and to the Inupiat people from development of the area's oil and gas resources.
"The Beaufort Sea continues to hold the best near-term potential for offshore petroleum reserves on the Alaska OCS," said MMS Director Johnnie Burton. "We must, however, protect those areas vital to North Slope communities that rely on subsistence whaling."
American LNG imports are on the rise. Statoil delivered its first cargo of LNG, representing 80 MMcm of regassified natural gas, to the Cove Point, Maryland, terminal in early September. A second shipment was scheduled from another supplier for later the same month.
Final negotiations are underway on long-term LNG deliveries to Cove Point. According to Statoil, that step will secure supplies until the Snøhvit field in the Barents Sea comes onstream in 2006.
Statoil signed an agreement with El Paso Merchant Energy last year, securing the right to one-third of Cove Point's import capacity over 20 years.
Brazil is trying to increase foreign investment in its offshore, but the latest bidding round engendered little interest.
The country held its fifth round of exploration acreage bidding in late August. As predicted, there was not a lot of competition for the blocks, with only six companies participating in the bidding process. International oil companies steered clear of the bidding. And as usual, Petrobras was the star bidder, securing a large percentage of the awarded acreage and acting as the only bidder for the deepwater blocks.
Unfortunately, the poor international showing looks like a trend. And according to Matthew Shaw, senior Latin America analyst at Wood Mackenzie, a continuation of the licensing round strategy is unlikely to attract many more new local players either.
The new bidding guidelines, intended to entice smaller players into the region, have simply failed to deliver. Stringent fiscal terms and an increased requirement for local content worked against the smaller companies. Recent drilling disappointments were also a likely factor in the lethargic response to the bid round.
If Brazil is serious about attracting investors, significant changes need to be made to the basic premise upon which the country has built its present bidding program.
Middle East
Electro Silica Ltd. acquired 50% of Atlantis Holding Norway AS interest in Oman block 40, covering 12,000 sq km in the southern Arabian Gulf.
Atlantis estimates that the block could contain unrisked recoverable reserves between 150 and 200 bcf of gas, estimating that total reserve potential of the six key prospects could exceed 1.5 tcf.
Drilling was scheduled to begin on the Salama structure in block 40 in September.
Mediterranean
Total's Al Jurf field in block C 137 offshore Libya began production in late 3Q 2003.
The Al Jurf field development consists of a platform with 10 production wells connected to the Farwah FPSO. The Farwah has more than 900,000-bbl storage capacity. Production from the field is expected to plateau at 40,000 b/d.
Total operates the block with 37.5% interest. Partners are Wintershall with 12.5% and the Libyan National Oil Corp. with 50%.
Activity is picking up offshore Tunisia. Centurion Energy International Inc. and Petro-Canada Ltd. announced a funding agreement covering the Mellita exploration permit.
Petro-Canada subsidiary Petro-Canada Mellita Inc. will become operator and will fund 100% of the cost of an exploration program up to $13.5 million in return for a 72.5% interest in the 845,000-acre permit.
The exploration program will include up to 2,274 km of 2D marine seismic data, 75 km of 2D land seismic data, and two exploration wells, one offshore and one on Djerba Island. The transaction is subject to final approval by the Tunisian authorities.
The Tunisian state oil company has the right to elect to participate for up to 50% in the development of any discoveries made on the permit.
The land seismic survey was complete in August, and the marine program was to conclude in early September. Drilling could begin as early as the first half of 2004.
Europe
BP has made a new oil discovery in block 16/28 in the central North Sea. The Farragon discovery lies close to the producing Andrew field 230 km northeast of Aberdeen. Farragon is estimated to contain recoverable reserves of around 30 MMbbl of oil.
Though not a huge field, Farragon is important to the region, according to Tim Summers, business unit leader for BP's mature business in the North Sea.
"Farragon is good news for the offshore industry, as exciting discoveries like these, though not large by global standards, are key to maintaining the vitality of the UK sector," he said.
BP operates block 16/28 with 50% interest. Partners are Eni UK Ltd. with 30% and EnCana (UK) Ltd. with 20%.
Denmark's Dansk Olie og Naturgas (DONG) made history in September when the Siri platform began producing oil from the Nini and Cecilie fields in the North Sea. This project is the first for which DONG acted as operator from exploration to operation.
The Nini and Cecilie fields are in licences 4/95 and 16/98 about 250 km offshore. Together, the fields are expected to produce 25,000 b/d of oil in 2003, increasing to 30,000 b/d in 2004.
The fields will continue to be developed with more production wells.
Production drilling is now underway on Statoil's Kvitebjørn development in the North Sea, with 12 wells to be completed in just over three years.
The work program includes 11 production wells and one to deposit drill cuttings and produced water. All drilling will take place from the Kvitebjørn platform's fixed rig.
Kvitebjørn is scheduled to come onstream in the autumn of 2004.
Asia-Pacific
In late 3Q 2003, the Indonesian government awarded Santos Ltd. additional exploration acreage in the offshore East Java basin.
Indonesia had opened 11 exploration areas – five off the coast of East Java, one north of central Java, two in north Bali, two in Jambi province on Sumatra island, and one in East Kalimantan on Borneo.
null
Santos' new production sharing contract area, North Bali 1, is east of Java and north of Bali. The block covers 3,449 sq km in water depths ranging from 100 to 970 m. The work program for the production sharing contract (PSC) includes 2D seismic data acquisition and one exploration well within the next 10 months.
The East Java basin is considered highly prospective for oil. Several substantial oil and gas fields have been discovered near the North Bali 1 PSC area. Santos operates the PSC with 100% interest.
While Santos prepares for exploration, Unocal Corp. subsidiary Unocal Makassar Ltd. began oil production from Phase 1 of the West Seno project offshore East Kalimantan.
West Seno is the first deepwater oil and gas project in Indonesia.
Phase 1 includes 28 development wells to recover resources in the northern section of the West Seno field. Production from the first five wells at West Seno is 17,000 b/d of oil and 18 MMcf/d of gas. Gross production from Phase 1 is expected to reach 35,000-40,000 b/d by the end of 2003 as additional wells are completed. Development drilling in 2004 is expected to add to production.
Daily production is expected to peak at 60,000 b/d of oil and 150 MMcf/d of gas by year-end 2005 with the completion of the Phase 2 development at West Seno.
Unocal Makassar expects to ultimately recover 210-320 MMboe from the West Seno field. Unocal Makassar operates the PSC with 90% working interest. Pertamina Upstream holds the remaining 10% interest.
Murphy Oil Corp. has made a significant new oil discovery at the Kikeh Kecil No. 1 well, drilled in deepwater block K, offshore Sabah, Malaysia. The well was drilled in 4,460 ft of water, 2.5 mi north of the Kikeh field on a separate structural feature.
The Kikeh Kecil No. l found the same reservoirs as in the Kikeh field with no water levels, according to Claiborne P. Deming, Murphy's president and CEO.
"We are moving forward with development plans for the Kikeh field and will look to bring this new discovery into the mix," he said.
The results of the Kikeh No. 5 step-out appraisal well were announced in September. According to Murphy, pressure data from the well confirms the new fault block is separate from the Kikeh field. Kikeh No. 5 was drilled in 4,380 ft water depth.
"For the balance of the year, we will continue to both appraise the Kikeh complex and explore the surrounding area. These are active times for us offshore Sabah as we and our partner, Petronas Carigali Sdn. Bhd., move towards bringing onstream Malaysia's first deepwater field by 2007," Deming said.
Murphy operates the 4-million-acre block K with an 80% working. Petronas subsidiary Petronas Carigali Sdn. Bhd. holds the remaining 20% interest.
Central Asia
The Kazakh government has approved a two-year plan as part of a government program to develop the Kazakh sector of the Caspian Sea. This follows a May endorsement of a state program for developing the sea's hydrocarbon potential.
Initial steps will cover comprehensive evaluation of the region's potential, creation of a single data bank, and construction of government infrastructure that will allow attractive packages to be made available for future bidding.
The short-term program has the long-term objective of sustaining production from the country's Caspian Sea reserves, thus generating continued revenue for the government of Kazakhstan.
Kazakhstan and Russia took another step toward joint exploration in the Caspian in September with Lukoil and KazMunaiGaz signing E&P agreements.
This agreement follows the signing of a memorandum of understanding in February 2003 and cooperation agreement in June.
Africa
Cameroon's first well in the offshore Ebodje block has come up dry. The Ebodje block in the Douala basin offshore Kribi borders Equatorial Guinea, where the Ceiba project is moving into development.
Perenco operates the block with 30% interest. Partners are ExxonMobil with 45% and Cameroon's national oil company, Société Nationale des Hydrocarbures (25%).
Triton Equatorial Guinea awarded Stolt Offshore a contract for work on Phase III of the Ceiba field development project. Stolt will transport and install a utility deck module for the Ceiba FPSO and will install two electric subsea pumps, rigid spools, and umbilicals for the C-3 and C-4 subsea wells at a depth grater than 800 m.
Aminex PLC recently signed two agreements with Bounty Oil & Gas NL that solidify the companies' relationship and involve Bounty in exploration off Tanzania.
The first agreement awards Aminex 9 million new shares in Bounty, giving Aminex 9.7% of the enlarged issued share capital of Bounty. Aminex will also have a first right of direct participation in future work on Bounty's existing exploration portfolio.
Under the second agreement, Bounty will participate in Aminex's ongoing Nyuni drilling operation offshore Tanzania with a 10% working interest, contributing its share in cash.
The 2,600-sq-km Nyuni license, operated by Aminex subsidiary Ndovu Resources Ltd., is adjacent to the Songo Songo gas field, which is due to produce gas in 2004 through a new, internationally financed, common-user pipeline system, now under construction.