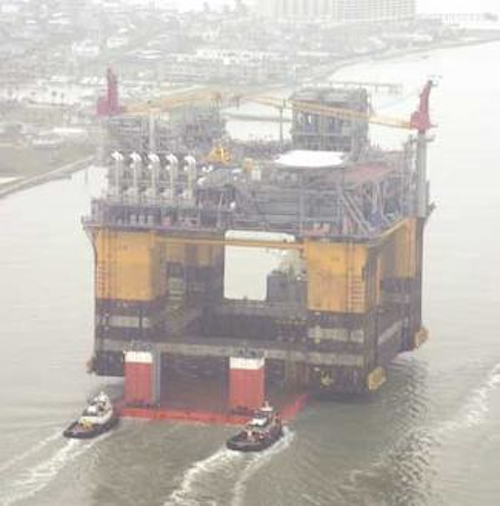 Jennifer Pallanich Hull Houston
Deepwater GoM exploration paying off for operators
Appraisal of hot deepwater prospects has brought good news to E&P companies.
ChevronTexaco's Tahiti appraisals confirmed what the supermajor believes could be one of the largest reservoir pools in the Gulf of Mexico's deepwater history. ChevronTexaco said its two Tahiti appraisal wells confirmed that the Tahiti reservoirs are well developed and correlate over a 3-mi distance. One appraisal well encountered more than 1,000 ft of net pay.
The Glomar Explorer and the Transocean Discoverer Deep Seas drilled the Tahiti appraisal wells in Green Canyon blocks 596 and 640 in 4,000 ft of water. ChevronTexaco said the appraisal backs up original estimates that the field holds 400 MMbbl to 500 MMbbl of recoverable oil reserves. A production test is planned for 1Q 2004. ChevronTexaco operates Tahiti with 58%. Partners are EnCana Gulf of Mexico with 25% and Shell Exploration & Production with 17%.
The host facility for the Shell/BP Na Kika project arrived in Ingleside, Texas, in April. Dockwise Mighty Servant 1 brought the 40,000-ton unit to Texas following its construction in South Korea. The host is slated for additional commissioning and inspections at the Kiewit Offshore Services fabrication yard. The Na Kika facility will be installed at Mississippi Canyon block 474 as the host platform for five subsea production systems in the area. Shell Exploration & Production Co. is the pre-production operator for the Na Kika development; BP will become operator once production begins late this year.
Meanwhile, Anadarko Petroleum Corp.'s Jubilee appraisal indicates the field can be commercially produced, and the independent plans future work in the area to set up a hub facility.
The natural gas discovery at its operated Jubilee prospect encountered 83 ft of net pay. Transocean's Deepwater Millennium drillship spudded the discovery well at Atwater Valley block 349 No. 1. The field is thought to hold 40 MMboe to 50 MMboe.
As part of the plan to establish a hub in the Eastern GoM, Anadarko will drill its Hawkeye prospect at Lloyd Ridge block 360 in 9,100 ft of water.
Kerr-McGee Corp. is sidetracking its Consti-tution and Hornet appraisals after encountering a combined total of nearly 500 ft of net pay in the two wells. The initial Constitution well encountered over 100 ft of net pay, and the second well, 4,000 ft northwest, encountered 375 net ft of pay. Kerr-McGee is sidetracking to test potential deeper reservoirs. The Hornet appraisal well encountered more than 275 ft of net pay, and the well is being sidetracked 2,300 ft to the northwest to define the extent of the reservoirs. Constitution is in 5,000 ft of water on Green Canyon block 680, and Hornet is in 3,850 ft of water on Green Canyon block 379. Kerr-McGee holds 100% interest in both fields.
Meanwhile, Pioneer Natural Resources made a company milestone in March after bringing its first deepwater operated well onstream. Pioneer took its Falcon field in the western deepwater Gulf of Mexico onstream two weeks ahead of schedule. The two-well development is producing 185 MMcf/d of gas and 650 b/d of condensate to the El Paso Energy Partners-operated Falcon Nest platform 32 mi away at Mustang Island block A103.
Former Falcon field partner Mariner Energy recently sold its 25% working interest in the field and related projects to Pioneer, bringing Pioneer's interest to 100%. Pioneer paid about $113 million for Mariner's interests in 32 blocks in the Falcon area, including the Falcon field in 3,400 ft of water in East Breaks blocks 579 and 623, as well as the Harrier field. Pioneer will develop the Harrier discovery as a single-well subsea tie-back to the Falcon facilities. Harrier has estimated gas reserves of 55 to 80 bcf.
The Mariner Energy-Pioneer deal wasn't the only recent acquisition on the Gulf. Nexen Inc. expanded its interest in Aspen. The Canadian indy bought the residual 40% interest in the Aspen field and the remaining interests in five exploration blocks in the greater Aspen area from BP for $136 million. The purchase brings to 100% Nexen's interest in Aspen, in 3,150 ft of water on Green Canyon block 243. Aspen, onstream since December 2002, is producing 29,000 boe/d. Nexen President and CEO Charlie Fischer called the deal a significant milestone in the company's GoM growth strategy. "(Nexen) can now control the timing of future exploration and development activities within the greater Aspen area," he said.
Shelf focus
The recent months have seen a series of shallow water fields go onstream. The US Minerals Management Service, hoping to continue this trend, proposes extending royalty suspension incentives to companies who seek deep gas on shelf areas they already lease. Since March 2001, the MMS has been offering royalty relief on the first 20 bcf of gas produced from below 15,000 ft in new leases. The proposal expands the relief to about 2,400 existing leases and adds an incentive to go even further into the earth: the first 25 bcf would be royalty-free from below 18,000 ft. And dry holes won't sting so much with a 5 bcf credit for an unsuccessful well targeting 18,000 ft or deeper. In the 15,000-18,000-ft range, royalty relief on existing leases would apply to the first 15 bcf. This 25-bcf/5-bcf/15-bcf lineup is the frontrunner in a trio of MMS proposals for relief on existing leases.
The proposal, announced in late March, will need to complete a comment period before it can go into effect. Along these lines, the MMS also plans to continue existing royalty relief measures in upcoming lease sales.
On the shelf, Magnum Hunter Resources started production at Remington Oil and Gas-operated West Cameron block 426 and West Cameron block 416. West Cameron block 426 in 100 ft of water went onstream at an aggregate rate of 15 MMcf/d of natural gas equivalents. Magnum Hunter and Remington each own 50% interest in the well.
ATP Oil & Gas Corp. reported first production at its operated fields in Eugene Island block 71 A-2 and West Cameron block 101. The Eugene Island well, in 22 ft of water, uses a tieback to ATP's existing platform at Eugene Island block 30 for its dual completion. ATP completed its West Cameron well, in 43 ft of water, in two zones.