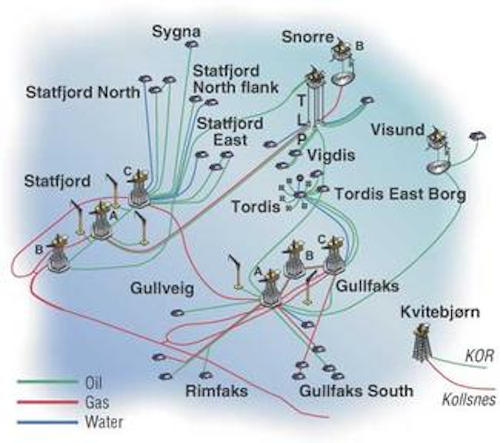 Jeremy Beckman • London
Record admissions to UK sector
The UK Energy Ministry has just awarded 88 new exploration licenses to 62 companies under its 21st licensing round. Of these, a record 27 are new to the UK shelf.
Fifty-three of the licenses are under the new Promote terms. Under the initial two-year period, the licensee can assess acreage and promote its prospectivity to other interested parties, largely through reinterpreting existing seismic and well data.
The standard rental fee per license is £15/sq km – 10% of a traditional license. The normal financial and technical checks associated with traditional UK licenses are waived for Promote licensees. On conclusion of the initial term, the license holder can apply for a two-year extension, although this does carry the obligation to commit to exploration.
The central North Sea is still perceived as the most prospective, and this region attracted the largest number of traditional license awards (23). In the northern North Sea, three traditional and 13 Promote licenses were issued, most close to mature acreage. In the southern gas basin, nine traditional licenses were allocated.
Analysts at Wood Mackenzie point out that there was heightened interest in near-shore quadrants 41, 42, and 47, a relatively under-explored area thought to contain a batch of untested stratigraphic traps.
Among the newcomers opting for traditional licenses was ATP, which was awarded 100% of blocks 2/10 and 3/11b. These include the Emerald oil field, which had been produced through a semisubmersible platform prior to decommissioning in 1996. Houston-based Newfield Exploration is the only new entrant committing to a well on its acreage in the southern sector. Among the other new license holders are seismic interpretation specialists Veritas and Odegaard.
There are eight firm commitments to drill during the initial license period. Theoretically, if all commitments on the licenses are followed through, 93 exploration and appraisal wells could follow over the next four years, Wood Mackenzie points out.
Statoil revives deepwater interest
Statoil was obliged to issue an early statement over its deepwater Ellida well, following Norwe-gian media speculation. The well, drilled by the West Navigator drillship in Norwegian Sea block 6405/7, found oil in Cretaceous sandstones. Statoil had been targeting gas. The company had been testing a new geological model in this location, north of the giant Ormen Lange gas field, following a series of deepwater duds drilled by BP, Shell, and ExxonMobil. Ellida, in 1,200 m of water, is also close to blocks 6404/6, 9, and 12, which were nominated by several oil companies for inclusion in Norway's upcoming 18th licensing round. Blocks in the Nordland VI, Moere, and Voering basins farther north were also proposed.
A lower profile Norwegian Sea well on the Graaspett prospect, 3 km northeast of Norne, did not find hydrocarbons. Statoil was hoping to deliver enough oil to justify a program of phased satellite developments through the Norne FPSO. Two other recent probes in this area, on the Blaameis and Lerke structures, were also unsuccessful. According to Olav Fjell, Statoil's chief executive, the company and its partners are now limiting their focus to the Staer and Svale satellites. Production through the Norne FPSO is currently set to decline from around 2005.
Fjell, speaking at a briefing in London, said the company expected to participate in 12 wells on the Norwegian shelf in 2003, most close to established infrastructure. Small accumulations are the most likely outcome, such as Alpha North, currently being developed with three subsea wells through the Sleipner West facilities.
null
One of Statoil's main concerns is the life extension of its stronghold fields in the North Sea, grouped together under the Tampen 2020 project.
"Recently, we have focused more on development of areas rather than individual licenses in order to reduce costs," he said. "For Statfjord, we had three alternatives. One, abandon existing installations, and install one new platform to handle all the production. Two, take production through the Brent export system. Three, remove bottlenecks in the existing infrastructure. The last one is our recommendation, the one we think will be the most profitable, increasing our remaining oil resources from 2.5 to 2.8 billion barrels."
The plan is now with Statoil's partners. A development decision is due in the first quarter of 2004.
Fjell added that discussions were continuing between the UK and Norwegian governments over a new trunkline that would take gas from Ormen Lange direct to the British mainland. Statoil wants to land the gas at Easington, eastern England, but other UK operators favor St. Fergus in Scotland. The countries' energy ministers were due to discuss the project late this month, but in the event of a negative outcome, Fjell added, Statoil would be prepared to increase sales to continental Europe.
Skene bundle straightened out
Re-installation of the northern section of the Skene pipeline bundle in the UK North Sea has been completed without a hitch. This was not the case during the original tow-out to the field – a subsea development through the Beryl Alpha platform – in 2001. Although contractor Rockwater had supplied 50 similar bundles from its base in Wick, northern Scotland, that one arrived on location with an unexpected kink. As a result, one of its inner pipes could not be used.
Following repair work by Rockwater, prod-uction losses were kept down, but operator ExxonMobil was concerned about the bundle's long-term integrity. This led to the rebuilding program of the northern section, starting in spring 2002. Subsequent analysis attributed the kink to inclusion of a more powerful than normal tug during the original tow-out. The problem arose when the tug attempted to bring the bundle's trailing end back into the transit corridor.
Recently, ExxonMobil brought a new well, LP5, onstream at Nevis South, another Beryl satellite. Due to a capacity shortage, the new production could only be achieved by shutting down a low-rate well, N3, and allocating its production path to LP5. The new well is considered to be a long-term producer, with current output of nearly 8,000 b/d. Under a third new initiative, ExxonMobil has halted a rise in oil discharged in produced water from Beryl Alpha by re-injecting this water into disused wells. The operator had been at risk of breaching the regulatory limit of 40 parts oil per million of water.