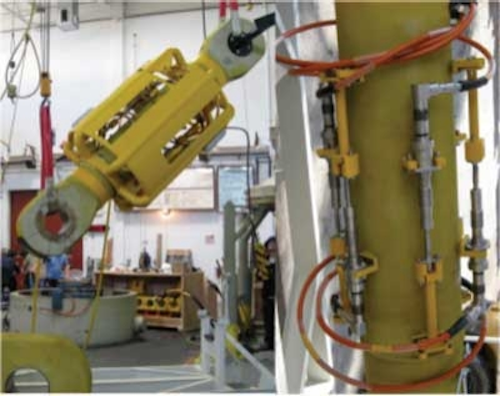 Jeremy Beckman • London
Eight deepwater tracts are now available for exploration off Nova Scotia. The Canada – Nova Scotia Offshore Petroleum Board is inviting bids from companies that have experience drilling wells in 800 m-plus (2,624 ft) water depth. The areas on offer are in a geological region barely explored, but known to contain many large prospective structures. Bids for licenses must be submitted by Jan. 10, 2012.
•••
Pemex plans to acquire eight new drilling platforms to expand its oil production in the Bay of Campeche in the Gulf of Mexico. Seven will be equipped to operate in water depths of 344 ft (105 m) and to drill to subsurface depths of 25,000 ft (7,600 m).
South America
Petrobras has achieved triple oil and gas success in Brazil's offshore Espirito Santo basin, all in block ES-M-525. The Brigadeiro, Pe-de-moleque, and Quindim finds were drilled in water depths of around 1,900 m (6,233 ft). Two more wells will be drilled in the area, after which the partners, including Shell and Inpex, will forward an Evaluation Plan proposal to the ANP.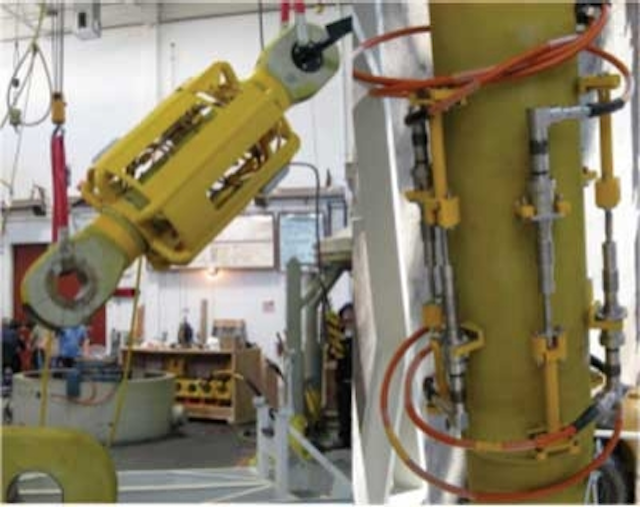 Location of the pre-salt Gavea oil find in the Campos basin.
In the pre-salt area of the Campos basin, Repsol Sinopec found oil in the Gavea prospect, 190 km (118 mi) off the coast of Rio de Janeiro. DrillshipStena Drillmax I drilled the well in 2,708 m of water (8,885 ft). The consortium, which includes Petrobras and Statoil, plans further exploration and evaluation in the area.
•••
OSX Brasil was due to start construction last month on a new shipyard, in association with Hyundai Heavy Industries. The facility at the Acu port complex in Rio de Janeiro state will be the largest of its type in the Americas, OSX claims, with capacity to build up to 11 FPSOs simultaneously. LLX Logistica has an environmental permit to construct a navigation channel that will provide 8,000 m (26,246 ft) of quayside at the yard.
•••
Uruguay's government plans road shows next month to outline the country's second offshore lease bid round. ANCAP will offer 15 areas ranging in extent from 2,300-12,000 sq km (880-4,633 sq mi). Around 6,300 km (3,915 mi) of newly acquired 2D seismic offshore Uruguay will be accessible for exploratory program. Would-be operators have until end-February 2012 to submit proposals.
•••
Rockhopper is drawing up options for what could be the first field development offshore the Falkland Islands. The low-case scenario for last year's Sea Lion oil and gas discovery is 155 MMbbl, based on appraisal drilling so far this year. Development will likely involve a floating facility, probably an FPSO or TLP, connected to a floating storage unit. Newly acquired 3D seismic may reveal further potential in the Sea Lion structure's southern extension.
West Africa
Kosmos Energy has agreed to terms for Morocco's Foum Assaka offshore concession in the Agadir basin in the Atlantic Ocean. The permit, 43 km (27 mi), west of the port of Agadir, covers 5,500 sq km (2,123 sq mi), and contains play elements similar to those Kosmos has identified in its other West African holdings. State-owned ONHYM's 25% interest will be carried through the exploration phase, the other partner being Pathfinder Hydrocarbon Ventures.
•••
The partners in the Jubilee project offshore Ghana could submit plans for a Phase 1A development this month. Assuming approval from the Ghanaian government, theSedcoEnergy could start drilling early next year on the first of the planned eight producer and injector wells. Phase 1A is designed to target around 100 MMbbl of reserves.
In the Deepwater Tano license encompassing Jubilee's western section, operator Tullow Oil expects to issue front-end engineering and design (FEED) contracts shortly for an FPSO and subsea facilities to develop the Enyenra-Tweneboa discoveries. The floater would have oil production capacity of 75,000 to 125,000 b/d as well as gas handling facilities to allow gas injection.
•••
Harvest Natural Resources has a pre-salt oil discovery in its Dussafu Marin PSC offshore Gabon. The semisubTransocean Sedneth 701 drilled the Dussafu Ruche Marin-1 well in 380 ft (116 m) of water, encountering a 90-ft (27-m) oil column within the Gamba formation. Harvest plans to deepen and side track the well to appraise the extent of the find.
Petrobras is stepping up its pursuit of Africa's pre-salt plays, taking 50% of two PSCs covering Gabon's offshore Mbeli and Ntsina blocks from current operator Ophir Energy. The partners plan to acquire 3D seismic to image pre-salt potential not previously explored in the area.
•••
Cobalt Energy expected to start drilling last month on deepwater block 21 off Angola. The Ocean Confidence is due to probe the Bicuar and Cameia prospects – each well should take 80-100 days drill, and a further 10-20 days to evaluate, if successful.
•••
Namibia's government has approved Enigma Oil & Gas Exploration's request to extend five offshore permits through end-August 2013. The program includes drilling one well on southern block 2714 A, which Petrobras has agreed to operate following a farm-in arrangement.
Mediterranean Sea
First gas has flowed through the Medgaz trunkline connecting southern Spain with producing fields onshore Algeria. The 210-km (130-mi) long submarine section reaches a maximum water depth of 2,155 m (7,070 ft). Its current annual capacity of 8 bcm (283 bcf) should be doubled in the future.
•••
San Leon Energy is withdrawing from two permits offshore Sicily, following the Italian government's decision last year to limit exploration to within five nautical miles of Italy's coasts. San Leon says it would not have secured approval for planned wells in the Narciso and Sciacca concessions.
•••
Dominion Petroleum is taking a 75% operated interest from Phoenicia Energy in a PSC covering four blocks of Malta's offshore Area 4. The company sees analogies with North Africa's proven Eocene carbonate play, in addition to the Cretaceous rift potential of the Melita-Median graben. One of the main prospects is Tarxien, a lower Eocene carbonate build-up. The PSC commitments include one well.
•••
ATP Oil & Gas has taken interests in the Daniel East, Daniel West, and Shimshon licenses offshore Israel. It plans to start drilling on Shimshon next spring, using theSedcoExpress. The initial well is budgeted at $24-29 million.
Middle East
RAK Petroleum has agreed to merge its Middle East and North Africa interests with those held by Norwegian independent DNO. RAK's assets include production from the Bukha gas/condensate field off Oman, and the Saleh field redevelopment offshore UAE.
•••
National Iranian Offshore Oil Co. has installed the second platform jacket on its Hengam oilfield development in the Persian Gulf. A third jacket was on its way to the offshore location last month. Drilling of a fourth development well is under way and is expected to lift output from the field to 30,000 b/d. Production is exported to the Bandar Abbas refinery via a 70-km (43-mi) pipeline.
East Africa
Apache Corp. has farmed into 50% of offshore block L8 in Kenya's Lamu basin, and will operate a wildcat well on the Mbawa structure. This is a large, faulted anticline mapped on 3D seismic, with oil and gas potential at Cretaceous and Jurassic levels.
•••
Anadarko has brought in the drillshipBelfordDolphin to appraise last year's Barquentine gas discovery in Mozambique's Rovuma Offshore Area 1. Two wells are planned, with flow tests and core analysis. The aim is to prove up sufficient gas from the Oligocene reservoirs in the Windjammer/Barquentine area to justify the first train of an LNG plant on the Mozambique coast.
•••
ROC continues its withdrawal from E&P in Africa. The Australian company has agreed to sell its 75% interest in the Juan de Nova Maritime Profond block in the Indian Ocean to South Atlantic Petroleum JDN SAS. The concession is in the French Exclusive Economic zone offshore Juan de Nova Island in the Mozambique Channel.
Indian sub-continent
Reliance Industries has discovered further gas in the D9 license in the deepwater Krishna Godavari basin. The KG-D9-A2 well, drilled in 2,700 m (8,958 ft) water depth, encountered gas in three sand reservoirs, extending the proven Early/Late Miocene play fairway.
•••
Bangladesh's government has awarded ConocoPhillips 100% of a PSC for blocks DS-08-10 and DS-08-11 in the Bay of Bengal, 280 km (175 mi) from Chittagong. The concession – covering 5,158 sq km (1,991 sq mi), in water depths of 1,000-1,500 m (3,300-5,000 ft) – contains the world's largest submarine fan, ConocoPhillips claims. Immediate plans include acquisition of a large 2D seismic survey.
Australia
Woodside's North West Shelf oil redevelopment project is unlikely to start up before October. This follows delays brought on by bad weather, impacting completion of subsea work, and by a mechanical fault on an installation support vessel. However, the cost of the project – which involved conversion of the FSOOkha to an FPSO – will likely come in as projected, at around $1.9 billion.
•••
McDermott International has won its first SURF contract off Australia. The company will engineer, fabricate and install a 77-km (48-mi), 20-in. (51-cm) pipeline for BHP's Macedon Gas Project in the Pilbara region of Western Australia, also installing umbilicals and flexible flowlines in water depths up to 180 m (590 ft).
Asia/Pacific
The partners in the Sebuku block offshore Indonesia have agreed to develop the Ruby gas field. Pearl Oil is operator, in partnership with Total and INPEX. The plan calls for four development wells to be drilled from an offshore platform, with production of 100 MMcf/d flowing to the Offshore Mahakam block, 300 km (186 mi) to the north, for processing at established facilities. The gas will be sold mainly to a fertilizer plant in East Kalimantan.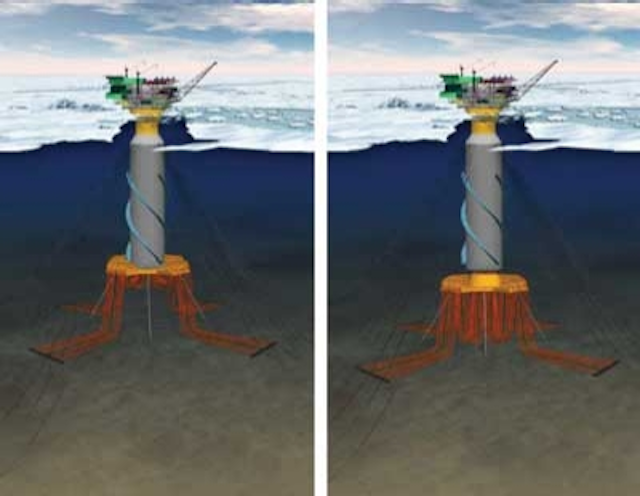 The Ruby gas field is moving forward for development.
Also in Indonesia, MEO Australia has acquired Transworld Seruway Exploration, which has a 100% interest in the offshore Seruway PSC. This contains the Gurame and Kuala Langsa gas discoveries, and is close to the Arun LNG plant which has spare capacity.
•••
BP has contracted DUCO to supply a main umbilical and an infield umbilical for the Lan Do field development offshore southern Vietnam. Both will feature a hybrid technology that employs steel tube and thermoplastic hose fluid conduits for hydraulic control and chemical injection.
Nearby in the Cuu Long basin, Keppel Shipyard was due to deliver theArmadaTGT I FPSO to Bumi Armada for use on the Te Giac Trang oilfield development, which is scheduled to come onstream this summer. The vessel is designed to process crude with a low wax appearance temperature, and has storage capacity of 620,000 bbl.
More Offshore Issue Articles
Offshore Articles Archives
View Oil and Gas Articles on PennEnergy.com