Jubilee brings Ghana to the fore among West African deepwater regions
The Republic of Ghana has become a major oil and gas producing country in a big way, thanks to Jubilee.
Apr 1st, 2011

Unit reserves alone estimated at 700 MMbbl, might even top the 1 Bbbl mark
F. Jay Schempf
Contributing Editor
The Republic of Ghana has become a major oil and gas producing country in a big way, thanks to Jubilee.
Now that the highly successful deepwater development, West Africa's largest offshore oil find in 10 years, has come on line, UK-based unit operator Tullow Oil plc and partners are well under way in helping fulfill extensive plans to bring the country's offshore potential in line with, and in some cases exceeding, the best of West Africa's oil and gas provinces. Recent estimates put the Jubilee and associated discoveries at around 700 MMbbl, with an upside of 1 Bbbl.

Jubilee, other discoveries straddle two lease blocks offshore Ghana.
The first oil production milestone was achieved only 41 months after the Jubilee field was discovered, an enviable record for any offshore development, particularly in a frontier deepwater area such as that found off Ghana. Jubilee is the country's first significant offshore find.
The wide-ranging field, now unitized, straddles two large license blocks and is covered by water depths ranging from 3,609 to 5,577 ft (1,000-1,700 m) about 37 miles (60 km) offshore. Unitized interests in the blocks – the West Cape Three Points and Deepwater Tano – include Tullow (34.705%); Dallas-based Kosmos Energy (23.491%); Anadarko Petroleum (23.491%); Ghana National Petroleum Corp. (GNPC), (13.75%); Sabre Oil & Gas Holdings Ltd., Houston (2.813%); and Ghanaian company E.O. Group Ltd (1.75%). Working interests in each block range somewhat differently, with Tullow, Kosmos, and Anadarko holding lion's shares.
The Jubilee unit's light, sweet crude (37.6° API), is produced into the turret-moored, weathervaning FPSOKwame Nkrumah, which offloads from the stern. With a processing capability of 120,000 b/d of oil and 160 MMcf/d of gas, the FPSO can store up to 1.6 MMbbl of stabilized crude. It is designed to offload up to 1 MMbbl at a time to a range of crude oil vessels, from Aframax to VLCC.
The discovery well was drilled by Kosmos. Later, as technical operator for the group, Kosmos led the execution of the Jubilee Phase I project, with Tullow drilling and completing the development wells and taking over operatorship at the production phase. Kosmos, as operator of the West Cape Three Points block, has made several discoveries there, as well (see related story, "Jubilee brings Ghana into deepwater fold,"Offshore, December 2010). 
Newest development plans
In its March 9 report to shareholders, Tullow says the final cost of Phase I development is expected to fall within 5% of the original $3.15 billion budget.
Gross production from five of the unit's wells now exceeds 69,000 b/d and full production capacity of 120,000 b/d is expected by mid-2011, the company noted. The first lifting of crude to the FPSO for export, a 650,000-bbl Tullow cargo, was completed on January 5, with additional liftings of 1-MMbbl cargoes through March 7 into VLCC vessels on behalf of Anadarko, Kosmos, and GNPC for export to world markets. Once plateau production is reached, an average of three monthly off-takes are expected.
Planning for Jubilee's Phase Ia development, to include between five and eight more wells, began in December 2010, says Tullow, and will help maintain field production at plateau levels and develop additional reserves. The company anticipates an investment decision will be made in 3Q 2011 following analysis of reservoir performance and submission of plans to the Ghana government. Subsurface planning work is well advanced and already has identified additional well locations. Tullow will use Ocean Rig's DP-3 semisubmersible rigEirik Raude, currently handling Jubilee well completions.

DP-3 semisubmersibleEirik Raude doing journeyman exploration, appraisal wells along with completion work.
Phase Ib, with expected sanctioning in 2012, will require additional infrastructure and is likely to consist of 10-20 new wells, says Tullow.
Numerous other discoveries have been made on both the Kosmos-operated West Cape Three Points block and the Tullow-operated Deepwater Tano block, with ongoing additional development planning on both blocks. But the operator of other future Ghanaian offshore developments, Kosmos Energy, is on track toward development of its properties, as well.
Kosmos drilling 'world' beaters
As operator in the West Cape Three Points (WCTP) block, Kosmos submitted a declaration of commerciality in September for the Mahogany East (previously known as "Southeast Jubilee") discovery and currently is discussing development options with the government. The company drilled four wells to complete its Mahogany East appraisal program.

Floating light, Jubilee FPSOKwame Nkrumah filling with Jubilee crude.
Kosmos, currently engaged in making an initial public offering, has not announced specific future plans for Mahogany East; however, Tullow addressed the subject in its recent annual report.
The development plan for Mahogany East reservoirs, which are extensive, says Tullow, currently include a four- to six-well tieback to the existing Jubilee subsea infrastructure when capacity is available. However, Tullow added, accelerated development as part of an integrated project with other WCTP discoveries may be considered, depending upon additional exploration and appraisal drilling results in the license.
Kosmos, however, has issued reports on individual wells drilled in both the WCTP and Deepwater Tano blocks.
In February, Kosmos announced its Teak-1 WCTP exploration well in the Mahogany East area, drilled by theAtwood Hunter anchor-moored semisubmersible, encountered oil, gas/condensate, and natural gas in multiple pools over a 1,890-ft (576-m) interval. Results of drilling, wireline logs, and reservoir fluid samples show the Teak-1 well penetrated net oil-and-gas-bearing pay of 239 ft (73 m) in five Campanian and Turonian zones of high-quality stacked reservoir sandstones consisting of 154 ft (47 m) of gas and gas/condensate and 85 ft (26 m) of oil. Oil samples recovered from the Teak-1 well indicate oil of about 40° API gravity in the Campanian reservoirs and 32° API gravity in the Turonian reservoirs. The discovery is up dip and northeast of the Jubilee field. Water depth at the well site is 2,847 ft (868 m) in the western portion of the block.
Subsequent appraisal of Teak-1 pay zones will include delineation wells to test the extent of each reservoir.
Successful appraisals
In the Deepwater Tano block, Kosmos this year confirmed successful appraisal drilling in the license's Greater Tweneboa Area resource base.
In early January, the Tweneboa-3 encountered gas/condensate in high-quality sandstone. The results of drilling, wireline logs, and reservoir fluid samples, in addition to the well's down dip position, confirmed the Greater Tweneboa Area potential. The Greater Tweneboa Area is comprised of the Tweneboa-1 and Tweneboa-2 oil and gas/condensate fields and the neighboring Enyenra (formerly known as "Owo") light oil field.
Using Transocean's DP-3Deepwater Millennium drillship, Tullow, as block operator, drilled the Tweneboa-3 with two deviated boreholes to test separate areas of the field. The first leg was drilled to calibrate the potential of an area that had a weak seismic response. This leg encountered approximately 29 ft (9 m) of gas/condensate pay, which was in line with expected results. The well then was sidetracked 1,808 ft (550 m) west, targeting an area of strong seismic response. This second leg encountered a gross vertical reservoir interval of about 214 ft (65 m), penetrating 112 ft (34 m) of net gas/condensate pay in high-quality stacked reservoir sandstones in two zones. The Tweneboa-3 is e 7.5 miles (12 km) southeast of the Tweneboa-1 discovery well in a water depth of 5,253 ft (1,601 m). The well will be suspended for potential future use in field development once drilling operations have been completed.
"The Tweneboa-3 well was a significant step-out well in a very large stratigraphic trap, said Kosmos President and CEO Brian F. Maxted. "Producible gas/condensate in high-quality reservoirs at this location gives us confidence in the Greater Tweneboa Area's commercial potential."
The Tweneboa-3 is 12 km (7.5 mi) southeast of the Tweneboa-1 discovery well, drilled in 2008-2009. TheDeepwater Millennium drilled the Tweneboa-3 to a TD of 12,816 ft (3,906 m) in a water depth of 5,253 ft (1,601 m).
Subsequently, the drillship remains on the Deepwater Tano block to drill the top-hole section of the Tweneboa-4 appraisal well and then suspend it.
In its most recent announcement of Deep Tano block drilling, Kosmos said the Enyenra-2A appraisal well, drilled with theDeepwater Millennium, confirms a down-dip extension of the Enyenra field.
The Enyenra-2A, located more than 4 mi. (7 km) south and down-dip of the Enyenra-1 discovery well, was drilled to intersect the upper channel, in which oil was discovered by the Enyenra (Owo)-1 sidetrack, and the lower channel, where gas/condensate was found. Results of drilling, wireline logs, reservoir fluid samples, and pressure data indicated the Enyenra-2A well intersected 69 ft (21 m) of oil pay in the upper channel and 36 ft (11 m) of oil pay in the lower channel.
Both the Tweneboa and Enyenra wells exhibit generally thinner reservoirs than those in the Jubilee field.
Impact assessed, addressed
Though the Jubilee development plan included environmental assessment, impact, and mitigation measures from the start, as well as a comprehensive formal Environmental and Social Impact Analysis (ESIA) approved by the Ghanaian government, the companies involved apply equal vigilance in protecting the country's communities, as well.
According to Stuart Wheaton, Tullow's Ghana development manager, both Tullow and Kosmos, as block operators, have responded to the 2010 Macondo well incident in the Gulf of Mexico to ensure that appropriate lessons have been learned and that any necessary improvements are addressed.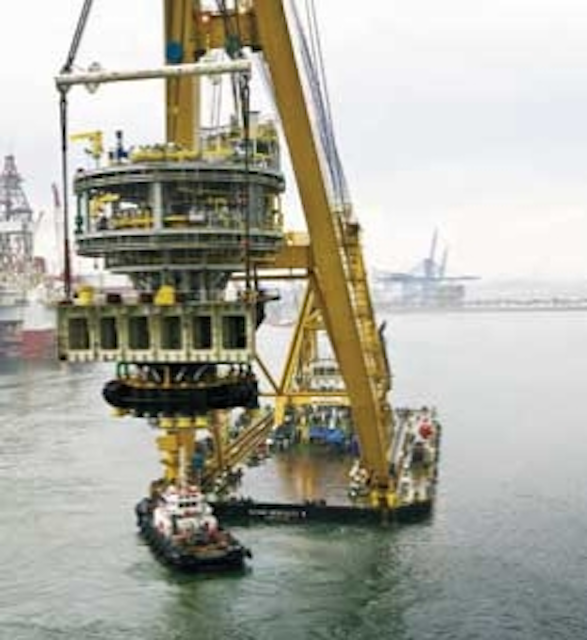 SOFEC designed and supplied this very large and complex external turret to its affiliated company, MODEC. The turret, which is one of the world's largest, weighed 2,000 metric tons (2,205 tons); supports 17 risers and umbilicals; and moors the VLCC-sized FPSO in 1,100 m (~3,610 ft) water depth. Installation and integration of the turret into the MODEC-owned and operated FPSO was completed in June 2010. Photo courtesy Tullow Oil plc.
These actions include a review of well design and execution policies, procedures and practices; review and enhancement or reinforcement of geopressure prediction systems and tools; review of emergency response and crisis management planning and preparedness; and specific reassessment of oil spill response capabilities, including oil spill contingency plans (OSCPs) for spills of various sizes.
Ghana has more than 340 mi (550 km) of coastline, and Tullow and Kosmos are determined that the companies' operations will not damage area or the fishing communities that depend on it, he said.
"Anadarko, Kosmos, and Tullow have agreements in place that provide for mutual aid among us throughout the West Africa area, so that if any of us have problems in any of our operations, then we will supply personnel and resources to help the other," said Wheaton. "Each would move a drilling rig in on an emergency situation to drill a relief well if necessary, for example. We were hoping to expand it to other companies working along the entire West African coast, but that's a conversation we've still got to have."
In addition to the OSCP and other appropriate actions in the event of such emergencies, the group also has helped form the Ghana Offshore Leadership Forum (GOELF), which consists of Ghanaian agencies that would be involved in the event of an incident.
First Oil: Ghana's Jubilee
In early 2008, the Jubilee partners, along with the Ghana National Petroleum Corporation (GNPC), decided to develop their June 2007 deepwater discovery and bring it on production by the end of 2010, an incredibly aggressive schedule. Kosmos Energy was appointed technical operator for the project and Tullow Oil was appointed the unit operator.
Kosmos' responsibility was to assemble and lead the integrated project team (IPT) in preparing the plan of development, designing the depletion plan, planning and executing the Phase 1 project, and delivering a fully commissioned FPSO-based development system to the unit operator. Tullow's responsibility was to formally liaise with the Government of Ghana, execute all development drilling and completion activities, build the in-country infrastructure and organization for production operations, and operate the field.
The IPT's key leadership and technical positions were comprised primarily of staff from Kosmos and non-operating partner Anadarko, as well as a few select Tullow personnel. This enabled the IPT to build a stronger team by drawing the best talent from all three partners. In addition, the IPT worked closely with Tullow's drilling and production operations organizations throughout the project until first oil and the handover transition. Unquestionably, one of the most important success factors for Jubilee was the "one team" attitude of the three major partners' personnel.
For more on Jubilee, and to see videos of projection execution and interviews with project officials, be sure to check out the DVDFirst Oil: Ghana's Jubilee, polybagged with this month's issue of Offshore. 
More Offshore Issue Articles
Offshore Articles Archives
View Oil and Gas Articles on PennEnergy.com