Mozambique wells reveal major frontier gas province
An Anadarko Petroleum operated consortia has proven a prolific new hydrocarbon fairway off Mozambique that could extend all the way north to offshore Kenya. Within the space of one year, the company has discovered gas in four wells and encountered oil in another during a deepwater campaign in the frontier Rovuma basin. To the north in adjoining waters off Tanzania, BG has confirmed the trend with two deepwater gas finds.
Apr 1st, 2011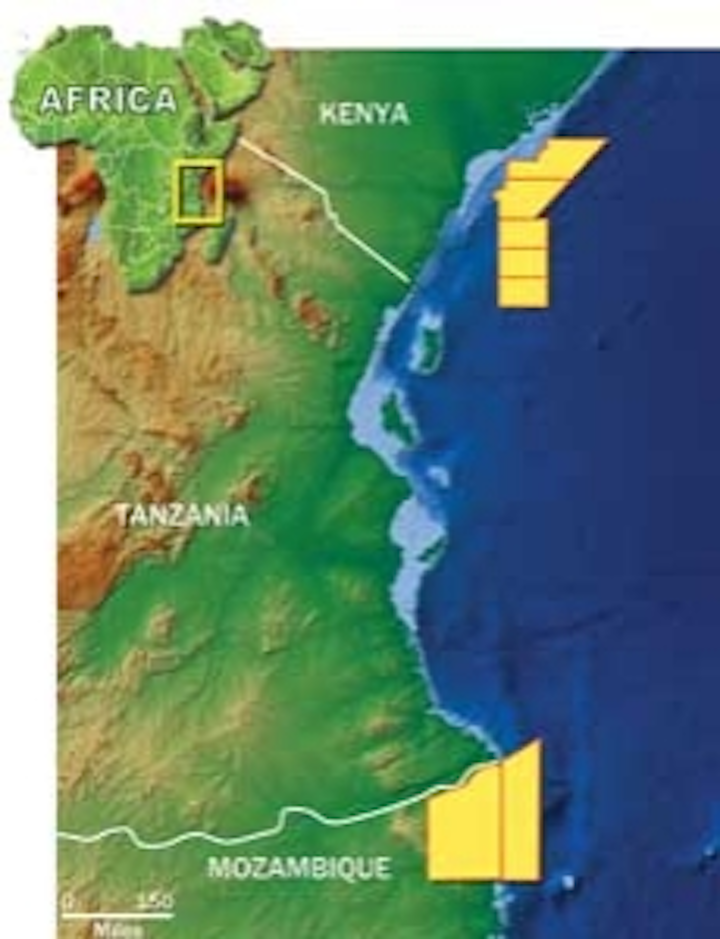 Reserves could justify subsea-shore LNG scheme
Jeremy Beckman
Editor, Europe
An Anadarko Petroleum operated consortia has proven a prolific new hydrocarbon fairway off Mozambique that could extend all the way north to offshore Kenya. Within the space of one year, the company has discovered gas in four wells and encountered oil in another during a deepwater campaign in the frontier Rovuma basin. To the north in adjoining waters off Tanzania, BG has confirmed the trend with two deepwater gas finds.
Exploration drilling started on the 10,000-sq km (3,861-sq mi) Rovuma Offshore Area No. 1 concession in December 2009 using the drillshipBelford Dolphin, which was engaged on a long-term basis. The sequence of discoveries was:
Windjammer, drilled in February 2010 in 4,800 ft (1,463 m) of water in the northern part of the concession, 30 mi (48 km) offshore. The well reached a TD of 16,390 ft (4,995 m), encountering 555 ft (169 m) of natural gas pay in high-quality reservoir sands
Ironclad, August 2010, at a location 110 km (68 mi) south of Windjammer, was drilled to evaluate an extensive Cretaceous deepwater fan complex, and to probe for oil in an area thought to have the geological characteristics to generate liquid hydrocarbons. The well penetrated 205 m (672 ft) of Cretaceous sandstones in two distinct fan lobes, including 38 m (124 ft) net of oil and gas-saturated sands in the upper lobe. Gas shows were also present throughout the drilled Cretaceous section
Barquentine, October 2010, in 5,200 ft (1,585 m) of water at a location 2 mi (3.2 km) northeast of Windjammer. This well intersected over 108 net ft (33 m) of gas pay in two Oligocene sand targets – separate and distinct geologic features, but equivalent in age to Windjammer – and a further 108 ft (133 m) of gas pay in deeper Palaeocene target sands which appear to be connected to a 75-ft (23-m) pay section at Windjammer. Anadarko commented at the time that the wells in this area had proven two distinct working trap systems
Lagosta, November 2010, drilled 16 mi (25.7 km) south of Barquentine and 14 mi (22.5 km) southeast of Windjammer in 5,080 ft (1,548 m) of water. This well encountered over 550 m (1,804 ft) of gas pay in multiple Oligocene and Eocene sands
Tubarao, February 2011, in 2,950 ft (898 m) of water, 17.5 mi (28 km) southwest of Lagosta and 18 mi (29 km) from the Mozambique coast. The result was over 110 ft (33.5 m) of gas pay and no water in an Eocene reservoir, separate and distinct from the other discoveries in this region and therefore opening another new play style. Seismic imaging indicated an areal extent of around 15,000 acres (60.7 sq km).
Ghana anaology
Aside from Anadarko, the Offshore Area 1 consortium comprises Mitsui E&P Mozambique Area 1, BPRL Ventures Mozambique, Videocon Mozambique Rovuma 1, and Cove Energy Mozambique Rovuma Offshore. State company Empresa Nacional de Hidrocarbonetos also has a 15% interest, but is carried through the exploration phase.
The newest member, London-based Cove Energy, was admitted in December 2009 after acquiring an 8.5% participating interest from Artumas Group. To fund its share of the drilling costs, Cove raised an initial £42 million ($67 million) via a share placement followed by further fundings in 2010.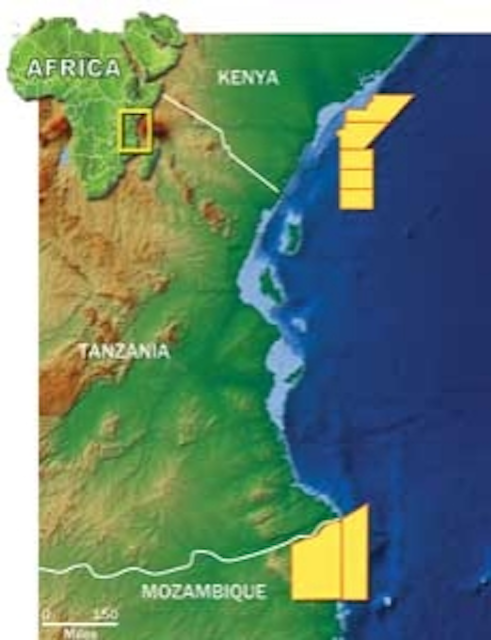 Yellow blocks show concessions which Anadarko operates offshore Mozambique and Kenya.
At this time Cove had only been in existence for six months. CEO John Craven had left Irish independent Petroceltic earlier that year, acquiring a stake in AIM listed Lapp Plats, a specialist in platinum exploration in Lappland, which he re-named Cove. Another investment opportunity then arose with Artumas, but Craven and his fellow board members were wary of the group's heavy debts. Artumas was in default over its commitments to the Anadarko-led consortium in Mozambique – Cove instead offered to keep Artumas out of default in exchange for a right to farm-in to E&P interests in Mozambique and the gas-producing Mnazi Bay concession onshore Tanzania.
"I liked what I saw in Rovuma Offshore Block I," said Craven, based on a review of play opportunities and available drilling data the company commissioned from geophysical consultants Rose & Associates. "Petroceltic had interests offshore Ghana at one point, and I saw similarities with the fan basin off Mozambique." Prior to the recent sequence of wells, the Rovuma basin had been barely explored, partly due to Mozambique's civil war in the 1990s. There had been one discovery, Esso's Marimba in 1986, which delivered gas shows in a Cretaceous interval, but this was drilled in the Zambezi Delta.
Anadarko applied for its block under Mozambique's 2007 bidding round. "They acquired 2D seismic and farmed out to the other partners in the consortium in return for $300 million funded work program carry – they secured this before drilling the first well," Craven pointed out. "The license was awarded on a work program at that time of three shallow and four deepwater wells. Eni and Statoil were awarded blocks adjoining ours."
CGGVeritas acquired and processed the subsequent 3D survey, although the next 3D program on Rovuma Offshore Area I, scheduled for later this year, will be handled by Fugro-Geoteam. According to Craven, the other leading geophysical contractors are not currently bidding for work off East Africa due to the constant threat of piracy. This has pushed survey rates locally to $50-$60,000 per day above the industry norm (higher for drilling). Fugro has kept two to three boats in the region, one based in Mombasa, the others in South Africa.
Play analysis
Anadarko has maintained its strong strike rate, following on from deepwater successes off Liberia and Brazil. According to Craven, "Anadarko maximizes 3D data in terms of its predictive modeling, which has proven robust for detecting reservoirs and hydrocarbon saturation."

Mozambique geology.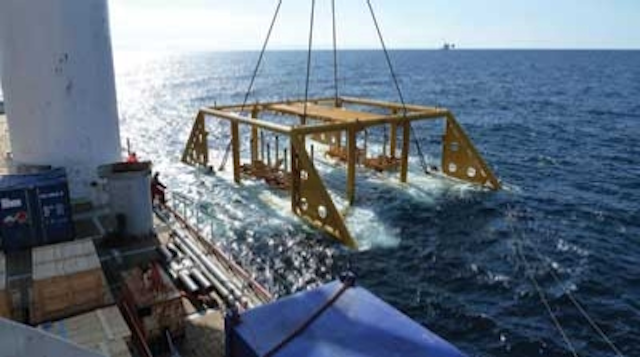 Although Windjammer was drilled as a clear structural play, it was recognized that the in-board fold belt "was too deformed to trap the necessary volumes, so thereafter, we have gone consistently for stratigraphic traps outboard, but inside our 3D area." The only "failure" to date was the second well on the Collier structure, and in fact that well had to be suspended as it was approaching the target level. "We encountered overpressure, then underpressure. At that point, we had limited options so we had no choice but to abort the well, which we left to re-enter at a later date after drilling the other prospects."
And this has been one of the main difficulties drilling these plays to date -- negotiating zones of overpressure. On the other hand, Anadarko's latest two wells were drilled at half the cost of the predicted AFE (the best estimate of a well's cost), so problems are being solved.
To support the ongoing program in this region which is relatively light in oilfield infrastructure, Anadarko has built up a base in the port of Pemba with a large open-air yard and storage facility. Across the border in Tanzania, BG and partner Ophir Energy have erected a warehouse to assist their exploration activity.
"We think we have about 12 tcf in our gas discovery area, otherwise known as 'LaBarquenJammer'," says Craven. "Recently we have also used our 2D data to map new targets across another huge area to the north, focussing on the same Miocene channels that we believe BG targeted offshore Tanzania which may have discovered gas. If proven by drilling, we have the potential to double our gas resources."
Parallel drilling
The consortium next plans a program of coring in the gas-bearing Oligocene and Palaeocene gas reservoirs, which will be followed by eight to 10 appraisal wells on Windjammer, Barquentine and Lagosta. To manage this activity, the drillshipDeepwater Millennium, latterly working offshore Ghana, will be brought over in Q3 to join the Belford Dolphin.
"When this second rig comes in, and we have the benefit of interpretation of our new 3D seismic, we will be able to run exploration and appraisal drilling in parallel going into 2012-13." And unlike theBelford Dolphin, the Deepwater Millennium has testing equipment, which will allow DSTs and other flow tests to be run for the first time on the discoveries, which is a requisite for the reserves audit. More data should feed through once ENI starts drilling the first of three wells on its block outboard of Rovuma Offshore Area I.
"Recently we converted the terms of our production-sharing contract to a six-deepwater well commitment," Craven added, "so there is no obligation for shallow water drilling, but we will commit to another four deepwater wells during 2012-14."
Anadarko has also commissioned new 3D seismic over the Cretaceous fan "oil" area covering part of Ironclad in the south of the PSC, and plans to resume drilling here at some point. But in the north, the focus is on confirming and adding to the 12 tcf already found – independent reserve auditors are currently on the case – in order to start negotiating gas sales contracts.
The consortium believes there is sufficient gas to justify an LNG scheme onshore Mozambique, with all the fields tied back directly to the shore via subsea wells and long-distance pipelines. "We plan to move to a final investment decision by mid-2013, assuming the gas reserves audit is complete and the gas sales and financing arrangements are in place, and then proceed to the development, with four years to bring in all the necessary kit. The capex burn will get quite high, but LNG is very profitable, and we expect robust demand by the time we deliver first gas in mid-late 2018. Currently we're looking for a site to put the onshore facilities."
In 2008-09, various operators in the area participated in an oceanographic (current and wave) study taking in an area from central Tanzania south to northern Mozambique. This revealed that there may be seasonal challenges for offshore operations in the south of the study area, with periods when large volumes of water have to squeeze through the channel separating Mozambique from Madagascar, creating severe problems with currents.
Other interference could come in August and September, a prime time for tourists observing whales migrating north from Mozambique to Kenya. And at any time, Somali pirates are a threat, and they are widening their armory. They have built up knowledge of current movements in the area, and some, according to Craven, have hijacked tankers specifically for use as a launchpad for further attacks. "However, the risk associated with working in this area is worth it, because the hydrocarbon potential and geopolitics are much better than is currently the case in, for example, parts of North Africa.
Tanzania studies
Interest in Tanzania's offshore potential has been heightened by BG Group/Ophir Energy's recent gas discoveries. The partnership holds concessions for blocks 1, 3 and 4 in the Mafia basin and the northern portion of the Rovuma basin off southern Tanzania, in water depths of 100-3,000 m (328-9,842 ft). Both the finds, Pweza-1 and Chewa-1, were in water depths of 1,315-1,400 m (4,314-4,593 ft), and 80-85 km (49.7-53 mi) offshore. A third well will be drilled as part of the initial work program, after which BG Group will assume operatorship of the blocks.
One of Tanzania's lesser known offshore operators is London-based Dominion Petroleum. The company was awarded a Production-Sharing Agreement (PSA) for Exploration block 7 in March 2007 with Tanzanian Petroleum Development Corp., under the country's first offshore bidding round.
Even at that point, before any wells had been drilled offshore East Africa, competition was fierce, with most of the other concessions going to established international operators. "Dominion's team at that time had done a good job identifying a highly prospective block," said Chief Executive Andrew Cochran.
"The company put in a competitive bid, but it already had a large acreage position onshore Tanzania, and had been in the country for a few years, so for that reason the Tanzanians liked them. Petrobras bid for four contiguous blocks, including Block 7, but the government decided to give it to Dominion."
The PSA extends into the Indian Ocean from the capital Dar-Es-Salaam, 70 km (43 mi) to the west, and covers an area of 8,500 sq km (3,282 sq mi). Water depths range from 100 m (328 ft) near-shore to over 3,000 m (9,842 ft). Dominion has fulfilled the work commitments of the initial four-year phase which ended in March. These included geological and geophysical studies, based in part on the non-exclusive 2D seismic data-set acquired by WesternGeco off Tanzania in 1999-2000, which was a mandatory purchase for the bid round; and compilation, processing and interpretation of new 2D and 3D data over prospective areas of block 7. A second four-year phase was due to start this month, carrying commitments for up to two exploratory wells.
Fugro'sGeoMariner vessel acquired over 4,300 km (2,672 mi) of 2D data in late 2007, which was interpreted and processed the following year. Dominion's management at that point was focused more on the block's shallow water potential. But towards the end of 2009, a new team took over at Dominion, led by Cochran. "I saw different prospectivity from the previous regime," he says, "in the form of larger, repeatable (i.e., not one-off) structures with combination structural/stratigraphic features."
Last year, Fugro-Geoteam'sGeoBarents vessel acquired 1,236 sq km (477 sq mi) of 3D data in block 7 using long-offset, 7-km (4.3-mi) streamers, and mainly covering pre-Tertiary structural and stratigraphic prospects identified from the earlier 2D seismic. The survey was designed to support further AVO studies for DHI analyses.
CGGVeritas has been processing the data, and the results will be used to re-assess volumes of all mapped prospects and to approach potential farm-in partners to help fund drilling. "Alpha" is the largest structure identified to date, with prospective resources of 1.1 Bbbl of oil or 7 tcf of gas, according to a competent persons report compiled by Energy Resource Consultants.
"We've covered all the areas we wanted to," said Cochran, "although I would like to acquire further 2D data in deeper water, where the coverage is sparse and should be improved. Tanzania's government plans to commission another non-exclusive survey to support their forthcoming bid round, and we might use that vessel to acquire infill seismic on our block."
Cochran's team does bring experience in deepwater exploration, and works with a small private oil and gas company on interpretation. "However, the only people with solid pre-Tertiary experience are probably working for Hess in Equatorial Guinea or for Tullow, Kosmos or Anadarko on the West Africa transform margin." Very few deepwater wells have been drilled so far off East Africa, Cochran notes, so understanding deepwater depositional processes is critical.
"We don't have salt or carbonates to contend with in our acreage. There are water-bottom multiples – I don't know whether that undermines our amplitude, but the picture given by our 2D and 3D data looks reasonably similar. In this part of the Indian Ocean, there is not a particularly steep shelf edge. Some diapir structures are present farther south, however, and in the Rovuma basin, the Tertiary thrust overburden presents steep and horizontal faulting, which makes it complex to image the pre-Tertiary."
"In our block, from west to east there is onshore shelf, slope, deepwater. The prospects we would drill go out to 1,500 m [4,921 ft] water depth. We've ignored the shallow water 'younger' stuff, where there are structural closures which may hold dry gas, but they're not that big. The really big volumes are in pre-Tertiary, stratigraphic features farther out. If liquids are found in this play, it will probably be black oil."
If partner(s) can be found, drilling on block 7 could start before the end of the year, but more realistically in early 2012. By that point there could be four to six deepwater rigs based in the area, with ENI, BG, Statoil and Petrobras all lining up wells in addition to Anadarko's ongoing program off Mozambique.
Dominion may also participate in Tanzania's bid round, Cochran says, "although we need to look at the minimum work requirements. It will be more competitive than the previous round, as expectations have gone up. The offshore acreage is still to be determined, but it is moving out into riskier areas. As you move farther east, you go towards oceanic crust, where prospectivity is zero."
The same security issues apply as farther south. Tanzanian marines guard crews of support vessels – last year, there were numerous incidents involving attacks by pirates offshore Tanzania, including four in one week.
As for offshore logistics, Dar es Salaam is the nearest port, although it can get congested, Cochran admits. BG will likely make its supply base in Mtwara in southern Tanzania available to other offshore operators.
Kenya potential
Last October, Cove Energy completed a deal to acquire 15% interests from DEPCO in five contiguous deepwater blocks offshore Kenya, covering a total area of 30,862 sq km (11,916 sq mi). The acreage stretches from the Somali border in the north to Tanzania in the south. All are operated by Anadarko Kenya.
The L5, L7, L11a, L11b and L12 blocks contain diverse hydrocarbon play types which have not been tested previously in Kenya, and are similar to the plays pursued to date off Mozambique, including Upper Cretaceous and Tertiary deepwater turbidite sand Lower Cretaceous/Upper Jurassic fan systems. Anadarko has so far acquired 5,000 km (3,107 mi) of 2D seismic and plans to follow up with a 3D survey this year.
In February, Cove was part of a consortium led by BG Group that was offered the two inboard offshore blocks L10A and L10B, covering a total area of over 10,000 sq km (3,861 sq mi) and water depths from 200-1,900 m (656-6,233 ft). In both cases, negotiations are continuing for production-sharing contracts. According to John Craven, "we discussed continuity of play types and operations with Anadarko before opting to join their blocks."
More Offshore Issue Articles
Offshore Articles Archives
View Oil and Gas Articles on PennEnergy.com