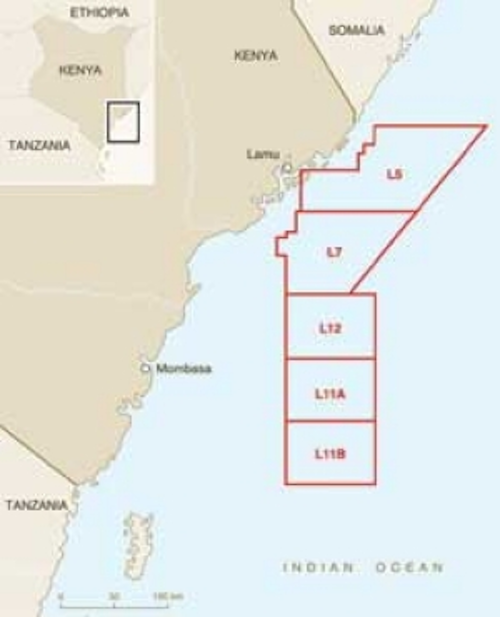 Jeremy Beckman • London
Subsea expenditure worldwide could exceed $94 billion over the next five years, according to Infield's latest Subsea Market Report. The top 10 oil companies will likely account for over three-quarters of subsea development costs during 2011-15, led by Petrobras and followed by BP and Total. Much of the drilling expenditure will be directed at the established deepwater regions in the GoM, Brazil, Nigeria, and Angola, but subsea activity is also on the rise in Southeast Asia.
Infield adds that around 58% of subsea tree installations are set to occur in water depths of over 500 m (1,640 ft), with a significant portion in waters 1,500 m (4,921 ft) deep or beyond. Seabed separation is likely to become more prevalent as a method of enhancing production, even though the technology remains to be fully proven.
North America
Cairn Energy has resumed exploration drilling off western Greenland. As in 2010, the company is deploying two rigs – the semisubmersibleLeiv Eirkisson and the drillship Ocean rig Corovado. Initially they are working on the AT-7 well in the Atammik block and LF-7 in the Lady Franklin block, respectively 160 and 300 km (99 and 186 mi) offshore the capital Nuuk. Water depths range from 905-989 m (2,969-3,245 ft). Later in the year, Cairn plans further wells in the Napariaq and Eqqua blocks in the southern Baffin Bay West Disko area. The campaign targets potential gross resources of 3.2 Bboe.
•••
Pemex has a new offshore gas/condensates discovery in the Cordirellas province of the Gulf of Mexico. The deepwater Piklis 1 well, drilled 144 km (89 mi) northwest of Coatzacoalcos, could hold gas reserves of 400-600 bcf.
Brazil
Sete Brasil, a new company working in partnership with Estaleiro Atlantico Sul shipyard, will construct seven offshore rigs to service Petrobras' future ultra-deepwater pre-salt drilling commitments. The rigs, due to enter service in 2015, will be the first built in Brazil. Petrobras has also sanctioned a bidding process for construction of up to 21 more rigs targeting pre-salt prospects. Leasing and operations contracts will be awarded for each of this latest batch.
Caribbean Sea
BG Trinidad & Tobago has contracted McDermott International for a 750-ton (680-metric ton) compressor module for the Hibiscus field offshore Trinidad. This will be assembled in Morgan City, Louisiana, ready for load-out and transportation in early 2013. TheDB50 heavy-lift vessel will then install the module on the existing Hibiscus platform in BG's North Coast Marine Area development. The compressor will allow BG to increase gas supplies to its Atlantic LNG trains in Point Fortin, southern Trinidad.
West Africa
Hess has found oil and gas condensate in the Paradise prospect offshore Ghana. The well was drilled in 6,038 ft (1,840 m) of water in the Deepwater Tano/Cape Three Points license, encountering 490 net ft (149 m) of pay over three intervals.
In the West Cape Three Points concession, Kosmos Energy has proven light oil in a previously untried play in thick Cenomian reservoir sandstone. The semisubmersibleAtwood Hunter drilled the Banda-1 well 9.6 km (5.9 mi) southeast of the Odum field.
•••
Noble Energy is set to extend its acreage network along the West African transform margin by farming into the AGC Profong PSC off Senegal and Guinea Bissau. Noble will take a 30% interest in exchange for funding Rocksource's costs of the Kora-1 well, due to spud last month, and further drilling in the event of a discovery. After the appraisal program has been approved, Noble would also become operator of the PSC.
To the southeast, AGR Petroleum Services has contracted the deepwater drillshipJasper Explorer to work in Hyperdynamics' concession offshore Guinea. The company aims to spud its first exploratory well here late in 2011.
Farther south, Canadian Overseas Petroleum has offered $85 million for Peppercoast Petroleum's 100% interest in block LB-13 off Liberia. Assuming approval from state-owned company NOCAL, COPL will acquire 2,023 sq km (781 sq mi) of 3D seismic over the block, which also carries an obligation to drill during the current exploration phase.
•••
Sinopec has won a 12-month extension to the first exploration phase for block 2 in the Nigeria-Sao Tome & Principe Joint Development Zone. The company will conduct further geological and geophysical studies during this period. According to partner ERHC Energy, negotiations continue on the exploration programs for blocks 3 and 4.
Northern Europe
LOTOS Petrobaltic seeks partners for its planned development and exploration campaign in the Polish sector of the Baltic Sea. According to Houston-based brokers Indigo Pool, the package provides near-term production potential with nearby existing infrastructure, and Poland operates a favorable economic regime.
Qatar offshore block BC (pre-Khuff), operated by CNOOC.
Middle East
Total is taking a 25% interest in the block BC (pre-Khuff) exploration license offshore Qatar from operator CNOOC. The block is 130 km (81 mi) from the coast, in water depths of 15-35 m (49-115 ft). The partners must acquire 2D and 3D surveys and drill at least three exploratory wells by 2014.
•••
RAK Petroleum was due to start its 2012 offshore drilling program last month. The line-up includes three development wells on the Bukha and West Bukha fields in block 8 off Oman, and deepening of the S-5 well on the Saleh field off Ras Al Khaimah, as a first step towards a full-field redevelopment.
•••
Pars Oil and Gas Co. expects to bring onstream by the winter all 24 wells in its South Pars gas field phases 9 and 10 in the Persian Gulf. National Iranian Oil Co. is considering gas exploration in the deeper water Oman Sea, between the Hormoz Strait and the median line with Pakistan.
Mediterranean Sea
Malta's government has agreed to an 18-month extension for the initial phase of an offshore production sharing contract with operator Mediterranean Oil and Gas (MOG). The area 4 concession covers 5,700 sq km (2,202 sq mi) between Maltese waters and the median line with Libya, and is surrounded by proven, analogous petroleum systems offshore Libya, Tunisia, and Sicily. Since 2007, MOG has acquired and reprocessed new and existing 2D and 3D seismic over the permit, and identified potential oil prospects totalling around 5 Bbbl.
•••
Canadian company MENA Hydrocarbons is taking a 55% interest in an offshore development lease, 60 km (37 mi) from Egypt's north coast. This is part of a larger concession in which MENA will take a 35% stake. There have been five gas/gas-condensate discoveries to date on the lease.
•••
Noble Energy has contracted Alliance Engineering for detailed engineering and design for its Tamar platform in the Israeli sector of the Levantine basin. The platform will be stationed in 800 ft (244 m) of water, and will be able to process 1.2 bcf/d of gas. This will be produced via subsea wells on the Tamar field connected to the platform by 150-km (93-mi) long flowlines. The platform's 10,000-ton (9,072-metric ton) topsides, comprising a four-level deck, will be designed for installation in a single lift.
Caspian Sea
Kazakh companies JSC KMG EP and JSC NC KazmunaiGas have signed a memorandum concerning joint programs in five blocks offshore Kazakhstan. The agreement would give JSC KMG EP access to technical and economic data relating to various oil and gas projects in the concessions.
East Africa
Kenya's government has awarded production-sharing contracts to BG Group and Dominion Petroleum in the offshore Lomu basin. BG will have a 40% operating interest in blocks L10A and L10B, with a commitment to acquire seismic during the first two years. Dominion gained a 60% operated interest in block L9, and has pledged to acquire 5,000 sq m (1,930 sq mi) of 3D seismic, as well as reprocessing existing 2D data.
•••
Aminex should by now have spudded its fourth exploration well in the Nyuni PSA off Tanzania. The land rig Caroil-6 was due to drill Nyuni-2 from Nyuni Island in the northeast of the permit to test a large Neocomian prospect. Aminex is also in talks over tying the nearby offshore West Songo Songo gas discovery into a hub based on the Kiliwani North field.
In Tanzania's offshore Tanga block, new operator Afren hopes to start exploration drilling by year-end.
Indian sub-continent
Gujarat State Petroleum has commissioned a new process platform from Laursen & Toubro for a development in the KG basin offshore eastern India. The contract value is around $317 million.
To the east, off Bangladesh, Santos has contracted the Seadrill jackup Offshore Resolute for a program of three wells, the first of which should be under way. And off Sri Lanka, Cairn India has lined up a drillship for exploration in its DL 2007-01-001 block in August.
Asia/Pacific
PTTEP has discovered more reserves in Martaban Gulf block 3, offshore Myanmar. The Aung Sinkha-2 well encountered a gas-bearing formation in a limestone reservoir – on test the well flowed gas from one zone and gas and condensate from another.
•••
Vietsovpetro may install further test separation facilities on the Bach Ho central processing platform complex off southern Vietnam. These would serve to more accurately measure incoming liquid and gas from the Ca Ngu Van field in block 9-2, operated by the Hoan Vu Joint Operating Co.
•••
Statoil has been offered 40% equity in two Indonesian offshore production-sharing contracts. Nido Resources currently operates the North Makassar and West Papua IV/Halmahera-Kofiau PSCs, but Statoil could become operator of any development projects. Drilling is planned on both permits later in the year.
Among the award winners under Indonesia's second International Bid Round, Eni gained 100% of the Arguni 1 block in the Bintuni basin in the West Papua province. The area has several giant gas fields already in production, and the Tangguh LNG plant is 10 km (6.2 mi) west of Eni's acreage.
Australia
Shell has committed to build the world's first floating LNG vessel for gas production on the Prelude field, 200 km (124 mi) off northwest Australia. The 488-m (1,601-ft) long vessel will produce and convert 110,000 boe/d from the field for at least 25 years, and after a while should handle production from other fields in the area.
•••
MEO Australia has found a partner for a program on the Heron and Blackwood gas discoveries in Timor Sea permit NT/P68 off northern Australia. Eni will earn 50% in Heron by drilling two wells, and 50% in Blackwood by acquiring 3D seismic and drilling one well. Eni can acquire a further 25% in both areas by funding work leading up to a final investment decision.
•••
Santos has discovered oil in the Finucane South prospect in the Carnarvon basin off Western Australia. The location was 7 km (4.3 mi) from the Fletcher oil field, in the same WA-191-P permit. Development options include a subsea tieback to the Mutineer Exeter FPSO, leading to first oil from both Finucane South and Fletcher by end-2013.

Eni will fund its entry into the NT/P68 permit via wells on the Heron and Blackwood prospects.
Woodside Energy's latest well in the Pluto area in the same basin encountered gas in a Triassic target in the Xeres prospect. The well was drilled 12 km (7.4 mi) southeast of the Pluto-1 find in license WA-34-L.
Woodside's offshore development programs in the region include the Browse LNG project. The company recently commissioned KCA Deutag for FEED for a 3,000 hp modular platform drilling rig, capable of drilling large-bore gas wells up to 9,000 m (29,527 ft) deep, and capable of transference between dry tree units (DTUs) based on a TLP design. The DTUs would be positioned over the Calliance and Brecknock field, 270 km (168 mi) from the Kimberley coast.
More Offshore Issue Articles
Offshore Articles Archives
View Oil and Gas Articles on PennEnergy.com