Jeremy Beckman • London
Husky Energy has started production from a two-well pilot scheme on the West White Rose field offshore Newfoundland. The aim is to derive further data ahead of a full development of the field.
In the same region, Husky has been drilling the Fiddlehead exploration prospect, south of the Terra Nova field.
•••
Pemex has contracted Cal Dive International to install an 8-in. (20.3-cm) subsea pipeline next April in the Gulf of Mexico. The facility, in 47 m (154 ft) water depth, will serve the Abkatun field.
South America
Petrobras has asked Brazil's regulating agency ANP to postpone closure of an Evaluation Plan for the Carioca area in offshore block BM-S-9. This follows discovery of another oil accumulation, Abaré, 35 km (21.7 mi) south of the Carioca discovery well, and a highly productive extended well test.

Malombe is one of three new deepwater finds for Petrobras offshore Brazil.
The new find is in carbonate reservoirs at a depth of 4,830 m (15,846 ft). As for the ongoing test on the Carioca Northeast well, which is connected to the FPSODynamic Producer, results here suggest potential for production of 28,000 b/d per day, well above the initial estimates.
Petrobras had further successes elsewhere, finding gas in the Malombe structure in 980 m (3,215 ft) water depth in the postsalt area of the Espirito Santo basin. The location is 13 km (7.4 mi) southeast of the Peroa field. Another deepwater well in the Santos basin presalt cluster confirmed an extension of the Franco area oil reserves, 7.7 km (4.8 mi) to the northwest, known as Franco NW.
•••
Another on the growing roster of presalt finds is the BP-operated Itaipu in the Campos basin. A recent appraisal well 4 mi (7 km) southeast of the discovery appears to extend the accumulation by 120 m (393 ft) downdip. Partner Anadarko is preparing to spud another presalt appraisal well on the Wahoo field in the same basin later this month.
•••
Rockhopper Exploration has proven oil and gas while drilling a multiple-target well in the Casper structure, a short distance southwest of its Sea Lion find in the offshore North Falkland basin. Casper could be equipped with a gas disposal well under a potential joint development with Sea Lion.
Mediterranean Sea
Gas production has started from the Eni-operated Gendalina field platform, 47 km (29 mi) off northeast Italy. Final development costs will likely be 7% above original estimates, according to partner Mediterranean Oil & Gas (MOG). The field is in 42 m (138 ft) of water in the AC 35 concession, with probable reserves of 22 bcf.
MOG has secured a short-term loan of up to $4.8 million, much of which will be used for a 1,000-sq km (386-sq mi) seismic survey in Area 4, offshore Malta, which may already be under way. Large structures have been identified in the permit, and the new survey should help define drilling targets.
•••
Gas production has restarted through the Sabratha platform, 110 km (68 mi) northwest of Libyan capital Tripoli, following the shutdown enforced by the recent conflict. Mellitah Oil & Gas, the joint venture operating company between NOC and Eni, expected output to ramp up to 11-13 MMcm/d (388-450 MMcf/d) by the end of last month, with all 15 platform wells being progressively reopened. Production rates should rise further as the subsea wells come online next year. The gas is sent to shore for processing at the Mellitah complex before heading north to Italy across the Mediterranean Sea via the Greenstream pipeline.
•••
Burullus Gas Co. has brought onstream the $1-billion Phase 8a of the West Delta Deep Marine project offshore Egypt. This involves adding nine wells to the existing subsea infrastructure, 90 km (56 m) from the Nile Delta.
In the Nile Delta shallow water region, IEOC has discovered gas in the Salmon prospect, the third gas find in the North El Burg concession since it was awarded in mid-2005. The semisubScarabeo IV drilled the well in 87 m (285 ft) of water, 50 km (31 mi) north of Damietta, encountering gas in two shallow Pleistocene intervals.
In the Gulf of Suez, Egyptian General Petroleum Corp. has made available various blocks under the 2011 exploration bid round. These include NorthWest Abu Zenima, East Raps Burden Offshore, and NorthEast Issran. Applications must be received by Jan. 30.
Caspian Sea
Lukoil has commissioned a new riser platform and a living quarter platform for its Filanovsky oil field development in the Russian sector. Construction of related drilling/operations and central processing platforms should start by early 2012. Oil will be exported to shore through a new 330-km (205-mi) subsea pipeline.
•••
Dragon Oil is targeting 100,000 b/d of oil in 2015 from the Cheleken Contract Area off Turkmenistan, and to sustain that level for at least five years or even exceed it. This could be achieved by a combination of new platforms and new rigs to speed up development drilling, and enhanced oil recovery measures such as water injection on the Dzheitune (Lam) field. This year 13 new wells have been drilled, which should push current output to 70,000 b/d by the end of 2011.
Middle East
Saipem has an EPIC contract from South Oil Co. for Phase 2 of the Iraq Crude Oil Export Expansion Project. This involves expansion of the Basra Oil terminal offshore the Al Faw Peninsula. Saipem's scope includes construction and installation of a central metering and manifold platform in 28 m (92 ft) water depth, and associated facilities. This will be built at the company's yards in Dammam, Saudi Arabia, and Karimum, Indonesia, for installation in the second half of 2013.
•••
ADMA-OPCO has contracted Fluor Offshore Solutions for FEED work for new facilities on the Nasr field, 30 km (18.6 mi) northeast of the Umm Shaif complex off Abu Dhabi. The Nasr full field development calls for seven new wellhead towers, utilities and quarters platforms, new gas processing and oil separation facilities, an infield subsea pipeline, and an export pipeline to Das Island.
East Africa
Eni is claiming a giant gas discovery via its first well in Area 4 off Mozambique. Mamba South 1, drilled in 1,585 m (5,200 ft) water depth 40 km (25 mi) off Cabo Delgado coast, encountered 212 m (695 ft) of continuous gas pay in good-quality Oligocene sands, and a 90-m (295-ft) wide sand which could potentially hold 7.5 tcf. The well was due to be deepened to TD of 5,000 m (16,404 ft), with a second well to follow 22 km (13.5 mi) to the north on the Mamba North structure.
India
ONGC has awarded McDermott International an EPIC contract for the Cluster 7 Development offshore western India. McDermott's scope includes construction and installation of five wellhead platforms with a total weight of 20,000 metric tons (22,046 tons), all to be built at the company's yard in Jebel Ali, UAE. Installations should start from late 2012.
In the KG-DWN-2003/1 (D3) block off eastern India, the Reliance/BP/Hardy Oil & Gas consortium plan a dry gas, subsea cluster development for the Dhirubhai 39, 41, and 52 gas discoveries. The facilities would provide flexibility for tie in of further accumulations in the area.
West Africa
Wessex Exploration has signed an assurance agreement for the Imlili block PSC offshore Western Sahara. This was awarded by the Sawahari Arab Democratic Republic, recognized by the UN as the democratically elected government of the territory despite the occupation by Morocco. Imlili covers an area of 16,965 sq km (6,550 sq mi) in water depths of up to 150 m (492 ft), and is in between two other blocks where Wessex holds 50% interest.
•••
Mauritania's government has agreed terms for new offshore PSCs with Tullow Oil and its partners. The previous PSC-Area A and PSC-Area B have been replaced by a single concession, C-10, covering 10,725 sq km (4,141 sq mi). Tullow is operator with 59%, although Petronas will continue to operate the producing Chinguetti field based on the original license interests. The revision should hasten development of the Banda gas and oil discoveries, and spur further exploration drilling.
•••
Anadarko's first well in Liberian waters found subcommercial light oil. The discovery came in the deeper secondary (late Cretaceous) objective. Although the well has since been plugged, it did establish a working hydrocarbon system in the Liberian basin, partner Tullow points out. The drillship was due to mobilize north to appraise the same partnership's Mercury discovery off Sierra Leone.
•••
Namibia's Ministry of Mines and Energy has awarded UK independent Serica Energy 85% interests in four large blocks and part-blocks in the offshore Luedritz basin. Other parters are state-owned NAMCOR and Indigenous Energy. The blocks cover a total of 17,400 sq km (6,718 sq mi) in the center of the little-explored basin, south of the Walvis ridge. Analysis of existing seismic suggests potential for four-way dipped closed structures in the undrilled deepwater parts of the concessions.
Chariot Oil & Gas has won a drilling permit for its deepwater Tapir South prospect in northern license 1811 A&B offshore Namibia. This followed submission of detailed well and oil spill response plans.
•••
Total has achieved a second discovery in the OML 102 concession, 65 km (40 mi) off Nigeria's southeastern coast. Etisong North was drilled in 80 m (262 ft) water depth, 15 m (49 ft) southeast of the Total-operated Ofon complex. It tested 40º API oil at 8,500 b/d from one of three reservoirs encountered. The previous find was Etisong Main in 2008. Total is considering a new development hub.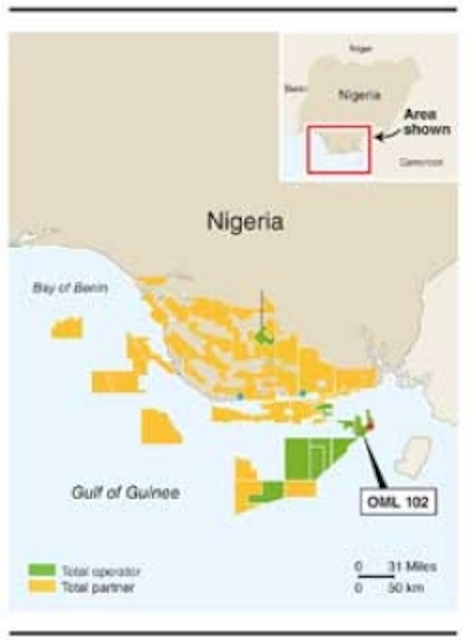 Etisong North is Total's second find in the shallow-water OML 102 concession off Nigeria.
To the south off Gabon, the new platform for Total's Phase 3 Anguille field redevelopment was due to sail out of Eiffel's yard in southern France this month. It should arrive at the offshore destination in February.
Asia-Pacific
A joint investigation team in China has concluded that operator ConocoPhillips was responsible for the leak earlier this year from the offshore Penglai 19-3 oil field. The team cited violation of the Overall Development Plan, defects in procedures and management, and failure to take necessary measures after clear accident signs emerged. Partner CNOOC says it will assist ConocoPhillips in dealing with subsequent issues.
•••
Chevron has started gas production from the $3.1-billion Platong II project in the Gulf of Thailand, which eventually will deliver 330 MMcf/d and 18,000 b/d of NGLs. The development is in shallow water, 120 mi (200 km) from the southern Thai coast. New facilities connected to the existing infrastructure include a central processing platform, four wellhead platforms, and living quarters for 200 personnel.
•••
Petronas Carigali and Shell Malaysia will collaborate on enhanced oil recovery (EOR) projects offshore Sarawak and Sabah. They have signed a heads of agreement for two 30-year PSCs designed to extend the life and of the Baram Delta (BDO) and North Sabah fields, and to increase production from the fields by a further 90-100,000 boe/d. A technology review could lead to implementation at North Sabah of the world's first field-scale offshore chemical EOR process.
•••
ExxonMobil has contracted Malaysia Marine and Heavy Engineering to build two four-leg satellite platforms for the Telok gas development. Gas produced through these facilities will head through a new 25-km (15.5-mi) subsea pipeline to the existing Guntong E platform off Malaysia for processing. Start-up is scheduled for early 2013.
•••
Niko Resources has awarded Diamond Offshore a four-year, $700-million contract for use of the semisubOcean Monarch for a deepwater exploration program offshore Indonesia. The rig is equipped to drill to depths of 35,000 ft (10,668 m), in water depths of up to 10,000 ft (3,048 m). It will start work on Niko's 16 Indonesian PSC areas in mid-2012.
•••
Mobil Cepu has agreed a $300-million contract under which Sembawang Shipyard will convert a tanker to a VLCC-size FSO for the Banyu Urip project. This will be deployed offshore East Java, Indonesia. The conversion should be completed early in 2014.
Australasia
Chevron has notched two further gas discoveries off Western Australia, both in permit area WA-205-P. Acme West-1 and Acme West-2 were drilled in 3,035 ft (925 m) of water, and encountered combined gas pay of 561 ft (171 m). Chevron expects to eventually tie both into its Wheatstone LNG hub.
More Offshore Issue Articles
Offshore Articles Archives
View Oil and Gas Articles on PennEnergy.com