Jeremy Beckman • London
Gazprom and PDVSA are discussing a joint development of the Robalo gas field in the Gulf of Venezuela. The two companies have signed a memorandum of understanding which sets out conditions for the cooperation and geological data required for the project.
PDVSA has committed to the Mariscal Sucre Dragon field development, 25 mi (40 km) north of Paria peninsula in Sucre state. The company has contracted Technip to supply and install subsea flowlines and onshore processing equipment, and to provide operational support for the subsea facilities.
•••
BPZ Energy has commissioned a second platform for the Corvina field in block Z-1 offshore Peru, at a cost of $60 million. CX-15 will be a buoyant tower comprising four cylindrical cells fixed to the seabed via a single suction pile, integrated to the hull structure. The 24-slot facility should be installed by end-July 2012, around 1 mi (1.6 km) from the existing CX-11 platform. It will provide a further 12,200 b/d of oil production capacity and 12.8 MMcf/d of gas compression.
•••
Petrobras has opened a new ultra-deepwater province with its Barra oil and gas discovery in the Segipe-Alagoas basin. The well was drilled in the SEAL-M-426 block in 2,341 m (7,680 ft) water depth, 90 km (56 mi) from Aracaju. Analysis of a lined well formation test suggest reservoirs with high-quality porosity, with API varying from 32-43°.

Petrobras' Barra discovery in the Segipe-Alagoas basin.
In the ultra-deep Santos basin, gas is flowing through a new 216-km (134-mi), 18-in. (46-cm) pipeline connecting the presalt Lula field to the Mexilhao platform. Lula's gas is produced through the FPSOCidade Angra dos Reis; over time, the pipeline will handle gas from more floaters under construction for other fields in the region.
Petrobras has signed a three-year cooperation agreement with BG Brasil, its partner in Lula and other presalt discoveries in the Santos basin. The two companies will address challenges associated with these fields, focusing initially on well construction and production optimization.
•••
The FPSOOSX-1 arrived in Rio de Janeiro last month following a 45-day journey from Keppel Shipyard in Singapore. OGX has chartered the vessel for 20 years to work on Waimea, its first oilfield development, in shallow water Campos basin block BM-C-42. Initially the floater will perform an extended well test, using the existing OGX-26HP well. Shell Western Supply and Trading has agreed to take the first two 600,000-bbl shipments of Waimea's 20° API oil.
•••
SBM and Synergy Group company Naval Ventures have agreed to jointly develop and operate a yard at Niteroi, Brazil, for topsides module fabrication and FPSO integration/commissioning. A floating crane will be upgraded for lifting modules onto FPSO decks. Saipem plans to develop another new construction yard for subsea and floating structures on an industrial site in Santos port, 350 km (217 mi) from the Santos basin presalt cluster and 650 km (404 mi) from the Campos basin.
West Africa
Tullow Oil has proven further oil in the Enyenra field in the Deepwater Tano license offshore Ghana. Analysis of the Enyenra-3 well indicate a 17-m (56-ft) oil column and static pressure communication with both the previous appraisal well and the Oyo accumulation to the south. The drillshipSedco Energy was due to arrive late last month to start a fourth well to appraise Enyenra's downdip extent.
Europe
Iceland has launched its second round for exploration and production licenses, which will stay open through April 2, 2012. Blocks are on offer in the Dreki Area, northeast of Iceland in water depths mostly from 800-2,000 m (2,625-6,562 ft). This area is part of the Jan Mayen Ridge micro-continent, thought to have separated from Greenland and Norway via tectonic plate movements 45-60 million years ago. Seismic and other geophysical surveys to date indicate oil and has could be present. TGS-NOPEC Geophysical Co. recently was awarded a prospecting license in the northern part of the Dreki Area.
•••
Rosneft has signed an agreement with Sevmorneftegeofizika for seismic exploration services in the Russian sector of the Black Sea. Sevmorneftegeofizika will acquire 3D seismic in the Tuapse license block in alliance with Sovcomflot, using the new ice-class research vesselVyacheslav Tikhonov. The assignment resulted from the new Russian E&P alliance between Rosneft and ExxonMobil.
North Africa
Dragon Oil has agreed to farm into the Bargou exploration permit in the Gulf of Hammamet, offshore Tunisia. A recent 3D seismic survey confirmed various prospects and leads in water depths of 50-100 m (164-328 ft). Dragon will pay 75% of the cost of a planned appraisal well next year on the Hammamet West oil field in the north of the permit, comprising a pilot hole followed by a horizontal section to intersect fractures within the Abiod formation. If flow results are good, the partners could commit to a development, which Dragon would operate. The company aims to transfer its experience exploiting complex reservoirs offshore Turkmenistan.
•••
Heritage Oil has acquired controlling interest in the owner of SOS, an oilfield services provider in Libya with a large operational yard at its base in Benghazi. Heritage, too, has built a base in this area, and has been in dialogue with the National Transitional Council and Libya's National Oil Co. about ways of rehabilitating the country's shut-in fields. SOS may also help Heritage drill targets on its concessions offshore Malta to the north – negotiations are in progress to bring in a rig to drill a potential 500 MMboe prospect in Maltese Area 7.
Caspian Sea/Middle East
ONGC Videsh has signed an agreement with Kazmunaigaz and Kazakhstan's Ministry of Oil and Gas, confirming a 25% interest in the Satpayev block in the northern Caspian Sea. Oil resources here are estimated at 1.8 Bbbl, but first production appears unlikely before 2020.
•••
Iran will invite bids for development of the oil layer of the giant South Pars gas-condensate field in the Persian Gulf. Iranian news service Shana reported that different parts of the oil layer would be made available, including blocks A2, B, and C, with total reserves estimated at around 7.5 Bbbl.
East Africa
Djibouti's government has awarded four exploration blocks to UK-based independent Oyster Oil & Gas. Of these, block 3 is in deepwater in the southern part of the Red Sea, which according to Oyster is a late-Miocene province with various active petroleum systems. Block 1, although mainly onshore, extends into shallow water in the Gulf of Aden. Here there are thought to be analogues with Yemen's Jurassic oil fields.
•••
Total has backed into 40% of five offshore exploration blocks in Kenya's Lamu basin, all operated by Anadarko Petroleum. The concessions cover a total area of more than 30,500 sq km (11,776 sq mi) off the Lamu Archipelago, in water depths of 100-3,000 m (328-9,842 ft).
To the south in Tanzania, Petrobras has farmed out 50% of its interests in offshore blocks 5 and 6 to Shell Deepwater Tanzania. The Zeta-1 exploration well was under way last month on block 5 and is due to be completed by year-end. In block 6, Petrobras has been interpreting a 3D seismic dataset.
Farther south off Mozambique, Anadarko's latest well in the Rovuma basin Offshore Area 1 found gas in the deepwater Camaro structure, and demonstrated pressure connectivity with the earlier Windjammer and Lagosta discoveries. Anadarko estimates that these three accumulations and Barquentine could yield a total of 10 tcf recoverable, which it plans to extract via a subsea-to-beach LNG scheme.
Indian Sub-Continent
Drilling has started on Gujarat State Petroleum's Deen Dayal West (DDW) gas condensate field in the Krishna Godavari basin off eastern India. The jackupDeep Sea Driller-1 is batch drilling the initial section of the first four wells. A lower-cost modular rig will be installed on the DDW platform to complete drilling to target depth of these and the other seven development wells. First gas is slated for 2013.
•••
Cairn Lanka has discovered gas with its first deepwater well offshore Sri Lanka. This was also the country's first offshore well, and its first hydrocarbons find of any kind, although commerciality remains to be determined. The CLPLDorado-p1H/1z well was drilled in the Mannar basin in 1,354 m (4,442 ft) water depth. It encountered a gross 25-m (82-ft) hydrocarbon column in sandstones at subsurface depths of 3,043.8-3,068.7 m (9,986-10,068 ft).
Asia/Pacific
Husky Energy and CNOOC plan to develop the Liwan 3-1 and Liuhua 34-2 gas fields in the South China Sea as part of the Liwan Gas project in block 29/26, 300 km (186 mi) southeast of Hong Kong. The partners have submitted a plan to the Chinese authorities for regulatory approval, and a gas sales agreement is already in place for Liwan 3-1. Production from these fields and the planned Liuhua 29-1 development could reach 500 MMcf/d by 2015.
•••
Premier Oil has brought onstream the Chim Sáo oil and gas field in the Nam Con Son basin off southern Vietnam. The field, discovered five years ago in block 12W, has been developed via a wellhead platform linked to the FPSOLewak Emas, which has oil processing capacity of 50,000 b/d. Oil is exported to tankers, while the gas is sent through a subsea pipeline system to the shore for power generation. A recent well proved further oil in the fault terrace northwest of Chim Sáo.
•••
Eni heads a five-company consortium awarded the North Ganal block offshore East Kalimantan, under the First Indonesian International Bids Round 2011. North Banal covers 2,432 sq km (939 sq mi) of the Kutei basin. The initial PSC commitments include drilling of one well and acquiring 200 km (124 mi) of 2D seismic. In the same region, Eni recently submitted a development plan for the offshore Jangrik field, which it aims to put into production in 2015.
Australasia
In the Timor Sea, Eni has brought onstream the deepwater Kitan oil field, three and a half years following the declaration of a commercial discovery. The location is 240 km (149 mi) south of Timor-Leste capital Dili, and 550 km (432 mi) north of Darwin, Northern Territory, Australia. Kitan is producing through subsea wells connected to an FPSO, with output building to a plateau of 40,000 b/d.
Also in the Timor Sea, PTTEP has found more gas in the Cash-Maple field in the AC/RL7 block in the Australian sector, 700 km (435 mi) west of Darwin. During tests, the Cash-2 appraisal well flowed gas and condensate from two separate zones. The remote reserves could serve a potential FLNG project.
•••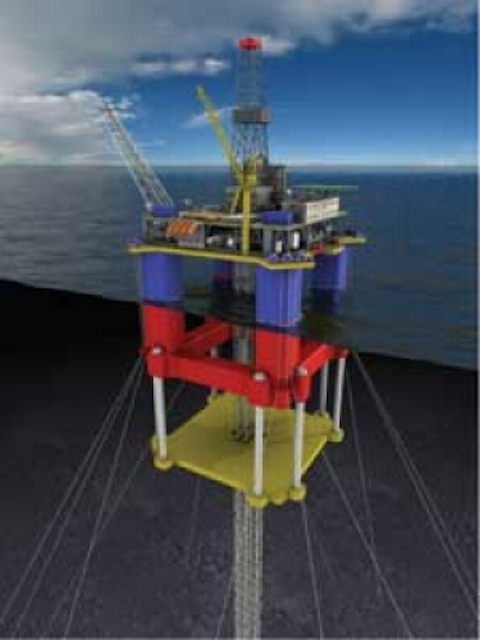 The newly convertedOkha FPSO in action off Western Australia.
Oil has begun flowing from Woodside Petroleum's North West Shelf redevelopment project off Western Australia. The converted FPSOOkha, formerly an FSO serving off Sakhalin Island, has been stationed 135 km (84 mi) northwest of Karratha. The $1.75-billion program was designed to maximize remaining oil from the Cossack, Wanaea, Lambert, and Hermes fields, estimated at just over 88 MMbbl at the end of last year. Aside from the new floater, the associated subsea infrastructure was also overhauled.
•••
Apache and KUFPEC have committed to develop the 17-MMbbl Balnaves field, discovered in 2009 in production license WA-49-L off Western Australia. Balnaves is a light, sweet oil accumulation adjacent to the large gas reservoirs of the Brunello field. Development calls for two horizontal subsea production wells connected to an FPSO, to be leased by Bumi Armada, with a water injector well to maintain reservoir pressure. At peak, the field should deliver around 30,000 b/d.
Balnaves' 30 bcf of gas will be reinjected into another reservoir for production at a future point, as part of the Chevron-operated Wheatstone LNG project, in which Apache has a 13% interest and KUFPEC 7%. The duo will supply gas to the proposed two-train onshore LNG plant from their Brunello and Julimar fields, which have estimated recoverable reserves of more than 2 tcf.
More Offshore Issue Articles
Offshore Articles Archives
View Oil and Gas Articles on PennEnergy.com