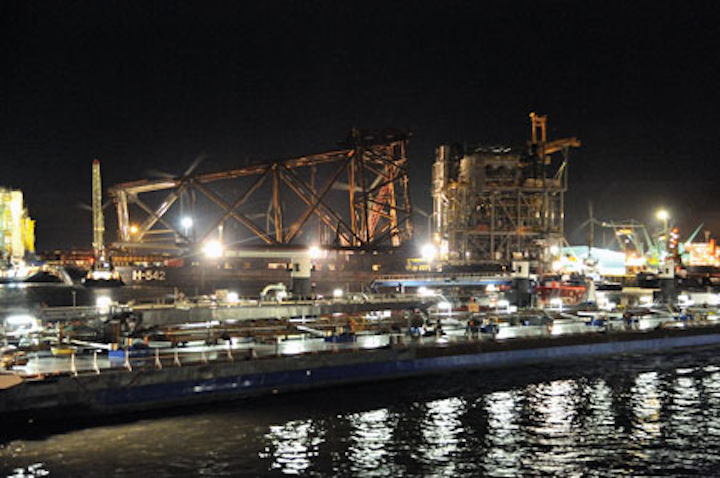 Jeremy Beckman •London
North America
The US Bureau of Ocean Energy Management has extended the comment period on a notice of intent to prepare an environmental impact statement for the Liberty project off Alaska until Jan. 26, 2016. The Liberty prospect is in 6 m (19.7 ft) of water, inside the Beaufort Sea's barrier islands and 13 km (8 mi) east of BP's Endicott field. Operator Hilcorp estimates recoverable oil at around 150 MMbbl.
•••
The Canada-Newfoundland and Labrador Offshore Petroleum Board (C-NLOPB) has issued seven parcels offshore eastern Newfoundland under its Call for Bids NL15-01EN round. Statoil will operate five licenses in the Flemish Pass basin and partner with Chevron and BG in another. Nexen Energy operates the other parcel.
Statoil was also the sole successful bidder for parcels 1 and 2 under the Canada - Nova Scotia Offshore Petroleum Board (CNSOPB) Call for Bids NS15-1 process: there were no offers for parcels 3-9. The acreage is in a deepwater, ecologically sensitive region 250 km (155 mi) from Halifax. Assuming ministerial approval for the exploration licenses this month, Statoil will then have to submit an environmental assessment for its planned work program.
•••
Eni has signed a production-sharing agreement for three near-shore oil fields in the Bay of Campeche with Mexico's Comisión Nacional de Hidrocarburos. Amoca, Miztón, and Tecoalli are in Area 1 in 20-40 m (66-131 ft) of water. Eni, which estimates in-place combined reserves at around 800 MMbbl, plans four delineation wells ahead of a fasttrack, collective development.
South America
Petrobras has filed a declaration of commerciality for an oil accumulation in the presalt Santos basin which it proposes to name Sépia Leste. The field, with estimated reserves of 130 MMboe, is in block BM-S-25, 250 km (155 mi) offshore Rio de Janeiro state in 2,165 m (7,103 ft) of water. It appears to be an extension of the Sépia field which Petrobras declared commercial in 2014. The partners are considering a unitization application to allow development through the Sépia production system, leading to start-up in 2019.
•••
Rockhopper and Falkland Oil and Gas Ltd. (FOGL) are seeking shareholder approval for a merger of the two UK independents. The combined group would be the largest holder of licenses north of the Falkland Islands, and partners in the Premier-operated Sea Lion oil development and last year's potential 256-MMbbl Zebedee discovery that could be tied in at a later date. FOGL is short of cash following outstanding bills related to the unsuccessful Humpback exploration well southeast of the islands.
West Africa
Kosmos Energy has discovered a second large gas accumulation in ultra-deepwater offshore Mauritania. The drillshipAtwood Achieverdrilled Marsouin-1 60 km (38 mi) north of the earlier Ahmeyim (ex-Tortue) find, encountering 70 m (230 ft) of net gas pay in upper and lower Cenomanian sands. After drilling the top-hole section of Ahmeyim-2, the drillship was due to sail to Senegal to spud the Guembeul-1 wildcat.
•••
Nigerian independent Sirius Group has commissioned Penspen to perform an engineering study of gas associated with oil fields in the offshore Niger Delta. The study is connected to Project Dawn, a three-year $1.2-billion program that involves construction of a pipeline network to take gas to the Escravos-Lagos Pipeline System. Penspen's scope includes evaluating the OML-122 field development with a subsea gas pipeline and onshore processing facility.
Another indigenous operator, Lekoil, has agreed to acquire the 22.86% interest in the offshore OPL 310 lease held by Afren, which entered administration last summer. The concession includes the 2013 Ogo-1 oil discovery, thought to hold 774-1,180 MMboe recoverable. Lekoil will act as technical partner to operator Optimum Petroleum Development Co.
•••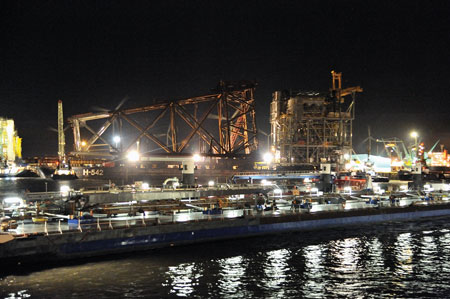 The Alba B3 compression platform on its way to Equatorial Guinea. (Photo courtesy Heerema Fabrication Group)
Heerema Fabrication Group (HFG) has dispatched the topsides and jacket for Marathon's Alba B3 compression project offshore Equatorial Guinea. Both structures were built at HFG's yards in the southern Netherlands; local contractor ECG built the 73-m (239-ft) flare and the 33-m (108-ft) long bridge that will connect the new platform to the existing B2 facility serving the Alba field, 32 km (20 mi) offshore Malabo. Hereema Marine Contractors'Thialfis due to start offshore installations this month.
•••
Perenco and state-owned SNH will allocate 500 bcf of gas from the Sanaga Sud and Ebome fields offshore Cameroon to a new FLNG project off the coast of Kribi. Golar will own and operate the terminal using itsHilliFLNG vessel, currently undergoing conversion at Keppel Shipyard in Singapore. First LNG deliveries are due in the second half of 2017, with Gazprom Marketing & Trading Singapore the sole off-taker.
•••
Namibia's Ministry of Mines and Energy has renewed Jupiter Petroleum's PEL 29 petroleum exploration license for blocks 1910B and 2010A in the Walvis basin. The original well commitment has been deferred due to current market conditions: instead, Jupiter will reprocess existing 2D seismic and acquire new long-offset 2D data over the retained acreage.
Mediterranean Sea
BG Group has farmed into 35% of block 12 offshore Cyprus for $165 million. The concession includes the 4-tcf deepwater Aphrodite gas discovery, 170 km (105 mi) from Limassol on the island's southern coast. BG's added financial clout should help operator Noble Energy advance a solution for gas exports to Egypt.
Analyst GlobalData says one option could be sharing new infrastructure with Eni's 22-tcf Zohr discovery in the deepwater Egyptian sector. Eni expected to begin appraisal drilling on Zohr this month.
Noble has also sold its 47% interest in the Alon A and C license offshore Israel, including the Tanin and Karish gas fields, to Delek Group for $73 million. The divestment partly fulfilled obligations under Israel's new regulatory framework.
Middle East
RasGas Co. has awarded McDermott International a brownfield contract offshore Qatar. This involves engineering and installing a flow assurance and loop system, comprising 74 mi (119 km) of 6- and 8-in. pipelines, and modifications to platform topsides. McDermott's team in Dubai should complete the work during mid-2017.
•••
Dana Gas expected to start production last month from the platform-based Zora gas field offshore the United Arab Emirates. At peak, the field should deliver around 40 MMcf/d to the mainland through a subsea pipeline.
•••
Masirah Oil could resume drilling this year in block 50 offshore Oman. The company's GA-South#1 oil well in 2014 opened a new petroleum system in the area, but follow-up plans for an extended-well test or early production system had to be shelved due to lower oil prices. However, a recent 3D seismic survey over the block has improved understanding of the geology around the discovery.
•••
Iran's government is opening 18 offshore projects to international oil and gas companies and a similar number of exploration blocks, according to news service Shana. Under the new Iran Petroleum Contract, National Iranian Oil Co. (NIOC) will form joint ventures with international companies which will be recompensed through a share of resultant production. Offshore fields said to be made available include Ferdows, Goldan, North Pars and the South Pars oil layer, operated by POGC, and Salman and Forouzan, which overlap waters off the UAE and Saudi Arabia.
East Africa
The Anadarko and Eni-led consortia for Offshore Areas 1 and 4 off Mozambique have signed a unitization and unit operating agreement. This should lead to development of gas from the Prosperidade and Mamba reservoirs which overlap the two blocks. Anadarko and Eni plan separate but coordinated developments up to a ceiling of 24 tcf. In addition, Anadarko has a memorandum of understanding with Mozambique's government to provide an initial 100 MMcf/d for domestic markets from Area 1 for its two-train Mozambique LNG project, rising potentially to 300 MMcf/d.
India
ONGC has two new offshore discoveries. In the shallow-water Krishna Godavari basin off India's east coast, the company notched its seventh find in the southwesterm part of NELP block KG-OSN-2004/1, which flowed gas from the Pliocene Godavari clay formation. Exploratory well B-127N-1 in the Mumbai Offshore basin produced oil and gas from the Palaeocene Panna formation, boosting the oil potential of the B-127 field cluster.
Exmar and Swan Energy plan to install a jetty-moored floating storage and regasification unit (FSRU) at the new Jafrabad LNG port in Gujarat State, northwest India. This will initially receive 5 million tons/yr of LNG, potentially doubled later via deployment of a second FSRU.
Asia/Pacific
North Dragon, North Sea Rig's first drilling semisubmersible, underwent a naming ceremony late last year at the CIMC Raffles yard in Yantai, China. This and sister newbuild rigs Beacon Atlantic and Beacon Pacific are based on the Gm4-D design, adapted for harsh offshore environments. They will be fully winterized, allowing them to operate in Arctic areas such as the Barents Sea, and to work in water depths up to 1,200 m (3,937 ft). China International Marine Containers is North Sea Rigs' largest shareholder.
CNOOC has signed a new production-sharing contract in the South China Sea with Husky Energy for block 15/33 in the Pearl River Mouth basin. Water depths range from 80-100 m (262-328 ft). Husky will operate during the exploration phase.
•••
Thailand's Department of Mineral Fuels has approved KrisEnergy's production area application for acreage that includes the Rossukon oil and gas discovery in the Gulf of Thailand. The field is in the G6/48 license in the Karawake basin, north of the KrisEnergy-operated Wassana oil field which began producing last August.
Chevron has commissioned Solstad Offshore to construct and install various new wellhead platforms and subsea pipelines in the Gulf of Thailand over the next four years, using the derrick laybargeNorce Endeavour.
•••
Vancouver-based Mitra Energy was aiming to submit outline development plans last month for two gas fields offshore southwest Vietnam. These are Nam Du and U Minh in blocks 46/07 and 51 in the Malay-Tho Chu basin. The company and partner PetroVietnam (PVEP) plan to take the gas through the existing offshore Pm3CAA-Ca Mau pipeline infrastructure from 2018 onward, possibly via a joint development other PVEP gas discoveries in adjacent block 46/13.
•••
Petronas has approved SapuraKencana Energy's (SKE) development plan for the SK 310 B15 gas field offshore Sarawak, discovered in late 2010. SKE has opted for a central processing platform with a 35-km (21.7-mi) gas export pipeline connecting to existing infrastructure. The field, due onstream in late 2017, will supply 100 MMcf/d to the Petronas LNG complex in Bintulu, Sarawak.
Ophir Production has commissioned Kuala Lumpur-based Muhibbah Engineering to supply a wellhead platform with three wells and a leased FPSO for the Ophir oil field offshore Peninsular Malaysia. SPT Offshore in the Netherlands has a letter of intent from Muhibbah covering detailed design of the suction pile foundation for the three-legged jacket and subsequent transportation and installation of the completed facility.
Australia
Hibiscus Petroleum has agreed to acquire Hydra Energy Holdings which has equity interests in seven concessions in the Carnarvon basin offshore northwest Australia. These include four oil discoveries with combined net resources of 15-17 MMbbl. Hibiscus sees potential to use the same relocatable production infrastructure on these fields that it is considering for its West Seahorse development offshore southeast Australia.