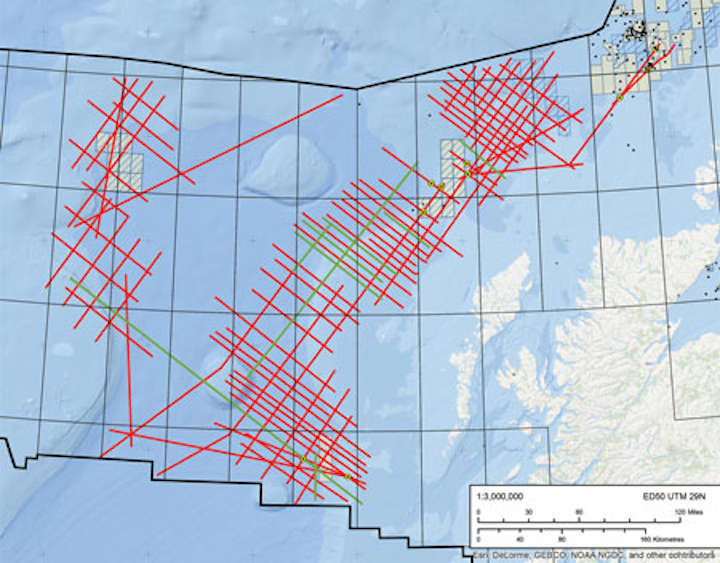 Jeremy Beckman • London
Statoil re-opens Johan Castberg file
Statoil's Johan Castberg project in the Barents Sea appears to be back on track after the company awarded two design contracts. Aker Solutions is performing a concept study for an FPSO which would primarily produce oil from the Skrugard, Havis and Drivis fields, 240 km (149 mi) northwest of Hammerfest. IKM Ocean Design is working on front-end engineering for the associated pipelines and subsea equipment.
The original environmental impact assessment proposal, submitted in spring 2013, was for a development featuring a floating production unit exporting oil via a pipeline to a new transhipment terminal in northern Norway. However, the estimated cost of NOK80-90 billion ($9.3-10 billion) was viewed as too high even before the oil price slide, leading Statoil to initiate cost reduction measures, with the scope scaled back to the more conventional scenario of an FPSO with offloading facilities. Last March the company said it would postpone a final investment decision until the second half of 2016 - assuming approval by Norway's parliament, this would likely push start-up back to 2021-22.
The Norwegian Petroleum Directorate estimates recoverable oil from the three fields at 538 MMbbl, and recoverable gas at close to 14 bcm, and Statoil is thought to be open to Castberg's facilities serving as a hub for other discoveries. According to analyst ScanBoss, Norwegian state company Petoro, a partner in Johan Castberg, still supports esatblishment of a dedicated pipeline/terminal as an outlet for other oil finds in the area, including OMV's Wisting and Lundin's Gohta and Alta. Both Wisting and Alta have recently undergone further appraisal drilling.
Njord facing overhaul
Production at the Njord field center in the Norwegian Sea will be suspended at the end of May, allowing the Njord A and B platforms to be towed to shore, according to partner Faroe Petroleum. Operator Statoil plans a re-development of the Njord and Hyme fields that could involve upgrades to the existing facilities and/or construction of new ones. All should be revealed following concept/yard selection this spring, with a final investment decision and development plan submission to follow shortly.
In addition, the Njord Future Project will tie in Statoil's Snilehorn discovery, while later this year the company plans an exploration well on another prospect on Njord's north flank.
Elsewhere in the region, Faroe is a partner in the VNG-operated Pil, Bue, and Boomerang discoveries that revived the industry's interest in the Norwegian Sea. Development planning is under way, focused on a standalone scheme based on an FPSO, or satellite tiebacks to existing facilities.
UK opening frontier regions
Britain's government has pledged £20 million ($29 million) for new seismic surveys this year over prospective UK offshore acreage. It follows last year's government-funded survey over the frontier Rockall Trough off western Scotland and the Mid-North Sea High, conducted by WesternGeco. Both regions will feature strongly in the UK's 29th Offshore Licensing Round which will open later this year.
The 20,000-km-plus (12,427-mi) broadband 2D data from the WesternGeco campaign, and more than 16,000 km (9,942 mi) of legacy seismic or reprocessed data, should be made available later this month, allowing interested industry E&P teams to work up associated licensing opportunities. In addition, the government has committed £0.7 million ($1 million) of funding for a new 3D visualization facility at the Lyell Center in Edinburgh, a joint venture between the British Geological Survey and Heriot Watt University. This will house equipment designed to improve interpretation of complex geological data and to assist analysis of last year's survey results.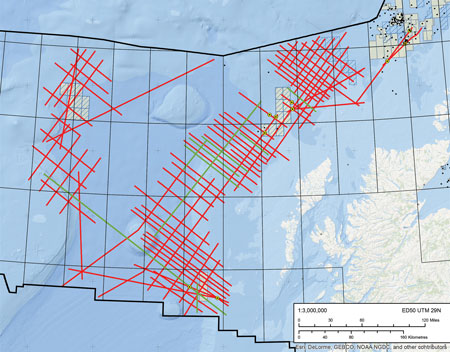 Areas in Rockall Trough covered by WesternGeco's 2D seismic survey. (Image courtesy Oil & Gas Authority)
The Oil and Gas Authority, which facilitated both initiatives, is also collaborating with Britain's new decommissioning board to deliver a plan for improved cost efficiency and technology opportunities in offshore decommissioning. Douglas-Westwood's (DW) recentNorth Sea Decommissioning Forecast 2016-2040 predicts that UK fields will dominate the market in the years ahead.
The analyst expects 146 platforms to be removed from UK waters during 2019-26, and total costs of UK decommissioning could exceed $50 billion if current removal techniques alone were applied. The total could be reduced to $43 billion through increased use of new specialist lift vessels (SLVs) such as Allseas'Pioneering Spirit, which promise to cut costs by completing offshore lifts much more quickly. However, SLVs may first need to prove themselves to gain wider acceptance, DW adds.
Norway, Ireland unveil license winners
Faroe was one of 36 companies to secure interests in 56 new production licenses earlier this year under Norway's 2015 Awards in Pre-defined Areas round. Twenty-four of the licenses were spread across the Norwegian Sea, five in the Barents Sea, and 27 in the North Sea. Commitments include seismic acquisition in four areas and two firm exploratory wells (for Statoil) on the Blåmann prospect in the Barents Sea - a possible tieback to Eni's new Goliat FPSO - and on Cape Vulture in the Norwegian Sea, potentially a satellite to the Norne field floater.
Three of the other license recipients, Core Energy, Pure E&P (formerly Rocksource) and Spike Exploration, are merging to form a new company, Point Resources, with backing from private equity investor Hitec Resources. Point will have a workforce of 77 with offices in Oslo and Stavanger, and interests in 57 Norwegian licenses. Its combined oil and gas production will be around 10,000 boe/d, with potential upside from the probable development of the Garantiana, Pil, and Snilehorn fields.
Ireland's government has issued 14 licensing options to eight companies under the first phase of the country's 2015 Atlantic Margin licensing round. Energy minister Joe McHugh said the 43 applications received by the deadline of September 2015 were the largest for any Irish round to date. Three options were awarded to alliances between Eni and BP, and ExxonMobil/Statoil, while Statoil, Woodside, Nexen (CNOOC), Scotia, and Europa Oil & Gas each secured 100% of the remaining 12 options. The areas offered carry firm seismic acquisition commitments, some to be fulfilled this summer. A second phase of awards should follow in May.