GLOBAL E&P
Shell Canada's exploratory drilling operations 250 km (155 mi) offshore Nova Scotia were suspended in March following an incident in heavy seas onboard the drillship Stena IceMAX.

May 4th, 2016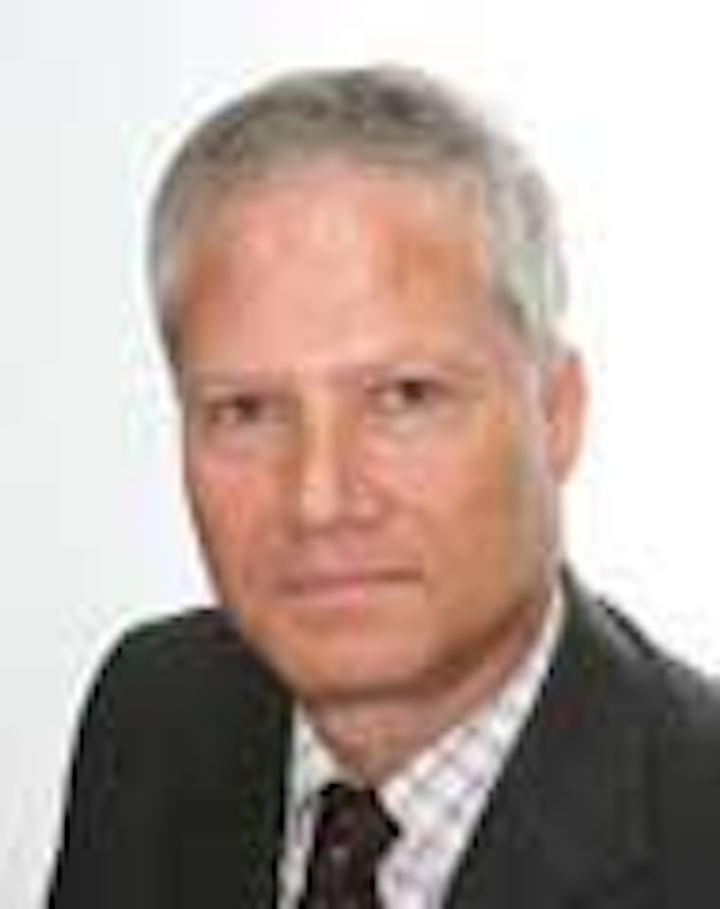 | | | |
| --- | --- | --- |
| | | Jeremy Beckman • London |
Shell Canada's exploratory drilling operations 250 km (155 mi) offshore Nova Scotia were suspended in March following an incident in heavy seas onboard the drillshipStena IceMAX. This led to a riser falling to the seafloor, although there was reportedly no loss of drilling fluid as the content had been replaced with seawater. The Canada-Nova Scotia Offshore Petroleum Board said drilling would not resume until Shell had demonstrated that the program could proceed safely, following repairs to the drillship at a nearshore location.
•••
Bahamas Exploration Co. hopes to drill its first offshore exploration well offshore the Bahamas in 2017 at a projected cost of $50-60 million. Work continues to optimize the well equipment design, including rate of penetration, to reduce drilling time while maximizing data-gathering. However, the company has opted to withdraw from the Miami license in the islands' northern territorial waters.
Exmar and Pacific Exploration and Production have agreed to terminate an agreement to deploy the newbuildCaribbean FLNG vessel on the La Creciente gas field off the Colombian Caribbean coast. Recent developments, they claim, make liquefaction of LNG in Colombia no longer economic for the vessel, which is due to be delivered soon from the Wison shipyard in Nantong, China. It is now being marketed for other projects elsewhere.
•••
Shell has started up the third phase of production from the Parque das Conchas (BC-10) development in the Campos basin offshore Brazil. This involves adding five producing wells and two water injectors on the Massa and O-South fields, in water depths of more than 5,900 ft (1,800 m), and connected to the FPSOEspirito Santo. The new facilities should eventually lift total output by 20,000 boe/d.
•••
Petrobras has completed its fifth appraisal well on the Libra block in the presalt Santos basin, 200 km (124 mi) offshore Rio de Janeiro state. The NW5 well in the northwest part of the block delivered the thickest oil column to date on the block at 301 m (987 ft). Reservoir characteristics and oil quality were similar to prior wells in this area.
•••
UK independent Borders & Southern has applied for an extension of its production license in the offshore South Falkland basin after failing to secure partners and funds for planned exploratory drilling. The company had hoped to appraise its 360-MMbbl Darwin gas/condensate discovery, the sole find to date in the basin. It now plans to reassess development scenarios for the field based on fewer wells, in the hope of attracting a farm-in partner.
Eni has agreed to operate Morocco's Rabat Deep Offshore license area, pending approval from the authorities. The concession is 30 km (18.6 mi) offshore in 150-3,500 m (492-11,483 ft) of water. Eni would cover much of the costs borne by current operator Chariot Oil & Gas, including a carry on a proposed well on the Jurassic carbonate JP-1 prospect. The other partners are Woodside and Moroccan state oil company ONHYM.
•••
Kosmos Energy's latest appraisal well offshore Mauritania has strengthened prospects for an LNG project, the company claims. Ahmeyim-2 was drilled 5 km (3.1 mi) northwest of the Tortue-1 gas discovery in 2,800 m (9,186 ft) of water. It delivered strong gas pay from two reservoirs in the lower Cenamanian and underlying Albian levels, lifting the potential resources for the Greater Tortue Complex in Mauritanian/Senegalese waters to more than 20 tcf. Kosmos next planned to drill the Teranga prospect in the Caya Offshore Profond block off Senegal.
•••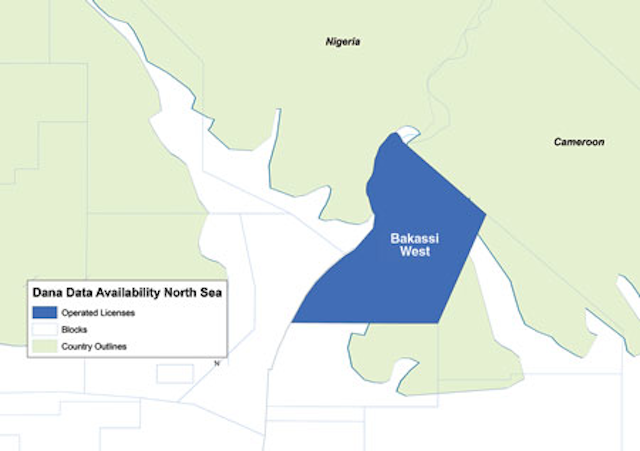 The Bakassi West block offshore Cameroon, location of the Manatee gas discovery. (Map courtesy Dana Petroleum)
Dana Petroleum has discovered gas in the shallow-water Niger Delta basin offshore Cameroon. The jackupParagon M825 drilled the Manatee-1 well in the Bakassi West block, intersecting 26 m (85 ft) of gas-bearing section of varying quality. Dana and partner SDX Energy had hoped to prove oil.
•••
Ghana's government has awarded Eni operatorship of Cape Three Points block 4 in the Tano basin, in water depths of 100-1,200 m (328-3,937 ft). The concession surrounds the OCTP block where Eni is currently developing the Sankofa Main, Sankofa East, and Gye-Nyame discoveries via subsea wells linked to an FPSO. Any commercial finds on block 4 could be connected to the OCTP infrastructure.
•••
Gabon's government was due to close the country's 11th offshore licensing round late last month. On offer was under-explored, geologically complex deepwater acreage. CGG has acquired new 3D seismic over the area which is close to the Diaman, Leopard, and Tortue discoveries.
•••
Maersk Oil has deferred development of the deepwater Chissonga oil field offshore Angola following attempts to reduce capex. The project may go forward at a later date, the company said, possibly via a co-development with other operators' discoveries in the region.
This is one of numerous large-scale developments in West Africa to be put on hold, according to Douglas-Westwood (DW), others including Shell's Bonga South-West Apara and Eni's Etan/Zabazaba, both offshore Nigeria. The postponements, coupled with the persistently lower oil price, have led DW to downgrade its deepwater drilling forecast for West Africa during 2016-21 by 44%. Although activity is currently strong, led by large-scale projects such as Total's Egina and Kaombo off Nigeria and Angola, the total of deepwater wells drilled is set to dip from 89 this year to 23 in 2020. If the oil price stays low, activity appears unlikely to match the recent high levels until well into the next decade, the analyst added.
Mediterranean Sea
Israel's Supreme Court has affirmed the country's natural gas regulatory framework, but has given the government up to one year to devise alternate proposals for stability provisions. The ruling, according to Noble Energy, could disrupt timing of the deepwater Leviathan gas field development which entails large-scale investments over multiple years.
•••
Eni has completed a production test of its first appraisal well on the deepwater Zohr gas discovery in Egypt's Shorouk offshore block. The well delivered an equipment-constrained flow rate of up to 44 MMcf/d, but this could rise to 250 MMcf/d in a production configuration, the company claimed. Eni plans three more appraisal wells this year and is assessing bids for offshore construction activity.
OMV and Occidental Petroleum will jointly explore Abu Dhabi's North-West Offshore, including the Ghasha and Hail areas, with state oil company ADNOC. The partners plan a series of seismic acquisition, drilling and engineering programs to firm up volumes in various undeveloped fields in the concession.
•••
Iranian Offshore Oil Co. and Sahand Technical University in Tabriz are working with Dutch consultant PanTerra to enhance oil recovery from the Sorush field in the Persian Gulf. They aim to boost the current yield of 5% to 10-15%, equivalent to 1-1.5 Bbbl, according to news service Shana.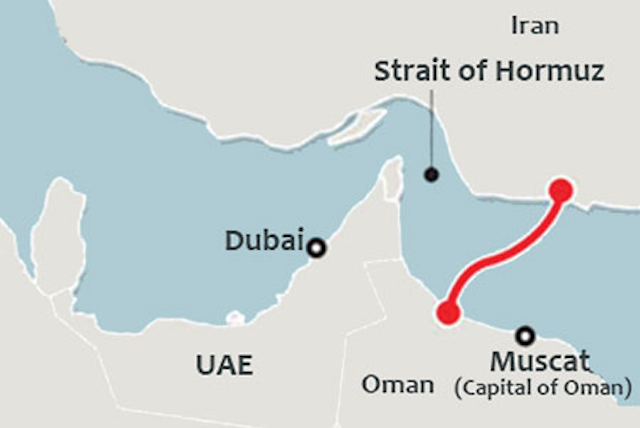 The proposed rote for the Iran-Oman subsea gas pipeline. (Map courtesy Shana)
Iranian Offshore Engineering and Construction Co. has completed a draft desk study of a proposed 400-km (248-mi) gas pipeline from Iran's southern Hormozgan province across the Persian Gulf to Sohar Port in Oman. Basic engineering is under way for the land portion.
East Africa
ExxonMobil is reportedly considering acquiring a 15% stake in deepwater Area 4 in the Rovuma basin offshore Mozambique. To date operator Eni has proven 85 tcf of gas in the concession which it aims to monetize as LNG.
•••
Japanese oil company JOGMEC has secured a two-year extension to an exploration license offshore the Seychelles. Since 2013, the company and PetroSeychelles have conducted G&G surveys, including seismic acquisition. The extension will allow them to complete their evaluation of the license's exploration potential.
India
ONGC has approved a $5-billion dev-elopment of various oil and gas fields in Cluster 2 of the deepwater NELP block KG-DWN-98/2 offshore eastern India. The company plans to install an FPSO connected to 430 km (267 mi) of subsea pipelines, 151 km (94 mi) of umbilicals and 10 manifolds, and a gas process platform bridge-linked to a living quarter facility. ONGC anticipates first gas by June 2019 and first oil nine months later, followed by completion of the project in mid-2020.
India's government has approved granting of extensions to production-sharing contracts for 28 of the country's small to mid-size fields, 27 of which were awarded under two bid rounds during 1991-93. In certain cases the operators plan EOR/IOR measures. ONGC said the extensions could lead to development of an additional 15.7 MM tons of oil and 20.6 MM tons of gas.
The Sakhalin-1 consortium is looking to add a second land rig to drill extended-reach offshore wells to access further reserves from the Chayvo, Odoptu, and Arkutun-Dagi fields off Sakhalin Island. To date the partners, led by ExxonMobil and Rosneft, have drilled nine of the world's 10 longest horizontal wells from the shore-basedYastreb rig, including one last summer on Chayvo with a horizontal reach of 12,038 m (39,494 ft). The new rig would be of a similar size and modular construction. Another option for the consortium in the long term is to build an LNG plant to harness the fields' undeveloped gas resources, mainly for customers in the Far East.
•••
Mubadala Petroleum has started a new phase of development drilling on the Manora oil field in the Gulf of Thailand, using the jackupAtwood Orca. The MNA-15 and MNA-16 wells, both equipped with electric submersible wells, were due to be followed by an exploratory well in the same G1/48 concession.
•••
Japan Drilling Co.'s semisubmersibleHakuryu-5 has spudded Rosneft's first operated exploration well in waters outside Russia in the Nam Con Son basin offshore southern Vietnam. Well PLDD-1X in block 06.1, in 162 m (531 ft) of water, is targeting gas and condensate - a discovery could be tied back via a subsea completion to the Lan Tay platform. The rig will also drill a wildcat for Rosneft in nearby block 05.3/11.
•••
Petronas' first floating LNG vessel underwent a naming ceremony recently at the DSME shipyard in Okpo, South Korea. ThePFLNG SATU will be moored at the Kanowit gas field, 180 km (112 mi) offshore Sarawak: it is designed to produce 1.2 MM metric tons/yr (1.32 MM tons/yr) of LNG.
Lundin Petroleum and Petronas are jointly exploring blocks SB307/SB308 offshore East Malaysia. Here the jackupWest Prospero has P&A'd a well on the Maligan prospect after encountering significant gas shows.
Australasia
The partners in the Browse Joint Venture offshore northern Australia, led by Woodside Energy, have decided not to proceed for the time being with a floating LNG development following completion of front-end engineering and design. Woodside claimed the current economic environment did not support a major capital-intensive program. Instead, the partners will prepare a new work program to examine future options. The Browse retention leases run through mid-2020.
•••
New Zealand's government has opened four offshore release areas under its 2016 Block Offer. Most of the total acreage of around 525,000 sq km (202,897 sq mi) is offshore in the Northland_Reinga, Pegasus, East Coast, Taranaki, Great South, and Canterbury basins. Bids are due by Sept. 7, with permits likely to be awarded in December.