Barents Sea, Atlantic Margin lure explorers
Interest in exploration across northwest Europe remains strong with a high take-up for recent offshore licensing rounds.
May 4th, 2016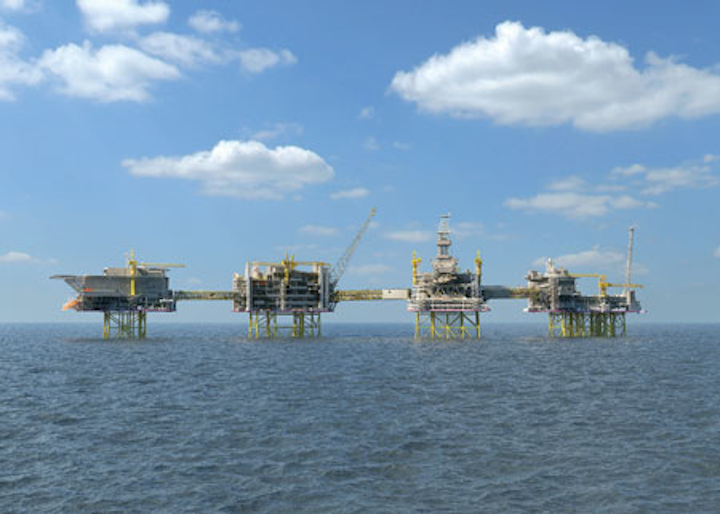 Jeremy Beckman
Editor, Europe
Interest in exploration across northwest Europe remains strong with a high take-up for recent offshore licensing rounds. Exploratory drilling, however, is subdued and mainly focused on appraisal in mature areas, with independents in particular struggling to raise funds to probe potential frontier plays.
Offshore western Ireland is one of the least drilled sectors, but that may change following the award of 14 new licensing options in the southern Porcupine basin under the country's 2015 Atlantic Margin round. Successful bidders included ExxonMobil, Statoil, Eni, and three companies new to Irish deepwater exploration, BP, Nexen, and Woodside. The Irish government plans to issue more awards this month.
Norway's 23rd licensing round which closed last December drew bids from 26 companies. Although there were more respondents to the previous round, virtually all the acreage offered this time was in the Barents Sea, comprising 54 out of the 57 blocks. Of these, 34 were in the newly opened southeastern part of the Norwegian Barents, previously off-limits due to a long-standing median line dispute with Russia. Numerous oil companies had cooperated to fund seismic acquisition over this area in anticipation of the block offer.
The UK government will hope for a similar response to its attempt to extend offshore exploration to the Mid-North Sea High and the Rockall Trough offshore western Scotland in the 29th licensing round later this year. WesternGeco has acquired 2D seismic over both areas over the past two years under a government-funded survey: this data was part of a package of 40,000 line km (24,855 mi) of new and legacy data that the Oil & Gas Authority made available to the industry last month.
This year, Denmark has issued new North Sea licenses to two consortia under its 7th round, opened in late 2014. UK independent Hansa Hydrocarbons will operate two close to the German median line, both thought to be oil-prone, while DEA Deutsche Erdoel and Dyas will jointly target oil at lower Cretaceous level in the other two concessions in the western Danish North Sea. Last month, the government of the Isle of Man in the Irish Sea also made its first move toward opening waters around the island for exploration by appointing the British Geological Survey as its offshore energy adviser.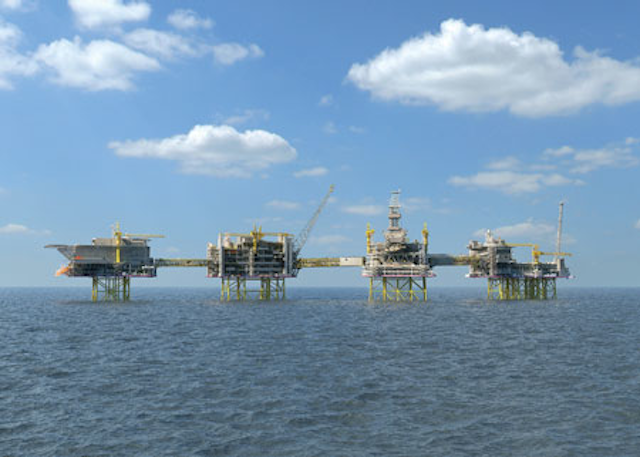 The Johan Sverdrup platform complex as it might look in 2019. (Image courtesy Statoil)
Last year, Norway's parliament approved Statoil's plan for the Phase 1 development of the Johan Sverdrup field in the central Norwegian North Sea. Statoil has since awarded more than NOK50 billion ($6 billion) in contracts. In March, the semisubmersibleDeepsea Atlanticstarted drilling the first of 35 wells at the offshore site: eight will have been pre-drilled when the drilling platform is installed in 2018. This and three other platforms will be bridge linked.
ABB will supply and install two 200-km (124-mi) HV cables that will draw in electricity from the Norwegian mainland to a converter station on the Johan Sverdrup riser platform, covering the complex's entire power needs from 2019 onward. At some point, this and other nearby fields in the Utsira High region will share a common, shore-originated power network - one of these is Det norske oljeselskap's Ivar Aasen, due to come onstream later this year through a platform, with much of the production exported to Lundin's Edvard Grieg complex for processing.
Later this year Statoil expects to issue an announcement on the future of theJohan Castberg oil and gas development in the Barents Sea: an investment decision will likely follow next year. Originally the project, the largest prospective greenfield investment in the far north to date, was expected to start up in late 2018, but soaring costs led the partners to return to the drawing board. Assuming they can agree on an economic solution involving some form of centralized floating production system, 2022 now looks more realistic. The facilities may have to be sized to accommodate Lundin's Alta and Gohta discoveries, both still undergoing appraisal.
Weather problems have forced Premier Oil to continually push back start-up of its Solan oil field platform west of Shetland, but first production is thought to be imminent. Other UK offshore developments set to come online are Engie's Cygnus gas field in the southern North Sea and Ithaca's Greater Stella Area oil/gas condensate project in the central sector. Petrofac will supply its refurbished semisubmersible production platform FPF-1 (ex-AH001) on an initial three-year basis, stationed on the Stella field.
The high-octane period of development that led to UK offshore production rising in 2015 after years of decline is drawing to a close. Hurricane Energy may secure sanction later this year for an early production test from its basement Lancaster oil field west of Shetland, and Alpha Petroleum is hoping to appraise the Skipper heavy-oil field in the UK northern North Sea ahead of a potential development next year. Recently, BP sanctioned a £670-million ($944-million) life extension project for its ETAP development in the central sector that involves drilling new wells on the Machar and Marnock fields.
Otherwise, future UK activity is more likely to be dominated by decommissioning as operators struggle to maintain profitability from platforms built in the 1970s and 80s. One of the major removal programs could start this summer on Shell's Brent field, with Allseas' new single-lift vesselPioneering Spirit contracted to remove the topsides from the Brent D platform. The vessel is also booked to remove the deck from the redundant Yme platform in the Norwegian North Sea. Operator Repsol expects to submit its decommissioning plan by mid-year.