OFFSHORE EUROPE
Drilling activity has stayed strong offshore Norway despite the oil price slump, according to analyst Hannon Westwood. In contrast, UK well numbers have fallen back to a level last seen in the early days of North Sea exploration in the 1960s.
Feb 5th, 2016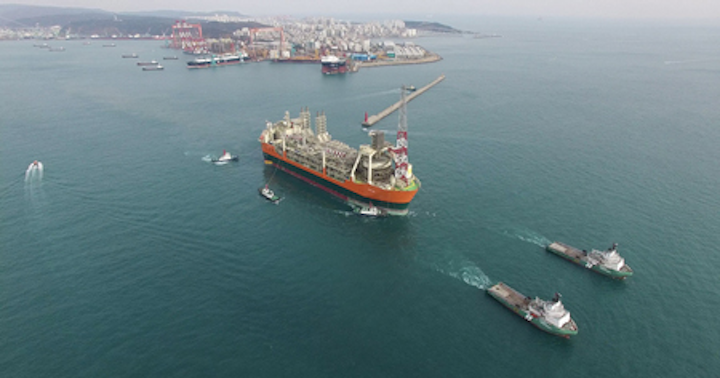 Jeremy Beckman • London
UK, Norway level in well returns
Drilling activity has stayed strong offshore Norway despite the oil price slump, according to analyst Hannon Westwood (HW). In contrast, UK well numbers have fallen back to a level last seen in the early days of North Sea exploration in the 1960s. Yet returns from wells drilled across both sectors last year were broadly comparable.
HW identified 45 exploratory and appraisal (E&A) well spuds offshore Norway, only one down on the previous year's total. These led to 16 discoveries, with the best returns as before in the Norwegian Sea (a success rate of 50%), followed by the North Sea at 47.6%. One of the largest new finds was Statoil's 45.5-MMboe Julius gas/condensate accumulation, close to the undeveloped King Lear field in the southern Norwegian sector.
Lundin encountered sub-commercial gas in the Ørnen structure in the Barents Sea in December, while one other well in this region was temporarily suspended. However, total discovered volumes were only 268 MMboe as against 838 MMboe discovered with 18 wells the previous year.
Offshore the UK, HW counted a mere 13 E&A well spuds in 2015, 10 of which targeted prospects in the generally more prolific UK central North Sea. At least one of these led to a discovery (Bartoli) for Shell near the Shearwater high-pressure/high-temperature complex. There were also finds in the UK northern North Sea at Boatswain, K Prospect (Callater), and Corona; another for Chrysaor on the Mustard structure west of Shetland; and at Sillimanite in the southern gas basin. Including results from a re-entered appraisal well on the Seagull field (100 MMboe), the commercial success rate was 46%, the highest since 2002, HW said, with discovered reserves just short of the Norwegian total at 265 MMboe. This year numerous high-impact wells will likely be drilled in UK waters, the analyst added.
Another positive indicator for the UK was the anticipated 7% rise in production for 2015, the first in the sector for more than 15 years. Seven fields came onstream, completed at year-end by TAQA's Cladhan tieback to the Tern complex northeast of the Shetlands. However, the oil price reduced tax receipts from UK production to £130 million ($189 million), against £2.2 billion ($3.2 billion) in 2014.
Steam flood an option for UK heavy oil
Independents, seen as the saviours of the UK North Sea, continue to fall by the wayside as cashflow evaporates in current conditions. Yet others appear willing to take their place. One of the more ambitious is The Steam Oil Production Co. (SOPC), which has agreed on a deal (subject to ratification by Britain's Oil & Gas Authority) to acquire license P1996 in the northern UK sector from EnQuest, covering blocks 28/2b and 28/3b. These include the undeveloped heavy-oil fields Narwhal and Elke, discovered respectively by Arco and Murphy, in Tay sandstone reservoirs. Oil gravity ranges from 12-15° API, with combined in-place reserves estimated at 226 MMbbl.
Elsewhere in the license area are numerous untested Tay sand and Jurassic prospects, while a short distance to the northwest are the Pilot Main, Pilot Harbour, and Harbour discoveries. All taken together offer a potential resource of 500 MMbbl that appear to be suited to a steam flood development: SOPC claims it could produce more than 250 MMbbl, making this potentially one of the largest remaining UK North Sea projects.
The company points out that heated heavy oil can be much less viscous than a cold light crude, and for this reason steam flooding should be viable. Although more commonly applied onshore, the technique has been implemented in Congo's offshore Emeraude field, in Bohai Bay offshore China, and in the shallow waters of Lake Maracaibo. Experience suggests long horizontal wells are most effective for offshore steam flooding, SOPC says, leading to better sweep patterns. And if the formation has a high permeability, injection rates into the wells can be raised to counteract heat losses in the wellbore and to the sea.
SOPC expects to be able to recover about 60% of in-place oil in the Pilot reservoir via steam flood, after optimizing issues such as well placements relative to the oil/water contact. It will also evaluate co-injection of steam and propane to further increase recovery and improve the steam oil ratio, thereby limiting fuel requirements. The company believes the process could recover an additional 2 Bbbl of heavy oil from fields around the UK shelf.
Minimal platform chosen for next phase of Osebreg
Statoil has submitted a development plan for Oseberg Vestflanken 2, designed to recover a further 110 MMboe from the Oseberg area in the Norwegian North Sea and sustain the current production level beyond 2030. The project takes in the Alpha, Gamma, and Kappa structures 8 km (4.9 mi) northwest of the Oseberg field center. Statoil plans a 10-slot unmanned wellhead facility remotely controlled from the field center, with two of the slots occupied by injectors importing gas through a new pipeline from the existing gas injection system in the area. One of the company's new Cat J jackups will drill the wells, with production slated to start in spring 2018.
Minimal wellhead platforms with no helidecks or lifeboats operate in the Dutch and Danish sectors, but this scheme is a first for Norway. Part of Statoil's reasoning in following this route was the tripling of costs for subsea templates over the past decade. Since settling on the fixed steel jacket alternative early last year, the company claims to have reduced the costs for this project by around NOK1 billion ($112 million).
Offshore run-out for Quad 204 floater
The newbuild FPSO for BP's Quad 204 project west of Shetland underwent sea trials late last year, and should reach the North Sea this spring, docking initially at a Norwegian yard for inshore commissioning.Glen Lyon, built by Hyundai Heavy Industries in South Korea, will replace the decommissioned floater originally installed to develop the Schiehallion and Loyal oil fields in the late 1990s. BP expects the new vessel to extend production from these fields to 2035 or beyond. The 270-m (886-ft) long, 52-m (170-ft) wide ship will be able to process and export up to 130,000 b/d of oil and store up to 800,000 bbl.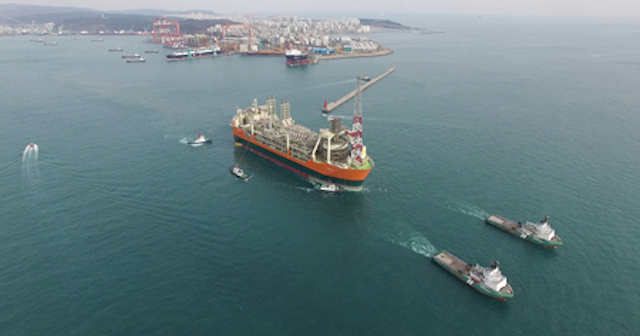 Glen Lyon FPSO leaves the HHI yard in Ulsan, South Korea. (Photo courtesy BP)">
TheGlen Lyon FPSO leaves the HHI yard in Ulsan, South Korea. (Photo courtesy BP)