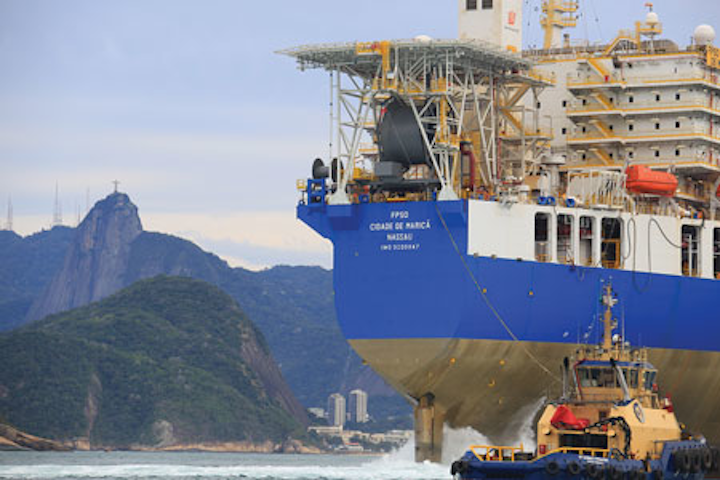 Jeremy Beckman • London
Market caution lifts drilling services
Mobile offshore drilling unit day rates will likely continue to fall into 2017, according to a report by Douglas-Westwood, as more rigs come off long-term contracts. The "World Oilfield Services Market Forecast" also foresees limited rig demand post-2017 with so few projects currently being sanctioned, particularly in the Brazil presalt and West African deepwater plays. Instead, the analyst expects operators to focus more on complex completions and longer lateral wells and raising production from existing assets. This should benefit suppliers of directional drilling, coiled tubing, and stimulation services.
Another analyst, Wood Mackenzie, expects upstream oil and gas deal activity to ramp up after a sluggish 2015. Depressed prices will force more companies to sell or merge businesses in order to survive, with some capital-intensive development assets having to be sold almost regardless of price. If oil prices recover later this year to more than $65/bbl, as Wood Mackenzie anticipates, the main players will move quickly to take advantage of any opportunities in order to catch the next upward-cycle.
North America
Husky Energy has contracted the harsh environment semisubmersibleHenry Goodrich for a two-year program offshore Newfoundland, starting in mid-2016. This includes development drilling at the North Amethyst field and South White Rose Extension and near-field exploration.
•••
Mexico plans to invite bids later this year for exploration licenses over 10 deepwater areas. Four in the Perdido Fault Belt are thought to be prospective for light crude. The Energy Ministry is also set to open more shallow-water blocks.
US independent Fieldwood Energy has signed a production-sharing contract for Area 4 in the Bay of Campeche which includes the undeveloped Ichalkil and Pokoch fields in 100-150 ft (30-45 m) of water. This is one of the latest awards under Mexico's Round 1 Call 2 bid process. Fieldwood's partner in the permit is PetroBal.
South America
The newly-completed FPSOCidade de Maricá should have departed the Brasa shipyard for duty on the Petrobras-operated Lula field in the Santos basin offshore Brazil. Sister ship Cidade de Saquarema was then due to enter the yard for topsides module integration before also heading out to Lula. Contractor SBM Offshore says both vessels are of the same design as the Cidade de Ilhabela, which started production for Petrobras in November 2014.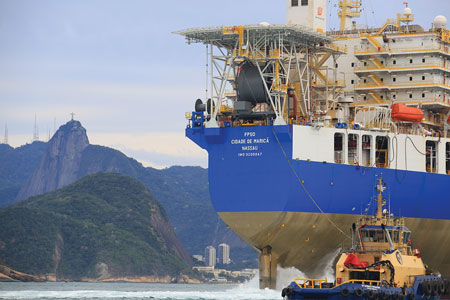 Cidade de Maricá at Brasa shipyard. (Photo courtesy SBM Offshore)">
FPSOCidade de Maricá at Brasa shipyard. (Photo courtesy SBM Offshore)
Elsewhere in the Santos basin, Petrobras has completed formation testing of a well on the ultra-deepwater Carcará Norte structure which delivered good-quality 31° API oil. Analysis indicates that this and the previous Carcará and Caracará Noroeste discoveries are the same oil accumulation.
•••
ExxonMobil has contracted Fugro to conduct a multi-beam bathymetry, side-scan sonar and geotechnical survey offshore Guyana over the site of the planned deepwater Liza oil field development. Liza was discovered last May in the Stabroek block in the Guyana-Suriname basin.
Guyana's government has approved an extension to the spud date for a first commitment exploration well on CGX's Corentyne offshore block until July 1. CGX requested the deferral in light of current oil prices.
•••
Officials from Eni and PDVSA have discussed future options for the Perla gas field in the Gulf of Venezuela which came onstream last summer, and which was recently producing 14 MMcm/d. Production under a second phase could rise to more than 23 MMcf/d, with the potential for some of the gas to be exported.
West Africa
The first appraisal well on the deepwater SNE oil discovery offshore Senegal fulfilled expectations, according to operator Cairn Energy. SNE-2, drilled in 1,200 m (3,937 ft) of water in the Sangoma Offshore block, 3 km (1.8 mi) north of SNE-1, flowed up to 8,000 b/d from a 12-m (39-ft) interval during a drillstem test and up to 1,000 b/d from a 15-m (49-ft) interval of lower-quality pay. Results suggest the reservoirs can produce at commercial rates.
•••
Ophir Energy has become operator of the CI-513 license area offshore Côte d'Ivoire after acquiring a 45% stake from African Petroleum. The concession carries a commitment to drill an exploratory well by mid-2017.
•••
Yinson Production (West Africa) has commissioned Keppel Shipyard to convert an FPSO to operate on Eni's Offshore Cape Three Points block offshore Ghana.
•••
Total has started production from the Moho Phase 1b project, 75 km (47 mi) offshore Pointe Noire, Republic of Congo. The development, in water depths of 750-1,200 m (2,460-3,937 ft) involves drilling 11 subsea wells and installing two subsea multiphase pumps. Production, which should eventually reach 40,000 boe/d, is tied back to the FPU on the Moho Bilondo field. Work continues on the nearby Moho Nord development, targeting a further 100,000 boe/d.
In addition, Total has signed an agreement with Sonangol to jointly explore Angola's ultra-deepwater concessions and to implement an adjustment addendum for the Kaombo project in ultra-deepwater block 32.
Mediterranean Sea
Italy's government has approved legislation that reimposes restrictions on offshore oil and gas activity within 12 nautical miles of the country's coasts. These measures were first implemented in 2010 following theDeepwater Horizonincident, but were rescinded in 2012. The Ombrina Mare oil field development in the Adriatic Sea could be one of the projects impacted by the ruling, according to operator Rockhopper.
•••
Energean Oil & Gas has brought onstream the first of 15 new development wells from its fields in the Gulf of Kavala offshore western Greece. The company's tender-assist bargeEnergean Force drilled the PA-35A well at the Prinos field. The campaign, which also takes in Epsilon and Prinos North, is targeting 30 MMbbl of reserves.
•••
Petroceltic, which was one of the successful bidders for the recent Greek offshore licensing round, has offloaded its interest in the Patraikos concession to the remaining partners. The Irish independent has also agreed to sell its stakes in the deepwater North Theka and adjacent North Port Fouad exploration license offshore Egypt to partner Edison for $9.5 million.
•••
Cyprus' government has reportedly approved a request by the Eni-KOGAS consortium to extend the exploration license for offshore blocks 2, 3, and 9 to February 2018. The partners wanted more time to assess the resource potential, particularly in light of Eni's recent deepwater Zohr discovery in the Egyptian sector, 6 km (3.7 mi) from Cyprus' block 11. This may involve applying the same model used for Zohr to track potential carbonate reservoirs.
•••
Noble Energy has applauded Israel's government's implementation of a natural gas framework which it says introduces regulatory certainty and stability, and provides transparency for domestic pricing and natural gas competition. This should allow the partners in the deepwater Leviathan gas field to proceed with development. According to Delek Drilling, parent company for two of the partners, the basic plan is to produce 1.6-1.8 bcf/d from the field to supply customers in Israel, Egypt (mainly BG), Jordan and the Palestinian Authority, in accordance with signed letters of intent.
Asia/Pacific
ONGC has contracted McDermott International and L&T Hydrocarbon Engineering to supply and install subsea facilities for the Vashista and S1 development offshore eastern India. The fields are in 250-700 m (820-2,296 ft) of water off the Amalapuram coast. Workscope includes 30 mi (48 km) of umbilicals and 64 mi (103 km) of dual rigid pipelines extending from the shore line out to 2,300 ft (701 m) of water, which will likely be installed by McDermott'sDB30and NO105vessels.
•••
ExxonMobil has started operations at the onshore processing facility serving the Banyu Urip oil field in the Java Sea off Indonesia. The company expects production to build to a peak later this year of more than 130,000 b/d. Banyu Urip, which came onstream in 2008, has been developed via 45 wells producing from three well pads, a 60-mi (96-km) offshore/onshore pipeline, and an FSO offloading to tankers.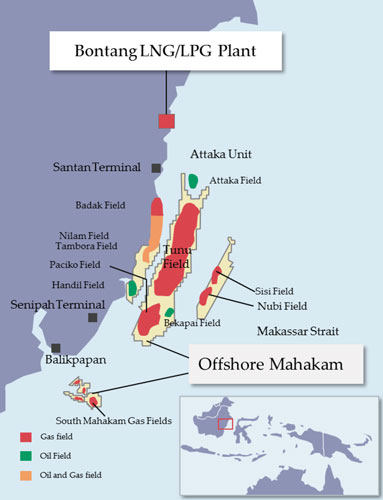 The offshore Mahakam block and its discoveries. (Image courtesy INPEX)
INPEX has signed a heads of agreement with Pertamina and Total concerning the future of Indonesia's offshore Mahakam block. Once the current production-sharing contract (PSC) expires, operatorship would transfer to Pertamina although the other two parties would remain as partners managing activities post-2018. Since signing the initial PSC in 1996, INPEX and Total have discovered seven fields which have produced oil and gas for more than 40 years, with the gas exported to Indonesia's LNG complex onshore at Bontang.
•••
Woodside Energy has discovered gas with its first exploration well off Myanmar. Shwe Yee Htun-1 was drilled in the deepwater western offshore area in the Rakhine basin. The well, targeting one of numerous channel complexes identified over the Saung Anticline, encountered a 129-m (423-ft) gross gas column. Woodside is joint operator with MPRL E&P.
•••
PTTEP has budgeted $2.09 billion for capex and $1.35 billion for opex this year, with fields in Thailand accounting for 55% of the total. The company's main focus will be on sustaining production levels at the Arthit, Bongkot, Contract 4 and MTJDA projects, with a further 27% of the budgeted committed to producing fields and the m3 project offshore Myanmar.
Australasia
The Woodside-led partners in the North West Shelf (NWS) project offshore northwest Australia have approved the $2-billion Greater West Flank Phase 2 development. This will deliver 1.6 tcf of gas from eight wells on the Dockrell, Keast, Lady Nora, Pemberton, Rankin, and Sculptor fields via new subsea facilities and a 35-km (21.7-mi), 16-in. pipeline connected to the Goodwyn A platform. It will be the fourth large-scale NWS development in the past seven years. Woodside anticipates start-up in 2019.
•••
In the Browse basin, Wood Group Kenny has secured two front-end engineering and design contracts for the proposed Browse floating LNG development, 300 km (186 mi) from the Kimberly coast. One involves flow assurance and process integration studies for the Brecknock, Calliance, and Torosa gas condensate fields, to be developed using Shell's FLNG technology. The other contract concerns the configuration of the flexible risers and umbilicals.
•••
Quadrant Energy has discovered condensate-rich gas in the Roc-1 well in the WA-437-P permit offshore Western Australia. The location is 150 km (93 mi) north of Port Hedland. Sampling revealed a condensate-gas ratio of 20-40 bbl/MMcf. Previous operator Apache had discovered oil 20 km (12.4 mi) to the northwest in 2014 on the Phoenix South structure. Partner Carnarvon Petroleum said another well may be drilled to test Roc's potential crest.
•••
New Zealand's Energy and Resources Ministry has issued nine new exploration permits. Four offshore concessions in the Taranaki basin went to OMV, in partnership with Mitsui. Two others in the same basin were awarded to Todd Exploration and to Mont D'Or.
•••
OMV and its partners in the Maari oil field offshore New Zealand have commissioned DOF Subsea to upgrade the mooring system on the FPSORaroa. The $NZ60-million ($39-million) program was due to start this month, and is designed to future-proof the system for the next decade. The eight mooring lines are anchored to the seafloor in 100 m (328 ft) of water and connected to the vessel via a swivel, allowing it to rotate freely in prevailing winds and currents.