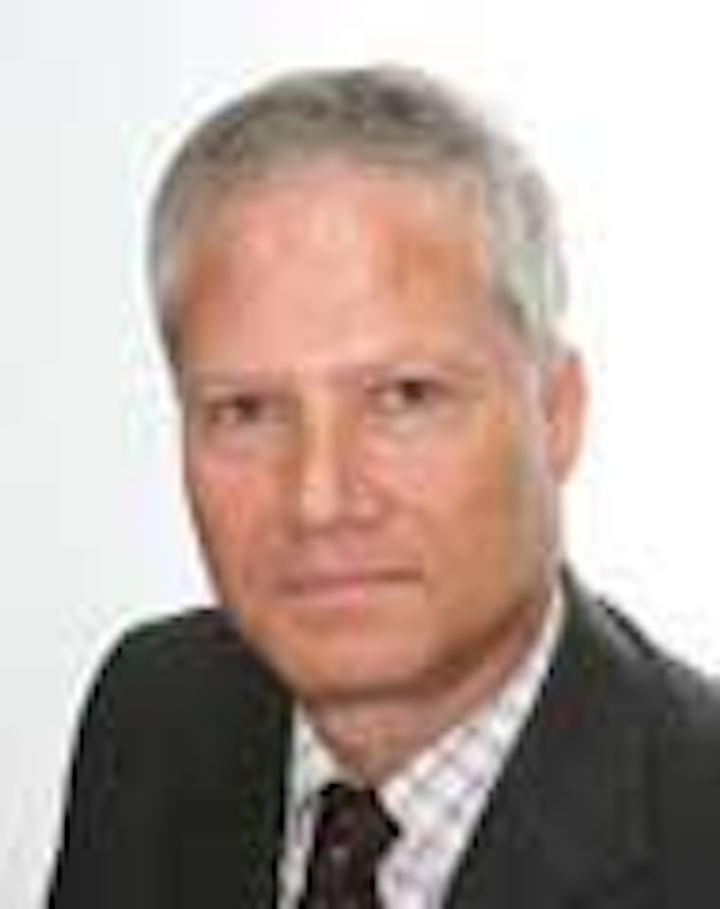 | | | |
| --- | --- | --- |
| | | Jeremy Beckman London |
North America
Mexico reportedly plans to stage its first deepwater auction on Dec. 5, 2016, offering four blocks along the maritime border with US in the Perdido Fold Belt and six in the Salinas basin along the southern edge of the Gulf of Mexico. No well commitments will be imposed during the first four years of the contracts. Previous auctions included shallow water and mature onshore fields.
Eni, one of the successful bidders in last year's process, plans to drill four delineation wells on the shallow-water Amoca, Miztón and Tecoali fields in block 1 which contain an estimated 800 MMbbl of oil and 14 bcm of gas. Results will assist planning for a combined, fasttrack development.
South America
Rosneft and PDVSA have agreed to form a 50-50 venture to develop and sell natural gas from the Mejillones and Patao fields offshore Venezuela, and potentially also the Rio Caribe field. Gas deliveries from the three fields could reach 25 MMcf/d, some available for export through a pipeline or LNG facilities.
•••
Petrobras' appraisal campaign remains on track in the deepwater Libra block in the presalt Santos basin off Brazil. The latest well, drilled in the northwest of the concession, encountered a 270-m (886-ft) oil column and confirmed communication with two prior wells. Two more wells were drilling last month in the same area.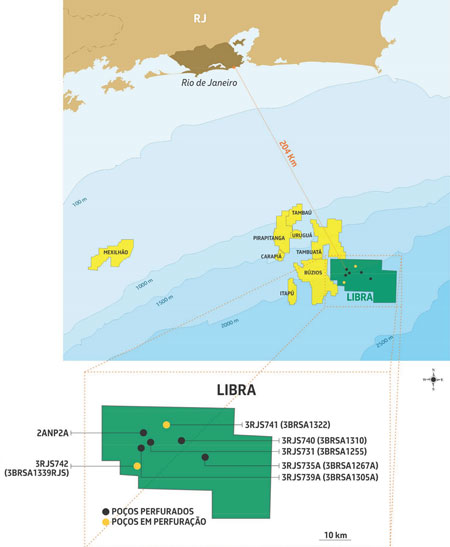 The latest Libra oil field discovery offshore Brazil.
(Map courtesy Petrobras)
In the same basin, Petrobras has started an early production system from the FPSOCidade de São Vicente on a well on the Sépia (ex-Nordeste de Tupi field), 185 km (115 mi) offshore Rio de Janeiro state in 2,200 m (7,219 ft) of water. The aim is to analyze the behavior of the reservoirs and the flow of oil to support design of the full production system, due to start operating in the area in 2020.
•••
Cidade de Marica, the seventh FPSO in the presalt Santos region, has started operations on the Lula field in the Lula Alto area. The facility, moored 270 km (168 mi) offshore, is designed to produce up to 150,000 b/d of oil and 6 MMcm/d of gas. In addition, Petrobras has activated the 401-km (249-mi) Route 2 pipeline taking up to 13 MMcm/d of presalt Santos gas to the onshore processing plant at Cabiúnas in the Macaé district.
•••
Statoil is farming into 35% of block 15 in the Pelotas basin offshore Uruguay, where water depths range from 2,000-3,000 m (6,562-9,842 ft). Operator Tullow Oil plans 3D seismic acquisition. The tract is adjacent to block 14, where Statoil is a partner to Total and ExxonMobil.
•••
Gas/condensate production has started from the Total-operated Vega Pleyade field in the Cuenca Marina Austral 1 permit offshore Tierra del Fuego, southern Argentina. Main facilities are a wellhead platform, designed to produce 70,000 boe/d, with production exported through a 77-km (48-mi) offshore pipeline to Rio Cullen and Cañadon Alfa onshore for treatment.
•••
Premier Oil has canceled the final wildcat of a multi-well campaign off the Falkland Islands, citing operational issues with the semisubmersibleEirik Raude. The program delivered two commercial discoveries. The well on the Chatham prospect in the North Falkland basin will now be drilled to coincide with pre-development of the Sea Lion oil and gas field.
West Africa
Production from Chinguetti, Mauritania's first offshore field development, will cease before year-end, due to a combination of natural decline and negative cash flow at current oil prices. Abandonment operations are due to start next year.
•••
Woodside Energy is set to take a 65% operated interest in the PSC for the AGC Profond block offshore Senegal and Guinea-Bissau, in water depths of 1,400-3,700 m (4,593-12,139 ft). Current incumbent Impact Oil & Gas, which will retain a 20% interest, has identified prospectivity in Cretaceous and Jurassic margin plays on the east of the concession, similar to Cairn Energy's deepwater oil finds off Senegal.
•••
Tullow Oil is altering its operating procedures for the FPSO serving the Jubilee field offshore Ghana, after an inspection of the turret area identified a potential bearing issue. Precautionary measures include reducing the vessel's degree of rotation.
•••
New African Global Energy and Rift Petroleum have decided not to apply for an exploration right for their ultra-deepwater SW Orange basin technical co-operation permit offshore South Africa. Rift, owned by Tower Resources, will focus instead on its offshore Algoa-Gamtoos exploration right, which it views as more prospective in the near term.
Eastern Europe
The Russian Federation government has awarded Lukoil E&P rights for a block in the Russian sector of the Baltic Sea. This includes the D33 oil field, discovered last year by a well drilled by a Russian jackup, with estimate reserves of 21.2 million metric tons.
•••
ExxonMobil and OMV Petrom have concluded their second round of exploratory drilling in the Neptun Deep block in the Romanian sector of the Black Sea. According to OMV, most of the seven wells encountered gas, although more analysis is needed to determine the permit's full potential.
Bulgaria has reportedly authorized Shell to explore a deepwater Black Sea block for gas and oil. The five-year permit is for the 7,000-sq km (2,703-sq mi) Silistar concession, close to Neptun Deep on the Romanian side.
•••
Edison and DEPA have signed a memorandum of understanding with Gazprom on a new gas pipeline across the Black Sea, taking supplies to Greece and Italy. This is said to be connected to the ITGI Poseidon project, which involves construction of a new network of onshore and offshore pipelines transporting gas from the Azeri sector of the Caspian Sea to southern Europe.
Mediterranean Sea
Noble Energy and its partners have submitted a revised development plan for the deepwater Leviathan gas/condensate field offshore Israel. The scheme, with an estimated cost of $5-6 billion (down from the previous estimate of $6-7 billion), calls for eight production wells linked via a subsea pipeline to a fixed platform containing all gas treatment systems, with initial throughput capacity of up to 12 bcm/yr. Under a second-phase development, this could be raised by a further 9 bcm/yr following the addition of four more wells. Depending on the outcome of a final investment decision late this year, first gas could flow in 4Q 2019.
•••
Egypt's government has issued Eni a development lease for the giant deepwater Zohr gas field, discovered in the Shorouk block last August. Eni plans to start production by end-2017, building output to a peak of around 75 MMcm/d by 2019. Main contractors for the project will be Petrojet, Enppi and Saipem, which have all worked on Eni's previous Egyptian projects. Recently Eni completed a successful appraisal well on Zohr, 1.5 km (0.9 mi) southeast of the discovery well in 4,800 ft (1,463 m) of water.
•••
BP has awarded Subsea 7 an EPCI contract for subsea installations for the Fayoum, Giza, and Raven gas fields offshore Egypt under the second phase of the West Nile Delta project. The scope includes tie-ins of 12 wells and installations of infield and export pipelines to the onshore Idku terminal, in water depths of up to 800 m (2,624 ft).
Middle East
Dana Gas initiated sales gas production last month from its Zora field in the Sharjah Western Offshore concession, 35 km (21.7 mi) from the UAE coast. Although operations started in January, supplies had been intermittent due to maintenance work at the onshore reception facilities. Gas is transported from a platform through a subsea pipeline to the Hamriyah Free Zone for power generation in Sharjah.
•••
National Iranian Gas Co. expects to complete a study on construction of the Iran-Oman gas pipeline by mid-August. Iranian Offshore Engineering and Construction Co. is working on the offshore section of the line, which could deliver 1 bcf/d to Oman.
East Africa
Mozambique's government has approved Eni's development plan for the deepwater Coral gas discovery in the Area 4 permit. Eni discovered and delineated the field through a series of wells in 2012-13, with estimated in-place reserves of 16 tcf. The location is in water depths of more than 2,000 m (6,562 ft), 80 km (50 mi) offshore Palma Bay in the northern province of Cabo Delgado. Under a first phase, Eni will extract 5 tcf via six subsea wells connected to a floating LNG facility with capacity of roughly 3.4 MMt/yr.
Indian Sub-Continent
ONGC has discovered two gas fields off western India. One, in the GK concession in the Kutch Offshore region of the Western Offshore basin, was the first to prove gas in a Deccan basalt play in this area. The other was the first gas find in the Pliocene formation in the Mumbai Offshore basin.
McDermott International and L&T Hydrocarbon Engineering have agreed to jointly pursue opportunities in subsea projects offshore eastern India. L&T will make available its fabrication and spoolbase at Kattupalli, near Chennai, while McDermott will offer its new flagship derrick lay vessel DLV 2000, due to be delivered this month from Keppel's Singmarine Shipyard in Singapore.
•••
Sri Lanka has reportedly awarded Total exploration permits for JS5 and JS6, two ultra-deepwater blocks off the country's east coast. If results from the initial two-year study, thought to include seismic acquisition, are promising, Total could apply for a production-sharing agreement.
Asia/Pacific
Woodside Energy has proven more gas with its second exploration well in the Rakhine basin offshore Myanmar. Thalin-1A, drilled in block AD-7, delivered 62 m (203 ft) of net gas pay from the main target interval at a location 100 km (62 mi) offshore in 836 m (2,743 ft) of water. The petroleum system is in a different play from that encountered by Woodside's Shwe Yee Htun-1 well at the other end of the basin.
Thalin gas discovery in the Rakhine basin offshore Myanmar. (Map courtesy Woodside Energy)
•••
KrisEnergy has agreed to technical and fiscal terms for its Apsara oil field development in block A offshore Cambodia. The company is targeting first oil from the field, originally discovered by Chevron, 24 months after taking a final investment decision.
•••
Premier Oil plans a new phase of gas field developments on Natuna Sea block A offshore Indonesia. These are needed, the company says, to satisfy contractual obligations to customers in the local market and in Singapore. Premier has completed front-end engineering and design for the Bison, Gajah Puteri, and Iguana projects and plans final decisions later this year.
Australasia
McDermott'sDLV 2000 construction vessel will make its debut later this year on the marine spread for INPEX's Ichthys project offshore northwest Australia. Woodside has also contracted the vessel for pipelay for the Greater Western Flank Phase 2 transportation and installation program, the latest development of the North West Shelf project.