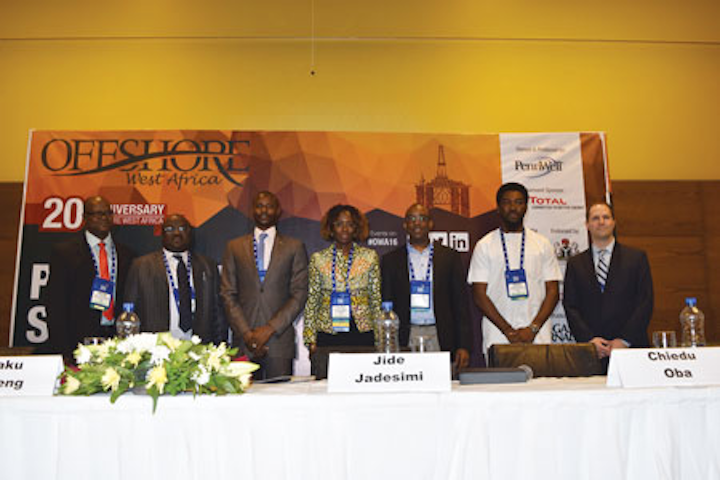 OWA Local Content team
At the recent 20th annual anniversary edition of the Offshore West Africa (OWA) Conference & Exhibition in Lagos, Nigeria, the outcome of the Local Content Panel Discussion, with members of the Advisory Board in session, set the stage to challenge the oil and gas industries of the region in the wake of a new era of low oil prices. Discussions centered on developing strategies to improve local, regional, and international collaboration for effective local content delivery in Africa.
"Now is the time for African nations, specifically in the Gulf of Guinea, to redefine each country's economic strengths, competitive advantage, and how they fit into the economics of global delivery of goods and services," the panel said at the conclusion of the session. Existing hydrocarbon provinces have established supply chains, so the resulting products from local content successes must compete to win if they are to thrive regionally and globally.
The panel moderator Ibilola Amao of Lonadek Consulting challenged the audience to take positive steps to achieve the panel's recommendations in view of the importance of collaboration. This resonated throughout the deliveries and papers presented by Jide Jadesimi of Ladol, representing Amy Jadesimi; Tosin Yusuff of African Energy Association, Nigeria Branch; Kwaku Boateng of the Ghana Petroleum Commission, representing Theophilus Ahwireng; Paul Zuhumben of Nigerian Content Development and Monitoring Board, representing Denzil Kentebe; and Chiedu Oba of Shell.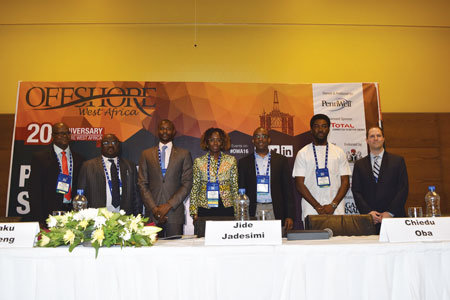 Offshore magazine.">
OWA 2016 Local Content Panel discussion participants (pictured from left to right): Paul Zuhumben, General Manager Projects and Operations, Nigerian Content Development and Monitoring Board; Kwaku Boateng, Director of Special Services, Ghana Petroleum Commission; Jide Jadesimi, Executive Director - Business Development, LADOL; Ibilola Amao, Principal Consultant, Lonadek Consulting; Chiedu Oba, General Manager, Nigerian Content Development and SPDC CP Manager, Shell Petroleum Development Company of Nigeria; Tosin Yusuff, Country Director - Nigeria, African Energy Association; and David Paganie, Chief Editor,Offshore magazine.
The speakers reiterated the need to establish special public-private sector interventions to support the hydrocarbon industries at oil prices of less than $40/bbl. Specifically for Nigeria, the panel called for the effective utilization of the Nigerian Content Fund to support these interventions. Moreover, the government must create an enabling environment for investment in infrastructure, assets, and human capital, while heightening cost reduction and sustainable development activities.
Would the falling oil prices bring out the beast or best in Africa? Why have African nations remained comfortable with exporting crude products rather than finished or processed natural resources? These were some of the salient points that were hanging in the air throughout the question and answer segment of the panel discussion.
Specialist funding is required to grow asset ownership through equity investment based on the regional competitive position. The need to stimulate growth, generate employment, and create wealth for Africans cannot be overemphasized.
As the price of crude remains low, African nations dependent on oil for export must diversify their economies considering their location, existing assets, and human and natural resources competitive position. Countries that could attract foreign direct investment would satisfy one or more of the following criteria:
Development of linkages with other sectors of the national economy
Local industrialization
Evolve local content goods and service providers into high-value centers (this would strategically position African centers of excellence in the global energy, power, and oil and gas supply chains)
Position business delivery and operational excellence as integral parts of the global supply chain
Leverage skilled and high performing human capital as a regional low hanging fruit
Assurance of security of assets and ease of doing business (high levels of insecurity and corruption are major deterrents to potential investors)
Establishment of regional markets to retain significant value of produced and processed natural resources within the region
Commitment to long-term integrated regional infrastructural policies and initiatives
Sanctity of contracts and fiscal policies as well as incentives that encourage investments
Determine how much corruption and insecurity is unpalatable for a potential investor.
Domestication and domiciliation are the primary levers that would stimulate infrastructural development, investment in "in-country" assets, and transfer of technology.
Building in-country capacity, capability, and competence for the oil and gas industry must be integrated with the requirements of other sectors of the economy, such that it has a multiplier effect on the locals and the nation.
Resource optimization and competency development must be pursued aggressively through creative and mutually beneficial (local, national, regional, and international) business models, such as: licensing, franchising, partnering, strategic alliances, management contracts, consortiums, joint ventures, equity alliances, mergers and acquisitions (hundreds of companies can be swallowed up by a singular multinational), and localization - creation of regional trade hubs.
It was agreed that, as much as possible, raw materials should be sourced locally and natural resources harnessed or processed in-country, relative to the region. This would create maximum value in the communities where these are sourced as well as within the local regions.
To achieve this, Africa requires a strategic roadmap that locals, nations, and foreign investors can plug into for maximum value creation. For example, the Economic Community of West African States (ECOWAS) bi-lateral agreements between nations should be harnessed to accommodate growth and development through collaboration within nations. Also, the ease of country entry and access to the African market should be inclusive and mutually beneficial.
Global initiatives should be managed through public-private collaboration and meritocratic, to achieve effective technology transfer. Respect for the local workforce must be inculcated into the labor laws as a requirement for investors.
Regional roadmap
The Local Content Panel Discussion arrived at several conclusions toward the creation of a regional roadmap. They included:
1 Collaboration (local, national, regional, and international) adds value and creates opportunities. It expands the "pie" and creates sustainable long-term value. Collaboration is required to stimulate local content in major investment areas, such as: construction of facilities and asset acquisitions; capacity development; effective and efficient supply chains; and resource optimization.
2True local content success should translate into the creation of centers of excellence and high-value centers. A successful (effective and efficient) local content should result in the ability of nations to export beyond domestic boundaries and become internationally competitive.
3The following African countries, based on their year of hydrocarbon discovery in commercial quantity, must share experience, knowledge, and resources to move Africa forward: Nigeria (1956), Angola (1955), Mozambique (1961), Ghana (1970s), Tanzania (1974), Uganda (2006), Zambia (2006), Liberia (2009), Sierra Leone (2009), Kenya (2012).
There is a need to promote the idea of a new oil benchmark that takes cognizance of the peculiarities of the offshore oil and gas production environment in the African sub-region (host community development, infrastructural gaps limiting integrated supply chain, security, and transportation to the international market). This is the same philosophy behind the existing oil benchmarks - WTI, Brent Crude, and Dubai Blend.
4Regional synergies can be promoted through deliberate interface between African countries like Nigeria, Ghana, Angola, Gabon, Kenya, etc. on local content implementation. Also, determine the long-term benefits and the short-term trade-offs to develop local production and processing capacity to meet the requirements of regional markets. Another recommendation is the integration of local content requirements into regional agreements to maximize the benefits of population, resource availability, and economies of scale. Finally, ensure that regional blocks such as ECOWAS and the African Union (AU) evaluate areas of comparative advantage and jointly promote the establishment of specialized hubs for the oil and gas industry in the most advantaged locations for manufacturing equipment and chemicals, shipyards, centers of excellence for training, etc.
5Supplier enablement intervention programs can optimize Africa's resources. These include: local content awareness, contracting strategy and supplier development; access to low interest funds (Nigerian Content Development Fund); strategic partnering for prequalification and compliance; investment in research and development; and development of capacity, capability, and competence which are key to supplier and vendor development.
6Operational costs can be greatly reduced through oil and gas park schemes. These create specialized, low-cost regional manufacturing hubs for producing equipment, component parts, spare parts, and chemicals for use in the oil and gas industry. Also, the equipment component manufacturing initiative enhances in-country value-addition through the domiciliation of equipment manufacturing and/or assembly. The existence of a regional iron and a steel industry to ensure the supply of the required material for major projects and activities would help as well. This is long overdue and can be achieved most effectively through collaboration. Finally, Free Trade Zones are being used as logistics bases where resources are shared and optimized through collaboration.
7Consciousness in combating corruption is essential. Africa must rewrite the narrative of poverty, hunger, disease, security challenges, political instability, and the pandemic farce that has now become a reality in the oil and gas industry. These are well-known facts to some of the best auditors and professional services companies in the world.
8Creating an enabling environment. African governments must provide an enabling environment for local players to collaborate with international players in a win-win manner that translates into global competitiveness, to fit into the supply chain. There is a need for Africans to embrace the fact that competitiveness is driven by effective participation in a knowledge-based economy of information technology, large data, and quality human resources which are key to achieving the local content targets set by the governments of participating nations.
The time has come to leverage the local opportunities, create employment, improve access, and enhance the quality of service delivery and affordability in the country with the ultimate goal and intent to play globally.
Through deliberate collaboration, cooperation, and coordination in an inclusive manner, the local, national, regional, and international players would have greater achievements globally by deploying information technology, quality personnel, and strategic thinking to achieve more with less in a low oil price environment. Each country should identify their competitive advantage to deliver high-value goods and services in specific operational areas such as engineering, fabrication, construction, procurement, research and development, exploration, subsurface, geology and geophysics, and logistics and marine operations, etc.
As a matter of urgency, there is a need to engage stakeholders in the building of a roadmap for local, national, regional, and international collaboration in Africa. This engagement process will gain further traction when each country's government sets in place progressive reforms and bills for their petroleum industries. Indeed, the efforts toward this process must be orchestrated by all concerned stakeholders.
The regional conference, Offshore West Africa, should become a regional platform for deal-making, policy formulation, and intelligence sharing thereby sustaining the gains of the anticipated regional integration within the oil and gas industry with transferrable lessons to other sectors.
Acknowledgment
The team would like to recognize and thank David Paganie, PennWell; Andrew Omomehin, Chevron; Chisom Ajaero, TOTAL; and Ibrahim Oseni, TOTAL for their contribution and support.