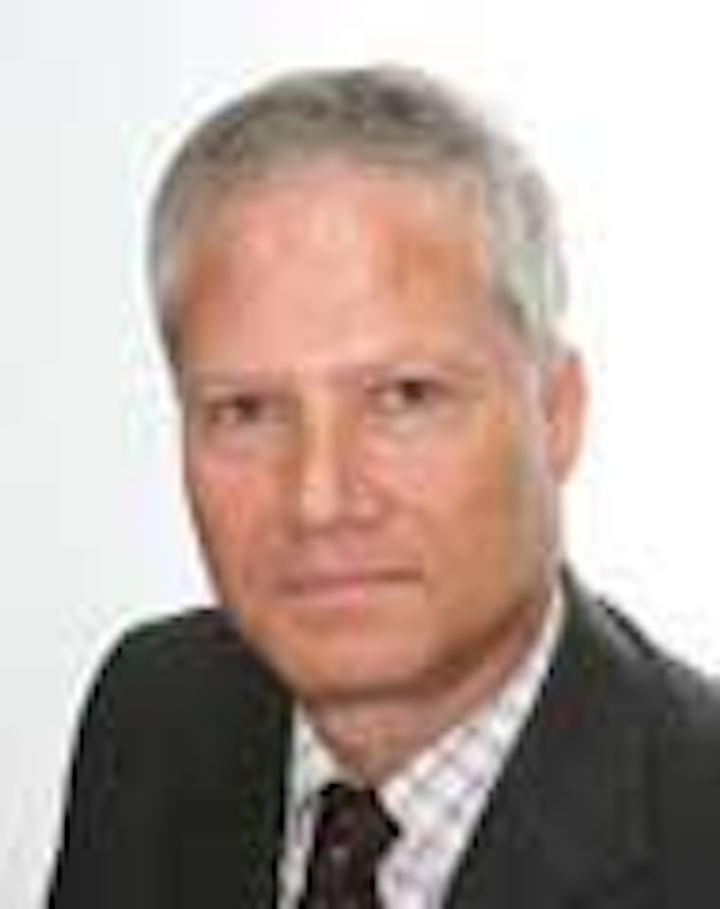 | | | |
| --- | --- | --- |
| | | Jeremy Beckman London |
North America
Shell has relinquished rights to offshore exploration permits in Baffin Bay to the Nature Conservancy of Canada. The 8,625 sq km (3,330 sq mi) of acreage will be incorporated into the new Lancaster Sound Marine Conservation Area. Shell secured the permits before the Canadian government imposed a moratorium on E&P activity in the region during the late 1970s. The initiative for the new conservation area was in response to a proposed exploratory well.
•••
Statoil proved two more oil fields during its recent drilling campaign in the frontier Flemish Pass basin, 500 km (310 mi) east of Newfoundland. Bay de Verde and Baccalieu are both close to the Bay du Nord field, where the partners are working on a hub-based development. Baccalieu is in a license that the company only secured last fall from the Canada Newfoundland & Labrador Offshore Petroleum Board.
•••
Mexico's Phase 4, Round 1 auction, likely to be staged in December, has drawn responses from 21 companies including reportedly the big five majors. On offer are 10 exploration blocks in the Gulf of Mexico - six in the Salinas basin and four in the Perdido belt - in water depths of 500-3,000 m (1,640-9,842 ft), with potential resources of 4 Bboe. Combined costs of the work commitments could be $2 billion.
South America
PDVSA, working in partnership with Roffoc and IMR Global Supply, has replaced a series of large-diameter steel oil pipelines in the Gulf of Maracaibo with flexible lines. According to Aquatic, which assisted deployment of the 18 flexible pipe reels supplied by GE and Wellstream, the campaign was conducted in two phases, starting in late-2015.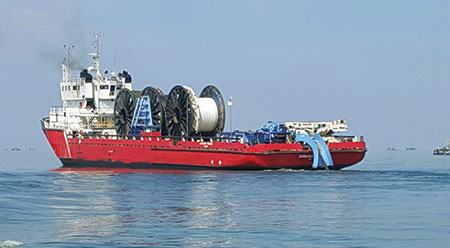 Reel lay of flexible pipelines in the Gulf of Maracaibo. (Photo courtesy Aquatic)
•••
Eos Investment Group subsidiary GNL Talcuahano has submitted an environmental impact study for a proposed floating regasification terminal in Talcuahano that could supply up to 5 MMtons/yr of gas to the south/central Chile region. Supplies could come from Australia and from Magnolia LNG's Lake Charles facility in Louisiana. Wison Offshore and Marine in Shanghai could provide the floating storage and regasification unit (FSRU).
•••
Brazil's National Petroleum Agency has agreed to extend Petrobras' concession contracts for the offshore Marlim and Voador fields until 2052. The operator's field life extension proposals include installing two new platforms, expanding water injection/processing capacity, and drilling 10 new wells.
West Africa
Endeavor Energy has awarded BMT Asia Pacific front-end engineering and design and optimization studies for the proposed Songon Gas-to-Power project in Côte d'Ivoire. This includes an LNG FSRU that would be connected via subsea infrastructure to gas turbines in the Abidjan area.
•••
Equatorial Guinea's government is reportedly offering 32 offshore blocks under its latest exploration licensing round, due to close on Nov. 30. These are said to include block A-12, recently relinquished by Marathon Oil.
Europe
Eni has contracted the ultra-deepwater drillshipSaipem 12000 for an exploratory well this summer offshore Portugal. The vessel can drill in water depths beyond 3,000 m (9,842 ft).
•••
Energean, currently Greece's sole offshore oil producer, plans to submit a new development plan to the government for the offshore Katakolon block. The company recently brought onstream the first of 15 new wells designed to extract 30 MMbbl from the Prinos, Prinos North, and Epsilon fields in the Gulf of Kavals. At Epsilon the company will install a new unmanned platform.
Russia
Gazpromneft Shelf has commissioned the first re-injection well at the Prirazlomnoye field in the Pechora Sea, 60 km (37 mi) from the northern Russian coast. This will re-inject waste water and drilling mud employed during construction of the planned 32 development wells from the ice-reinforced platform.
Gazprom's new Arctic Gate (Vorota Aktiki) offshore terminal has begun loading oil from the onshore Novorpotovskoye field. Production heads through a 100-km (62-mi) overland pipeline to the coast and from there through a 3.5-km (2.2-mi) subsea pipeline to the terminal. The 11-m (36-ft) deep near-coast area is too shallow for ships, hence the offshore location of the facility, which is designed to withstand ice 2 m (6.6 ft) thick and temperatures down to -50°C (-58°F).
In the Sea of Okhotsk off northeast Russia, Rosneft has started production from the Lebedinskoye oil/gas/condensate field via a 5.3-km (3.3-mi) horizontal extended-reach well drilled from the shore.
Mediterranean Sea
PA Resources has agreed to sell its E&P interests offshore Tunisia to state-owned ETAP. These include a section of the Zarat field, which the struggling Swedish independent had sought to develop prior to the oil price decline.
•••
Mellitah Oil & Gas, a consortium of NOC and Eni North Africa, has contracted Technip to engineer and install the subsea facilities for the Bahr Essalam Phase II development offshore Libya. The gas field, 110 km (68 mi) offshore in 190 m (623 ft) of water, will be tied back to the Sabratha platform via pipe-in-pipe production lines and umbilicals. Technip has additional responsibility for associated modifications to the platform. Subsea installations should start next spring.
•••
Eni has discovered another large gas field in the shallow-water Nooros area in the East Nile Delta offshore Egypt. The Baltim SW-1 well, 12 km (7.5 mi) from the shore and 10 km (6.2 ft) north of the producing Nooros field, intersected 62 m (203 ft) of net gas pay in Messinian sandstones. The company now assesses discovered resources in the area at 70-80 bcm.
Well operator Petrobel, Eni's joint venture with EGPC, has also commissioned Aker Solutions to supply 180 km (112 mi) of steel tube umbilicals to connect the deepwater Zohr gas field subsea facilities to an offshore control platform.
•••
Israel's Petroleum Commissioner has approved Noble Energy's development plan for the 22-tcf deepwater Leviathan gas field. This calls for subsea productions wells connected to a platform in shallower water with a tie-in to onshore infrastructure in northern Israel. IPM Beer Tuvia has contracted up to 473 bcf of the field's gas for a new Israeli power station.
Middle East
Saudi Aramco has discovered a new offshore accumulation named Faskar, close to the Berri field, and is continuing exploration in its shallow-water sector of the Red Sea, the company disclosed in its annual review.
Aramco has also signed a joint development agreement with Lamprell, Hyundai, and the National Shipping Company of Saudi Arabia (Bahri) to establish a yard in Ras al Khair, eastern Saudi Arabia, specialized in repair and maintenance of offshore rigs and offshore service vessels. Aside from local needs the yard could bid for projects internationally.
Caspian Sea
Kazakh Energy Minister Kanat Bozumbayev said the giant Kashagan oil field should re-start operations this year, three years after production was shut down due to pipeline damage caused by leaks of the field's sour gas. This follows various engineering studies and replacement of the affected pipelines.
East Africa
Aminex began commissioning last month of the subsea pipeline and gas plant for the Kiliwani North development on Songo Songo Island, close to Tanzania's coast. Gas from the first completed well has already been processed and entered the country's grid.
•••
China National Petroleum Corp. (CNPC) and Mozambique's state oil company Empresa Nacional de Hidrocarburos have signed an agreement to co-operate in E&P projects in Mozambique and to develop a local engineering workforce. CNPC is currently a partner in the ultra-deepwater Area 4 subsea gas/LNG project.
India
ONGC has maintained its recent success rate offshore India with five more liquids and gas discoveries. Four were off the west coast in the Mumbai offshore and Kutch offshore basins. The other was a shallow-water oil and gas find in the Krishna Godavari basin offshore eastern India that has extended the Panna play farther south in the Bassein field.
Asia/Pacific
Woodside has raised its estimate of recoverable dry gas from its recent Shwe Yee Htun and Thalin discoveries offshore Myanmar to almost 2.4 tcf, following analysis of subsurface data and logs from the two wells. There is potential for tiebacks to the offshore Shwe and Yadana production facilities. The company plans to drill a four-seven more exploration and appraisal wells in the surrounding acreage starting early next year.
•••
SapuraKencana Energy has discovered gas from two recent wells in the block SK408 PSC offshore Sarawak. Jerun-1, 5 km (3.1 mi) north of the 2014 Bakong gas find, could be a significant discovery, with logs indicating an 800-m (2,624-ft) gas column in the primary Late Miocene carbonate target reservoir.
Petronas' first FLNG vesselPFLNG SATU has reached the Kanowit gas field in block SK306, 180 km (122 mi) off Sarawak. DSME built the 365-m (1,198-ft) long ship which is designed to operate in water depths of 70-200 m (230-656 ft), with processing capacity of 1.2 MM metric tons/yr of LNG.
•••
ALE has completed load-out of the 27,500-ton tension leg platform for Shell's Malikai project offshore Sabah at the Malaysia Marine and Heavy Engineering (MMHE) West yard in Johor Darul. Skidding of the structure took 12 hours. IEV Malaysia was due to transport and install the platform.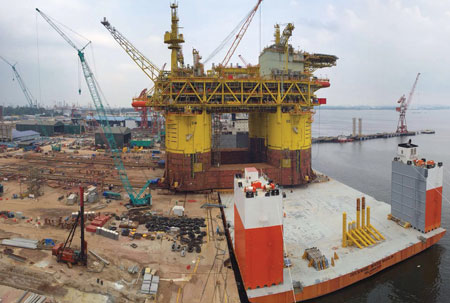 Sabah Shell's Malikai TLP at the MMHE West yard. (Photo courtesy ALE)
•••
Indonesia is reportedly offering 15 oil and gas blocks for tender in 2016, including concessions offshore south and southeast Sulawesi, West Papua, East Kalimantan, and the Natuna Islands.
Another report suggests the country's Energy and Resources Ministry has transferred the East Ambalat oil and gas block offshore North Kalimantan - relinquished by Chevron - to PT Pertamina. The location is 80 km (50 mi) east of Tarakan in the Ambalan Sea in water depths of 2,000 m (6,562 ft). Chevron took its decision because of a border dispute with Malaysia over the surrounding area.
•••
INPEX is drilling for hydrocarbons offshore Japan's Shimane and Yamaguchi prefectures under a program commissioned by two government departments. The exploratory well location is 130 km (81 mi) northwest of Shimane and 140 km (87 mi) north of Yamaguchi.
Australia
Carnarvon Petroleum has secured a new exploration permit in the North West Shelf off Western Australia. WA-523-P is close to the producing Laminaria, Corallina, and Kitan fields and contains two undeveloped oil discoveries, Bluff and Buller, and the Buffalo oil field that ceased production in 2004. Carnarvon aims to apply recent advances in imaging such as full waveform inversion to assess the target reservoirs and may try to re-develop Buffalo, possibly via a tieback to nearby facilities.
•••
Regulatory body NOPSEMA has asked BP to modify and re-submit its environment plan for exploration drilling in the Great Australian Bight offshore South Australia. Assuming BP accepted, the revised plan was due to be submitted by mid-July.