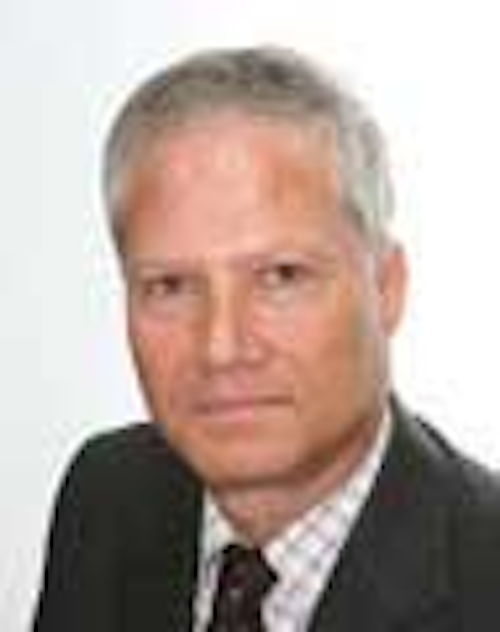 | | | |
| --- | --- | --- |
| | | Jeremy Beckman London |
Drilling expected to remain subdued
Exploration and appraisal investments worldwide could total $40 billion during 2016-18, less than half the previous three-year outlay, according to Wood Mackenzie. Last year the industry only discovered 2.9 Bbbl of fresh reserves, the analyst added, and if the downward trend continues, the global oil market could face a supply shortfall of 4.5 MMb/d by 2035. The lower oil price will probably cause operators to focus for the time being on near-field opportunities with lower cost bases, Wood Mackenzie predicted, with a reduced likelihood of higher-risk frontier finds in the near term.
Central/South America
Eni expects to start a year-long appraisal drilling campaign in December on Mexico's offshore Area 1, where the Amoca, Mitzon and Tecoalli discoveries hold estimated reserves of 800 MMbbl of oil and 480 bcf of associated gas. On conclusion, Eni aims to submit a development plan to the authorities.
•••
ExxonMobil has started appraisal drilling on its deepwater Liza oil field in the Stabroek block offshore Guyana, thought to hold 700 MMbl recoverable. This follows the earlier completion of a 17,000-sq km (96,654-sq mi) 3D seismic survey over the permit.
Partner Hess has agreed to take a 33% stake in the block 42 contract area offshore neighboring Suriname from existing partners Chevron and Kosmos Energy. In exchange, Hess will provide much of the funding for a 3D seismic survey, due to start this summer.
•••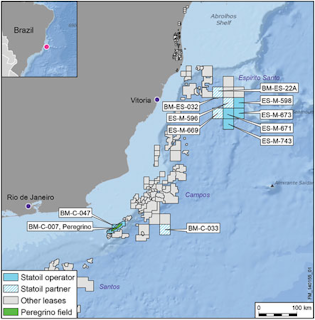 Gavea-1 location offshore Brazil. (Map courtesy Statoil)
The consortium in Brazil's ultra-deepwater block BM-C-33 in the presalt Campos basin has completed appraisal drilling. The latest well, Gavea A1, flowed 16 MMcf/d of gas and 4,000 b/d of oil. Statoil, which will shortly take over as operator, said the partners plan to assess results from the three discoveries on the block and progress development planning.
•••
MODEC has contracted the BrasFELS shipyard to fabricate and integrate nine production modules for the FPSOCidade de Campos dos Gotacazes MV29. The vessel, due to berth in the yard early next year, will be deployed on the Lapa field in the Santos basin. It is designed to produce 150,000 b/d of oil and 5 MMcm/d (177 MMcf/d) of gas and to store 1.6 MMbbl of crude.
•••
Aker Solutions has opened a new subsea plant in the Curitiba area for machining, assembly, and testing of christmas trees. It will also provide Brazil's first subsea control systems manufacturing capability, the company claims.
West Africa
Kosmos Energy has struck big again with its latest ultra-deepwater gas find off Senegal. Teranga-1 was drilled in the Cayar Offshore Profond block, 65 km (40 mi) northwest of Dakar in nearly 1,800 m (5,905 ft) of water. The well encountered 31 m (102 ft) of net gas pay in the Lower Cenomanian objective. Results indicate a prolific inboard gas fairway holding potentially more than 50 tcf, extending 200 km (124 mi) from the company's Marsouin-1 discovery off Mauritania to the north, through the Greater Tortue area on the maritime boundary to Teranga-1.
•••
Cairn Energy has proven gas in a previously undrilled deepwater structure offshore Senegal. BEL-1, drilled by theOcean Rig Athenain 1,031 m (3,382 ft) of water, encountered two gas-bearing reservoirs in between the main target and the deeper objective, designed to appraise the northern part of the SNE oil discovery. The deepened well section appeared to intersect a 100-m (328-ft) oil column, similar in quality to the earlier SNE wells.
•••
Last month Anadarko was drilling a horizontal side track of its successful deepwater Paon-5A appraisal well in block CI-103 off Côte d'Ivoire. Following a subsequent drillstem test, the company plans further exploratory drilling on the Pelican and Rossignol prospects in blocks CI-527 and CI-528.
•••
Yinka Folawiyo Petroleum has started oil production on schedule from the Aje field in the Dahomey basin offshore western Nigeria, 24 km (15 mi) from the coast in 100-1,000 m (328-3,281 ft) of water. The upgraded FPSOFront Puffin, formerly deployed off Western Australia, can produce 40,000 b/d of oil from Aje and store up to 750,000 bbl.
•••
Ophir Energy and Schlumberger have ended a heads of agreement provisionally established in January for the Fortuna FLNG project offshore Equatorial Guinea. Ophir says development planning is unaffected, with bids in for engineering, construction and installation, while capex for the project has come down to $450-500 million.
•••
Harvest Natural Resources has completed tenders for planned exploratory drilling and well testing in the Ruche Exclusive Exploitation Area offshore Gabon. One prospect identified from a 2013 3D survey could contain multiple pay zones in the same Gamba and Dentale formations that brought discoveries on the adjacent offshore Etame block.
•••
Sonangol claims to have discovered 2.2 Bboe in two blocks in the Kwanza basin offshore Angola, according to a Reuters report. One is the BP-operated block 24, estimated to hold 280 MMbbl of condensate and 8 tcf of gas; the other is the Sonangol-operated block 20, thought to contain 139 MMbbl of condensate and 2.5 tcf.
Europe
LUKOIL-Kaliningradmorneft has secured the rights to produce hydrocarbons from a block in the Russian sector of the Baltic Sea. This includes last year's D29 and D41 oil field discoveries, drilled by Gazprom Flot's jackupArkticheskaya. LUKOIL assesses combined recoverable reserves at 4,129 MM tons.
•••
The Trans Adriatic Pipeline (TAP) consortium has contracted Saipem to install the 105-km (65-mi) offshore section of the TAP trunkline system taking gas from the Azeri sector of the Caspian Sea to Eastern Europe. Later this year Saipem will start work on the stretch across the Adriatic Sea from the Albanian coast to San Foca, eastern Italy. The Castoro Sei, supported by the trench/pipelay bargeCastoro 10, will lay the 36-in. diameter pipeline in water depths of up to 820 m (2,690 ft).
•••
Eni and partner Rockhopper expect to ratify a production-sharing agreement later this year for shallow-water block 9 offshore northern Croatia. The signing process had to be delayed due to the country's general election last November. Rockhopper anticipates initial seismic studies over the block, which includes the Ksenija gas discovery.
Middle East
Egypt is preparing a new bid round taking which should include offshore blocks in the Gulf of Suez, Red Sea, and the Mediterranean Sea. Interest in the deepwater sector has surged following Eni's giant Zohr gas discovery.
•••
Saudi Arabia has reportedly blocked a resumption of production from the Khafji field in the offshore zone the country shares with Kuwait. This follows an earlier agreement between the two countries to re-start the field which had been shut in since October 2014 due to environmental regulation breaches.
•••
Masirah Oil's Manarah-1 well in block 50 offshore Oman has delivered oil shows from the primary sandstone and carbonate targets. The company has discussed a time extension with the Ministry of Oil and Gas to allow for follow-up wells.
Caspian Sea
BP has contracted Bos Shelf LLC, a partnership between Saipem and Star Gulf FZCO, to transport and install the deeper-water subsea production systems for the Shah Deniz Stage 2 project, 90 km (56 mi) offshore in the Azeri sector of the Caspian Sea, using the newbuild subsea construction vesselKhankendi. Water depths range from 75-550 m (246-1,804 ft). The reactivated pipelay barge Israfil Huseinov will install deeper water flowlines during 2019.
East Africa
Tanzania's government has authorized Aminex to acquire 700 sq km (270 sq mi) of 3D seismic over the deepwater part of the Nyuni offshore concession, replacing a previous commitment for a 2D shallow water survey. Aminex hopes to identify prospectivity on trend with deepwater gas discoveries in other Tanzanian blocks.
Sterling Energy has withdrawn from the Ambilobe exploration block off Madagascar, leaving Pura Vida Mauritius as the sole concessionaire. As operator, Sterling completed a 1,175-sq km (453-sq mi) 3D survey over the acreage in 2015.
India
ONGC will assume operatorship of the Tapti field facilities from current co-owners BG and Reliance Industries. The processing platforms and associated pipelines for the decommissioned field will be redeployed for use on ONGC's Daman and C-26 Cluster developments in the Arabian Sea, designed to boost production of gas and condensate from the Daman block. The company is also installing 10 new wellhead platforms with 36 wells, and a riser platform.
Asia/Pacific
Gazprom plans to produce 1.12 bcm of gas and 182,000 tons of gas-condensate this year from the Kirinskoye field in the Sakhalin III concession offshore eastern Russia. Drilling of production wells continues using the company's floating rigsPolyarnaya Zvezda and Severnoye Siyaniye. Gazprom expects to bring the Yuzhno-Kirniskoye gas field in the same concession onstream in 2012, via an eventual 37 production wells.
•••
CNOOC has started oil production from the Panyu 11-5 field in the Pearl River Mouth basin in the South China Sea. Average water depth is 110 m (361 ft) - development involves drilling three horizontal wells from the Panyu 5-1 oil field facilities.
The company and partner Primeline have also committed to a second phase of exploration in offshore block 33/07, despite two sub-commercial gas wells last year. They hope to prove larger volumes on the acreage that could be developed through their nearby LS36-1 production complex.
•••
AWE has agreed to transfer its 42.5% interest in the Bulu PSC offshore East Java to a subsidiary of HyOil for up to $20 million, pending approvals. KrisEnergy operates the concession which includes the undeveloped Lengo gas field.
•••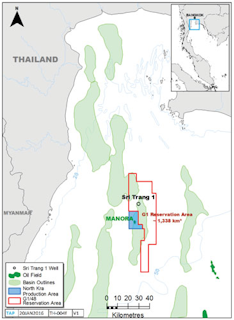 Location of the Sri Trang-1 well offshore Thailand.
(Map courtesy Tap Oil)
Mubadala Petroleum expected the jackupAtwood Orca to spud the Sri-Trang-1 exploratory well last month in the G1/48 concession in the northern Gulf of Thailand. The location is 18 km (11 mi) north-northeast of the producing Manora oil field. The main target is mid-Miocene lacustrine sands - a discovery could involve installation of a production platform, connected to the existing Manora facilities.
Australia
Around $1 billion could be spent on exploration in the Great Australian Bight off South Australia if current plans secure approval, according to the Australian Petroleum Production and Exploration Association (APPEA). During recent Senate hearings, an APPEA official said discovery of a major new oil province in the area would help offset the country's rapidly declining oil production, with less than 10 years of proven domestic crude reserves remaining.
•••
MEC Resources subsidiary Advent Energy and partner Bounty Oil & Gas have identified a potential gas prospect in the PEP11 permit in the offshore Sydney basin. The Baleen structure is thought to be analogous with gas-condensate fields in the Bowen basin onshore southeast Queensland. The partners planned a seismic survey ahead of a well, 30 km (18.6 mi) southeast of Newcastle.