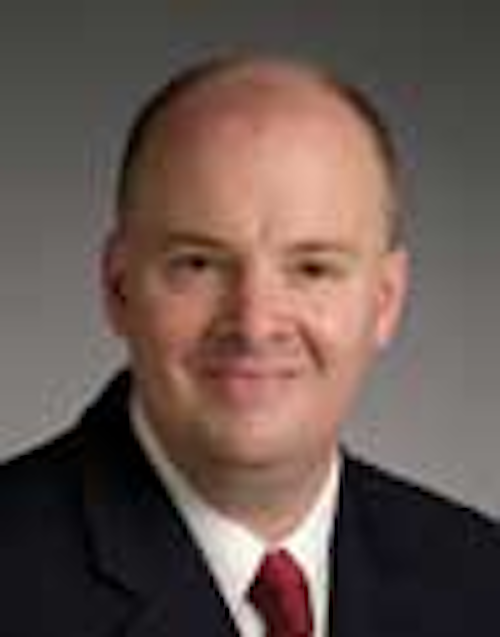 | | | |
| --- | --- | --- |
| | | Bruce Beaubouef • Houston |
The Bureau of Ocean Energy Management (BOEM) reports that its recent Lease Sale 248 garnered $18,067,020 in high bids for 24 tracts covering 138,240 acres in the WesternGulf of Mexico planning area.
Three companies participated in 24 bids. BHP Billiton Petroleum (Deepwater) Inc. submitted 12 high bids totaling $9,999,760. While the company mostly bid for tracts in the East Banks area, its highest bid ($1,077,480) was for the Alaminos Canyon block 127.
BP Exploration & Production Inc. submitted 10 high bids totaling $6,317,260. Exxon Mobil Corp. submitted two high bids totaling $1,750,000. Its and the sale's highest bid, $1,124,000, was for the East Breaks block 590.
Each bid will go through a 90-day evaluation process to ensure the public receives fair market value before a lease is awarded.
BOEM Director Abigail Ross Hopper said: "Though this sale reflects today's market conditions and industry's current development strategy, the bidding confirms that there is continued interest in the deepwater areas of the Gulf.
In this sale, BOEM offered 23.8 million acres in federal waters offshore Texas for oil and gas exploration and development. It included about 4,399 blocks, located from nine to 250 nautical miles offshore, in water depths ranging from 16 to more than 10,975 ft (5 to 3,340 m).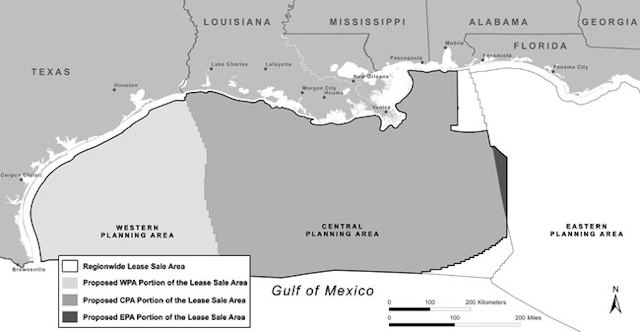 BOEM is proposing to offer approximately 72 million acres of the 160 million acres in the GoM for oil and gas leasing with proposed lease sales 250 and 251. (Courtesy Bureau of Ocean Energy Management)
Following the sale, National Ocean Industries Association President Randall Luthi said: "The relatively modest results of today's Western Gulf of Mexico lease sale are indicative of the current market conditions and regulatory environment.
"Despite these challenging circumstances, the companies that participated in today's sale are investing millions of dollars in the future of America's energy and economic security with no guarantee of success or financial return.
"The purchase of a lease block is a first step in a lengthy process that involves rigorous regulatory oversight including extensive environmental reviews, permitting, and safety checks."
The sale, held in late August, was the first federal federal offshore oil and gas auction to be broadcast live on the internet.
"Making government data immediately available is a valuable resource for taxpayers, both in terms of dollars and cents but also in efficiency," Hopper said in July. "Through the use of technology we can deliver our lease sale information in a much more effective and accessible way to a much wider audience."
More auctions appear to be forthcoming.
A week before Lease Sale 248, the BOEM published a notice of intent in the Federal Register to prepare a supplemental environmental impact statement for proposed lease sales 250 and 251, tentatively scheduled for 2018.
BOEM proposes to offer for oil and gas leasing approximately 72 million acres of the 160 million acres in the GoM. Areas excluded are the whole and partial blocks within the boundary of the Flower Garden Banks National Marine Sanctuary, the blocks deferred by the Gulf of Mexico Security Act of 2006, the blocks that are beyond the US' Exclusive Economic Zone in the area known as the northern portion of the Eastern Gap.
Venari ups stake in Shenandoah field
Venari Resources LLC says it has acquired an additional 7% working interest in the Shenandoah field on Walker Ridge blocks 51, 52, and 53 in thedeepwater Gulf of Mexico.
The company also reported successful results from the Shenandoah #5 appraisal well.
The Shenandoah #5 well was drilled on Walker Ridge block 51 in approximately 5,900 ft (1,798 m) of water to a total depth of 31,100 ft (9,479 m). The well was drilled up-dip of the Shenandoah #2 appraisal well and was designed to confirm and extend reservoir boundaries.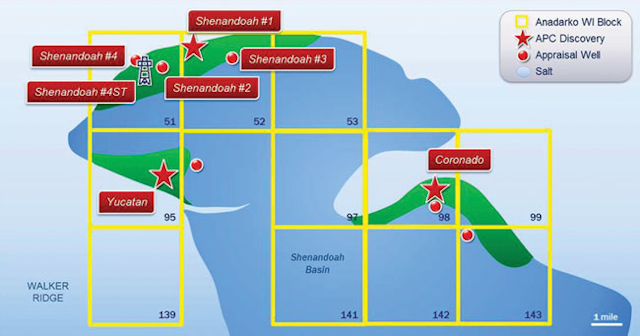 Venari Resources LLC says it has acquired an additional interest in the Shenandoah field in the deepwater Gulf of Mexico. (Courtesy Anadarko)
The well encountered more than 1,000 ft (304 m) net of high-quality oil pay in the Lower Tertiary Wilcox sands and extended the field farther east. The next appraisal well, Shenandoah #6, is expected to spud later this year to further quantify the full resource potential of the field.
Brian Reinsborough, president and CEO of Venari, said: "With a high-quality reservoir and substantial net oil pay, the well results confirm Shenandoah to be a significant oil accumulation. We are excited that we were able to increase our ownership in the field and continue building our relationship with Anadarko across this strategically important region."
Venari holds a 17% working interest in Shenandoah. Co-owners are Anadarko Petroleum Corp., as operator (33%), ConocoPhillips Co. (30%), and Cobalt International Energy, LP (20%).