North America
Mexico's Comision Nacional de Hidrocarburos (CNH) is looking to appoint a joint venture, including two operators, for the 480-MMbbl Trion light oil field development in the Perdido Fold Belt, according to Reuters.
Sep 12th, 2016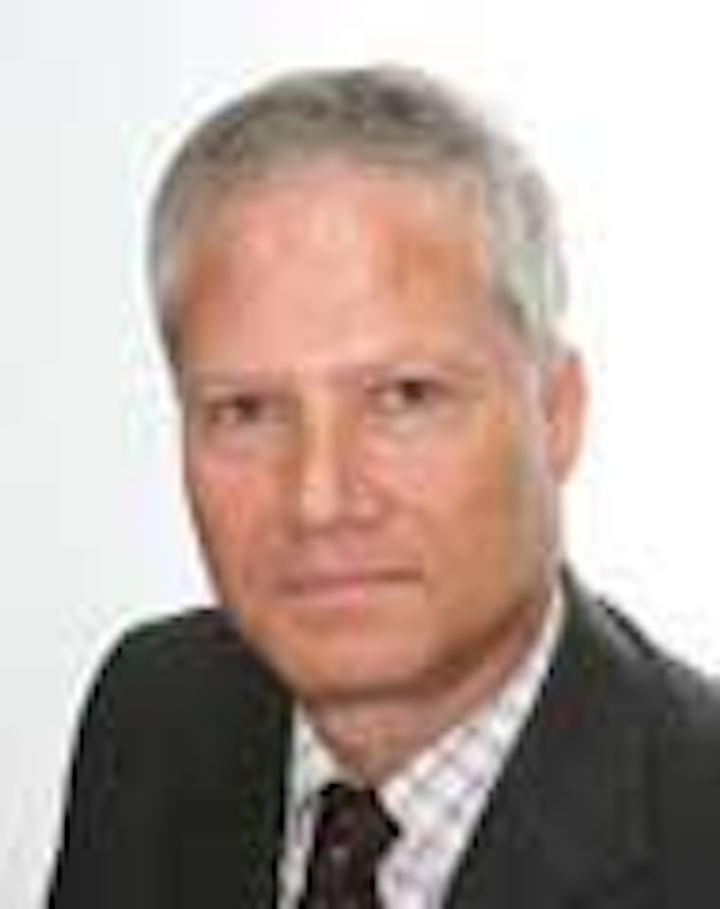 | | | |
| --- | --- | --- |
| | | Jeremy Beckman• London |
North America
Mexico's Comisión Nacional de Hidrocarburos (CNH) is looking to appoint a joint venture, including two operators, for the 480-MMbbl Trion light oil field development in the Perdido Fold Belt, according to Reuters. This would be the country's first major deepwater project, with an estimated cost of $11 billion. Successful bidders from this December auction, which also takes in 10 other deepwater fields, would partner with PEMEX for the project.
Lakach, Mexico's first subsea/deepwater development, is making progress with Dutch contractors Frames and Mokveld delivering two modular high integrity pressure protection systems - the first certified HIPPS in the Mexican sector - for the field's gas collection station.
McDermott International expected to complete fabrication this month of the 7,500-ton jacket for PEMEX's Ayatsil C project in the shallow-water Mexican sector. TheDB 50 vessel should install the structure later this year.
South America
Anadarko plans to resume exploratory drilling later this year on the Purple Angel block offshore western Colombia. The well will test objectives similar to those that delivered gas at the company's Kronos discovery in 2015.
•••
ExxonMobil spudded the Skipjack exploration last month offshore Guyana, 25 mi (40 km) northwest of the deepwater Liza discovery. Results from recent appraisal drilling on Liza suggest a recoverable resource in the range of 800-1,400 MMboe, according to partner Hess.
•••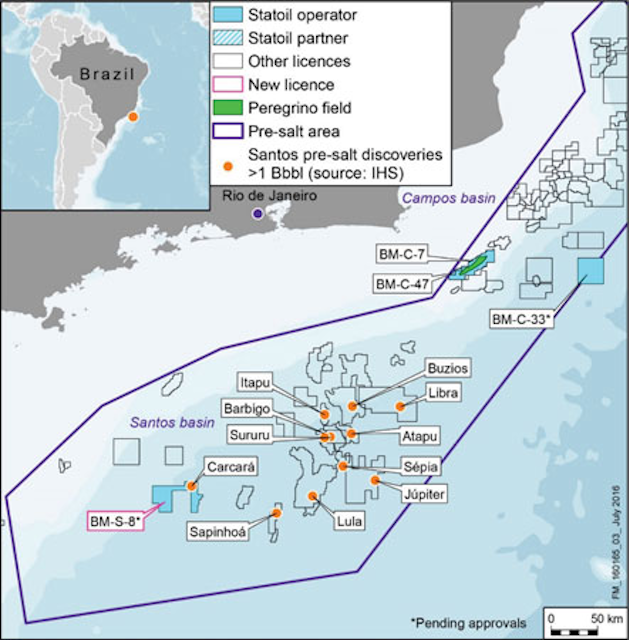 Santos basin discoveries, including Carcará. (Map courtesy Statoil)
Petrobras is poised to sell its 66% operated interest in deepwater block BM-S-8 in the Santos basin off Brazil to Statoil. The block includes a large chunk of the Carcará oil and associated gas field, discovered in 2012, which is on the same geological trend as the nearby Lula and Libra fields. Statoil estimates recoverable volumes at 700-1,300 MMboe, with exploration upside where the field extends to open acreage in the north that is set to be offered next year under a licensing round. The two companies are also discussing a long-term cooperation in the offshore Campos and Espirito basins and on gas technology projects in the Santos basin.
West Africa
Woodside Energy has offered $350 million for ConocoPhillips' interests offshore Senegal which include a 35% stake in the PSC for the Rufisque Offshore, Sangomar Offshore, and Sangomar Deep Offshore blocks. To date, the Cairn-led consortium has discovered an estimated 560 MMbbl of oil in the deepwater SNE and FAN structures. Assuming the transaction clears, Woodside could operate any future development. For ConocoPhillips, the deal accords with its strategy of exiting deepwater exploration off West Africa.
•••
Tullow Oil has redesigned its Greater Jubilee full field development plan, taking in undeveloped oil discoveries within tieback range of the Jubilee FPSO offshore Ghana. The revised scheme entails reduced capex and provides flexibility on the timing of investments - the company expects approval from the government in mid-2017.
•••
Sea Trucks has installed the main facilities for Chevron's Sonam field development in 7-66 m (23-216 ft) of water in Nigeria's OML 91 concession, using the vesselsJascon 25 andJascon 30. The program included transporting and installing the Okan PRP jacket and deck and laying a 32-km (19.9-mi) pipeline between Okan and the Sonam NWP platform.
•••
Marathon Oil has produced first gas through the new Alba B3 compression platform offshore Equatorial Guinea. The facility should allow the company to extract around 130 MMboe of reserves and extend the Alba field's life by up to eight years. Heerema Fabrication Group managed the construction, with an Equatoguinean company supplying the platform's flare and connecting bridge structures.
Mediterranean Sea
Ocean Installer has a contract to procure and install a chain mooring spread for a floating storage unit in Marsaxlokk Bay, offshore Malta. ElectroGas Malta has commissioned the facility to provide regasified LNG to power electricity generators at the onshore Delimara power station.
•••
Eight companies have reportedly bid for three blocks offered under Cyprus' third licensing round. The bidders included a Capricorn Oil-led consortium that included Avner Oil and Delek Drilling, both partners in Noble's Aphrodite deepwater gas discovery in block 12. The newly offered block 8 is north of Aphrodite while blocks 6 and 10 are to the west.
•••
Lebanon is considering reviving the country's first offshore licensing round, which has stalled over the past two years for various reasons. According to Spectrum Geo, which performed geoscience studies for the round, the government's next steps could be to approve two decrees delineating the offshore area into 10 blocks and ratifying the model exploration and production agreement between the government and the successful bidders. Twelve majors were pre-qualified as potential operators when the Lebanese Petroleum Administration launched the bidding qualification process in 2013.
Caspian Sea
LUKOIL aimed to start production this month from its V.Filanovsky field development in the Russian (northern) Caspian. Structures for the jacket for the second ice-resistant fixed platform departed the Galaktika shipyard in Astrakhan in August for installation offshore. This platform will be used for drilling wells during the second phase of development.
•••
SapuraKencana TL Offshore will lay the offshore section of the Trans Anatolian Natural Gas Pipeline (TANAP) that will take gas from the Shah Deniz field in the Azeri sector of the Caspian to southern Europe. This will involve installing pipelines and fiber-optic cables for the section of the line that crosses the Dardanelles Strait in the Sea of Marmara in western Turkey.
•••
Korea National Oil Corp. is reportedly in talks with Kazakhastan's government to exit the 2,000-sq km (772-sq mi) Zhambyl offshore block, following disappointing results from wells drilled during 2013-14. Under the terms of the concession, awarded in 2008, exploration was due to end this April.
Middle East
Saudi Aramco has awarded a $1.6-billion contract for the second-phase development of the Hasbah gas field offshore Saudi Arabia. A consortium of Larsen & Toubro Hydrocarbon Engineering and EMAS Chiyoda Subsea will construct and install two streams of three wellhead platform topsides, one tie-in platform, flare platforms, and connecting bridges linked by 25 km (16 mi) of interfiled pipelines and 20 km (12 mi) of umbilicals. Two 36-in. trunklines will transport 2 bcf/d of gas from Hasbah to the new processing plant at Fadhili, due to be completed by end-2019, which will also handle non-associated gas from other Saudi offshore fields.
•••
McDermott International and Keppel Offshore Marine (N-KOM) have agreed to cooperate on EPCI projects offshore Qatar. Under the five-year accord McDermott will act as prime contractor, managing engineering via its division in Dubai and supplying installation vessels from its global fleet. N-KOM, a shipyard owned by Qatar's Nakilat and Keppel Offshore & Marine, will serve as subcontractor performing offshore fabrication.
Indian Sub-Continent
Petrobangla, Excelerate Energy, and Bangladesh's government have signed agreements covering a new floating LNG terminal to meet Bangladesh's gas import needs. This will be located offshore Moheshkali Island in the Bay of Bengal and could start operating in 2018. Excelerate will supply one of its existing floating storage and regasification units, connected to a moored subsea system and providing 138,000 cu m (4.87 MMcf) of LNG storage capacity and base regasification capacity of 500 MMcf/d.
•••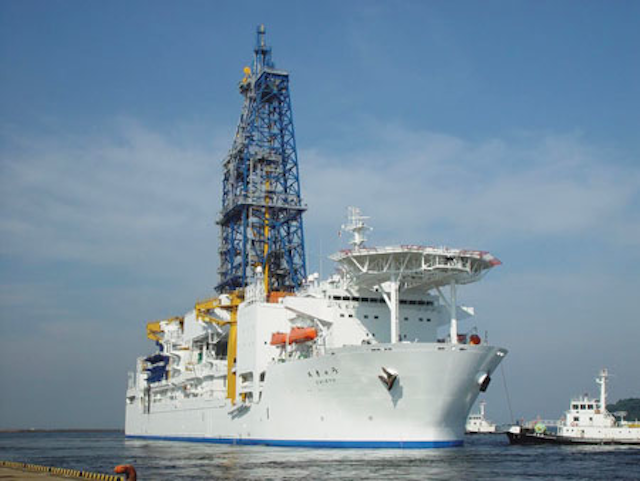 The deepwater drillshipChikyu, deployed during the NGHP-02 gas hydrates expedition, was designed by the Japanese government for scientific drilling operations. (Photo courtesy JAMSTEC)
Drilling in the Bay of Bengal off eastern India has led to the discovery of large volumes of potentially producible natural gas hydrates, according to the US Geological Survey. An international team led by ONGC and including the USGS and the Japanese Drilling Co. conducted ocean drilling, sediment and pressure coring and downhole logging in the Krishna-Godavari basin, encountering gas hydrates in coarse-grained, sand-rich depositional systems. Next steps will include production testing to determine if natural gas production is both feasible and economic.
Asia/Pacific
PTTEP has secured operatorship of exploration block SK410B offshore Sarawak, in partnership with Petronas and KUFPEC. The initial three-year exploration commitments comprise 3D seismic surveys and one well.
Petronas has appointed marginal field specialist Vestigo Petroleum as the new operator of the Berantai risk service contract. This covers the Berantai field, 150 km (93.2 mi) offshore Peninsular Malaysia which since 2012 has produced gas via a wellhead platform and FPSO, with production sent through a 30-km (19-mi) subsea pipeline to the Angsi field for onward export ashore.
•••
Idemitsu Solutions has awarded Aker Solutions a nine-month front-end engineering and design (FEED) contract for the Sao Vang and Dai Nguyet fields in Vietnam's offshore blocks 05-1b and 05-1c. Aker is managing the work from its regional hub in Kuala Lumpur.
PanPacific Petroleum expects the Repsol-led consortium to finish development planning by year-end for the CRD oil and gas field in Vietnamese block 07/03. Negotiations continue for a tension leg wellhead platform and FPSO.
•••
Bids were due to close last month for 14 blocks offered under the Indonesia's Ministry of Energy of Mineral Resources Conventional Oil and Gas Bidding Year 2016 round. Reportedly seven will be awarded following direct negotiations; others, to be offered under a regular tender, are said to include four blocks offshore the Makassar Strait, East Kalimantan and South Sulawesi - West Sulawesi.
•••
Husky Energy and CNOOC have agreed on a price adjustment relating to gas from the Liwan 3-1 and Liuhua 34-2 fields in the South China Sea. This will allow them to maintain their share of China's market, Husky added, with gross take-or-pay volumes remaining at 300-330 MMcf/d. The two companies have also agreed to advance development of the Liuhua 29-1 field via a tie-in to the Liwan infrastructure boosting production by a further 80 MMcf/d. Husky operates Liwan's deeper water facilities and CNOOC the shallow-water facilities and onshore gas terminal.
Australasia
Transerv Energy and Norwest Energy aim to finalize a farm-out shortly for the TP-15 permit in the offshore northern Perth basin off Western Australia. The permit, which covers waters in a 3 nautical-mi wide adjacent to Port Denison, includes the 160-MMbl Xanadu prospect close to the Cliff Head and Jingamia oil fields. The partners aim to drill an extended-reach well from a shore-based site in 2017.
•••
BP was due to re-submit its environment plan last month for exploratory drilling in the Great Australian Bight off South Australia. The National Offshore Petroleum Safety and Environmental Management Authority (NOPSEMA) had requested the revision in order for the program to comply with regulatory requirements.
Drilling could start during the coming Australian summer from a semisubmersible rig, over an area covered by the Ceduna 3D seismic survey.
•••
AWE has begun planning for decommissioning of the Tui Area oil fields in the Taranaki basin offshore New Zealand. The program could get under way in 2019.
In the meantime, the operator is assessing ways of cutting opex, including costs associated with the Tui FPSO, and production optimization measures.