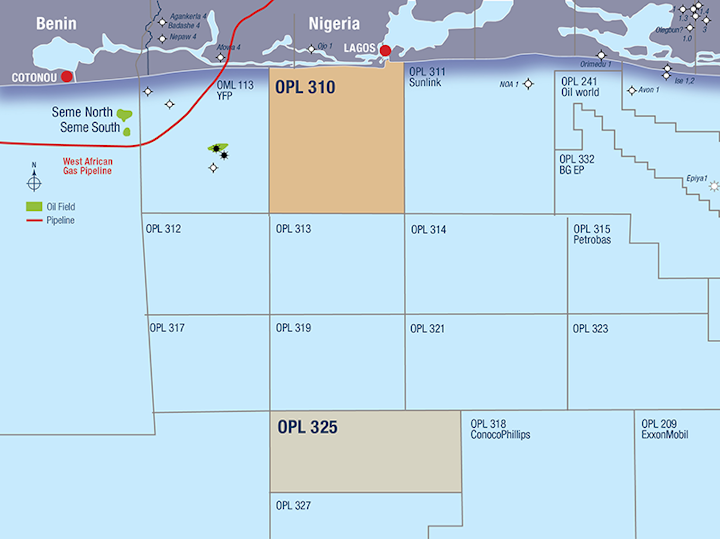 (Map courtesy Lekoil)
Offshore staff
LAGOS, Nigeria – Lekoil's loan agreement with the Qatar Investment Authority (QIA) for exploration of the OPL 310 lease offshore Nigeria, announced earlier this month, was in fact an attempt to defraud the company.
Representatives of Lekoil appear to have entered into the transaction with individuals masquerading as representatives of the QIA for the reported $184 million loan.
Lekoil said it would contact the relevant authorities across a number of jurisdictions and thanked the QIA for drawing attention to the scam.
The company's due diligence on the parties involved meetings with individuals said to have falsely presented their credentials as QIA representatives, and further interaction with individuals purporting to be conducting legal and technical due diligence on behalf of the QIA.
In addition, the company had commissioned a third-party due diligence report, based mainly on what it described as open source information, on Seawave Invest in its capacity as introducer of the counterparties and lead adviser on the facility agreement.
Lekoil said its financial exposure associated with this agreement was limited to around $600,000 (the amounts paid in good faith as initial fees to Seawave, plus associated legal fees), and also confirmed that it had issued no payments to the counterparties.
The planned drilling of an appraisal well on the license is still set to go ahead before the expiry date of Aug. 2, 2022, Lekoil added.
By next month, the company must prove it can raise 42.86% of the costs of one appraisal well, estimated at around $28 million. Failure to make the payment on time may result in operator Optimum and the company jointly seeking a buyer for Lekoil's 17.14% stake in OPL 310, and the associated financial obligations.
01/14/2020