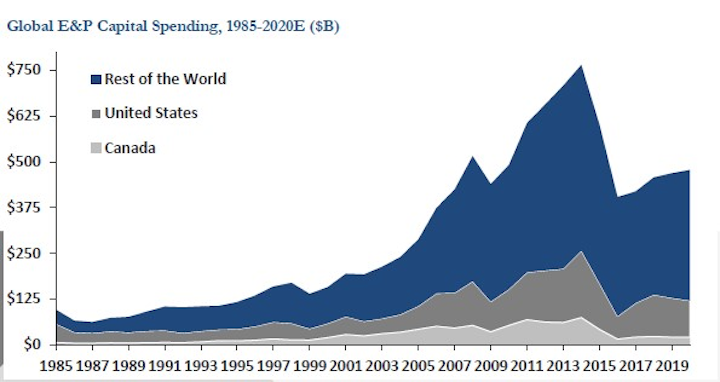 Courtesy Evercore ISI
Offshore staff
NEW YORK CITY – Offshore FIDs have increased for the second straight year according to Evercore ISI's "Offshore Oracle" report of December 2019. Citing Rystad Energy data, the investment banking advisory firm estimates that around $100 billion in offshore projects were sanctioned in 2019, culminating with Chevron's recent FID of the $6-billion Anchor project in the deepwater Gulf of Mexico.
Anchor will be the region's first 20k psi development, and contracts have already been awarded to Transocean and Schlumberger (OneSubsea) for the drilling rig and subsea production system respectively.
Evercore noted in its November "Offshore Oracle" report that the Gulf of Mexico's floating rig market is nearing 100% marketed utilization, and with FIDs likely for additional 20k psi projects (Shenandoah, North Platte, Tigris and Kaskida), the GoM could be a driver of the deepwater recovery in the near-to-medium term, Evercore says.
The December report also noted that with the jackup market in full recovery and a deepwater recovery more visible, rig contractors slowed the pace of rig attrition this year. Only 15 jackups and 12 floaters were scrapped in 2019, down from 40 jackups and 23 floaters in 2018.
Over the last six years, the industry scrapped a total of 135 floaters and 102 jackups, which combined with newbuild deliveries of 56 floaters and 120 jackups resulted in a net reduction of 79 floaters or 25% of the global supply but a 3% increase in jackup supply of 16 units.
Despite the increase, the average marketed utilization of jackups under contract increased by 500 bps (basis points) this year while floater utilization was flat. However, the industry is exiting the year with almost 80% of the marketed floater fleet contracted, which is a 440 bps increase from a year ago vs. a flat year-to-year comparison at December 2018.
The report indicates that a pick-up in floater activity is imminent.
12/26/2019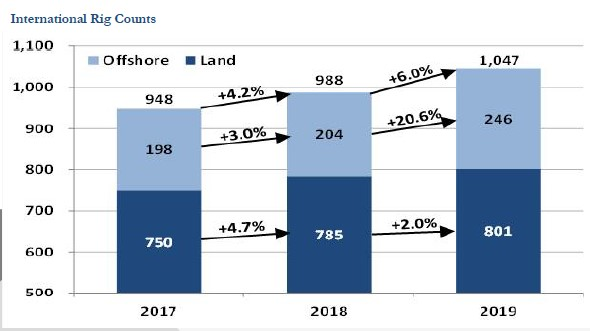 Courtesy Evercore ISI