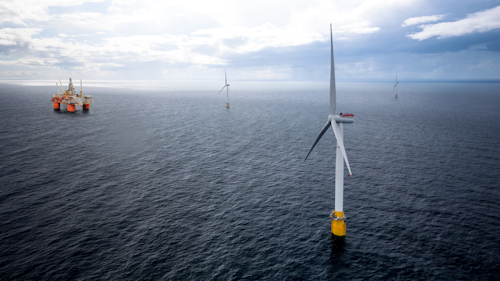 (Courtesy Equinor)
Wind farm to part-power North Sea fields
Equinor has secured agreements from six partners oil companies for the first floating offshore wind farm development dedicated to Norwegian Sea oil and gas operations. The Hywind Tampen complex, comprising eleven 8-MW wind turbines based on the Hywind technology, will serve the Gullfaks and Snorre fields from a location 140 km (87 mi) offshore, and in water depths of 260-300 m (853-984 ft). It will provide a total generating capacity of 88 MW, sufficient to power around 35% of the annual power needs of the fields' five platforms.
Reducing the complexes' reliance on gas turbines should help cut their carbon dioxide emissions by over 200,000 metric tons (220,462 tons) per year, Equinor said, adding that a decisive factor behind the investment was the Norwegian authorities' approval to extend field life at Gullfaks to 2036 and at Snorre to 2040, two decades beyond the original base cases. Gulen Industrihamn in western Norway will assemble the floating wind turbines and these should enter service in 2022, operated remotely from Equinor's offices in Bergen. The company estimates the overall cost at around $549 million. Enova, owned by Norway's Ministry of Climate and Environment, and the country's NOx Fund, have collectively pledged to contribute up to $315 million. Other partners in the Gullfaks and Snorre licenses are state-owned Petoro, OMV, ExxonMobil, Idemitsu, Wintershall Dea, and Vår Energi.
ExxonMobil exits Norway
Vår Energi's stake in the project looks set to grow after the company agreed to pay $4.5 billion for ExxonMobil's Norwegian upstream business. This includes interests in some of the largest producing fields in the North Sea and Norwegian Sea such as Fram, Grane, Ormen Lange, Snorre and Statfjord, with combined production of around 150,000 boe/d. Assuming closure before year-end, Vår will become Norway's second-largest E&P company after Equinor with total reserves and resources of around 1.9 MMboe and production of close to 300,000 boe/d, potentially rising to over 350,000 boe/d in 2023 as new contributions come in from projects such as Johan Castberg in the Barents Sea and Vår's own Balder X project. The latter involves drilling 26 new wells to extend the productive lives of the Balder and Ringhorne fields, both of which ExxonMobil originally developed.
Last month, first oil from the Equinor-operated Johan Sverdrup field reached the terminal at Mongstad, western Norway, through a newly installed pipeline in the Utsira High region of the North Sea. The project's final cost was $9.09 billion, the company said, $4.38 billion below the original estimate submitted with the field development plan. Once Sverdrup Phase 1 has reached plateau production, operating costs should fall below $2/bbl, the company claimed. Start-up was also a month ahead of schedule, helped by investments in digital solutions and optimized field operations, a spokesman said.
The picture is less rosy for two of the company's other current flagship developments. At Martin Linge in the North Sea (formerly operated by Total), costs have risen by $865 million since the previous report to Norway's state budget, according to the Ministry of Petroleum and Energy. Before Equinor took charge in March 2018 there had been a series of delays, one due to a serious accident at a construction yard in the Far East, and the scope of work had increased, with a slow and complex hook-up and commissioning operation in progress. Start-up has now been pushed back to summer 2020.
Costs of the Njord Future project in the Norwegian Sea are running $493 million above budget, mainly due to the extent of the upgrades needed to the Njord field's semisubmersible platform and storage vessel, so that both can operate for a further 20 years.
Hub in prospect at Buchan
Project activity is intensifying too in UK waters, some of it technically innovative. KCA Deutag's engineering arm RDS is conducting a conceptual study for Pharis Energy for what could be the first large-scale application offshore of steam flooding to maximize recovery from a heavy oil field (Pilot in the central UK North Sea). RDS' scope includes screening of jackups and design of the field's wellhead platform.
Jersey Oil and Gas, which earlier this year won the rights to re-develop the Buchan area to the north under the UK's 31st supplementary offshore licensing round, has awarded concept study contracts. Rockflow Resources will perform subsurface evaluation while Petrofac works on concept selection for the Greater Buchan Area development. This will include the Devonian Buchan oilfield, which previous operator Talisman had to shut down early due to concerns over the integrity of the semisubmersible platform (formerly used for drilling). Jersey envisages a new hub complex tying in production from satellite oilfields or prospects such as Verbier, Capri and J2, with a potential combined resource of 144 MMbbl.
Shell and partner Ithaca Energy have sanctioned a depressurization project on the Pierce field in the UK central sector, which has hitherto focused on oil production via the FPSO Haewene Brim. The facilities will be modified to allow gas exports for the first time through a new 30-km (18.6-mi) subsea pipeline, to be installed by Subsea 7, and new wells. These should lift production above 30,000 boe/d at peak. •