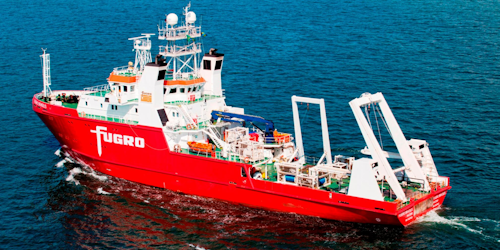 (Courtesy Fugro)
Record Gulf of Mexico oil production expected to continue
Crude oil production in the US federal Gulf of Mexico (GoM) averaged 1.8 MMb/d in 2018, setting a new annual record, according to the Energy Information Administration (EIA).
The EIA expects oil production in the GoM to set new production records in 2019 and in 2020, even after accounting for shut-ins related to Hurricane Barry in July 2019 and including forecasted adjustments for hurricane-related shut-ins for the remainder of the year and for 2020.
Based on EIA's latest Short-Term Energy Outlook's expected production levels at new and existing fields, annual crude oil production in the GoM will increase to an average of 1.9 MMb/d in 2019 and 2.0 MMb/d in 2020.
However, even with this level of growth, projected GoM crude oil production will account for a smaller share of the US total. The EIA expects the GoM to account for 15% of total US crude oil production in 2019 and in 2020, compared with 23% of total US crude oil production in 2011, as onshore production growth continues to outpace offshore production growth.
In 2019, crude oil production in the region fell from 1.9 MMb/d in June to 1.6 MMb/d in July because some production platforms were evacuated in anticipation of Hurricane Barry. This disruption was resolved relatively quickly, and no disruptions caused by Hurricane Barry remain. Although final data are not yet available, the EIA estimates GoM crude oil production reached 2.0 MMb/d in August 2019.
Eight new projects are expected to come online in 2019 and four more in 2020. EIA expects these projects to contribute about 44,000 b/d in 2019 and about 190,000 b/d in 2020 as projects ramp up production. Uncertainties in oil markets affect long-term planning and operations in the GoM, and the timelines of future projects may change accordingly.
Because of the amount of time needed to discover and develop large offshore projects, oil production in the GoM is less sensitive to short-term oil price movements than onshore production in the Lower 48 states. In 2015 and early 2016, decreasing profit margins and reduced expectations for a quick oil price recovery prompted many GoM operators to reconsider future exploration spending and to restructure or delay drilling rig contracts, causing average monthly rig counts to decline through 2018.
Crude oil price increases in 2017 and 2018 relative to lows in 2015 and 2016 have not yet had a significant effect on operations in the GoM, but they have the potential to contribute to increasing rig counts and field discoveries in the coming years. Unlike onshore operations, falling rig counts do not affect current production levels, but instead they affect the discovery of future fields and the start-up of new projects.
BOEM proposes new region-wide lease sale
The Bureau of Ocean Energy Management (BOEM) plans to offer about 78 million acres in a region-wide Gulf of Mexico lease sale scheduled for March 2020.
Lease Sale 254 will include about 14,585 unleased blocks, located from 3 to 231 mi (5 to 372 km) offshore, in the Gulf's Western, Central and Eastern planning areas in water depths ranging from 9 to more than 11,115 ft (3 to 3,400 m).
Lease Sale 254, scheduled to be livestreamed from New Orleans, will be the sixth offshore sale under the 2017-2022 Outer Continental Shelf Oil and Gas Leasing Program.
Fiscal terms proposed for this sale include a 12.5% royalty rate for leases in less than 656 ft (200 m) of water depth, and a royalty rate of 18.75% for all other leases issued pursuant to the sale.
TechnipFMC to provide subsea trees for Shenandoah
LLOG Exploration Offshore L.L.C. has ordered subsea trees from TechnipFMC for the Shenandoah project in deepwater of the Gulf of Mexico.
This is the first material equipment order for the Shenandoah project and is said to be the first of its kind for subsea trees designed for pressures up to 20,000 psi.
Located about 200 mi (322 km) south of New Orleans, the Shenandoah discovery is in the unit comprised of Walker Ridge blocks 51, 52, and 53.
LLOG is the operator and the partners are Venari Offshore, LLC, Navitas Petroleum, and Beacon Offshore Energy.
The leases are currently held under a Suspension of Production and will be developed using a new floating production system.
The partnership will drill multiple wells to develop the estimated 100 to 400 MMbbl targeting previously discovered oil-bearing Upper and Lower Wilcox-reservoirs. According to LLOG, the oil and rock qualities for the Shenandoah development are both best-in-class for the emerging Wilcox production trend. •