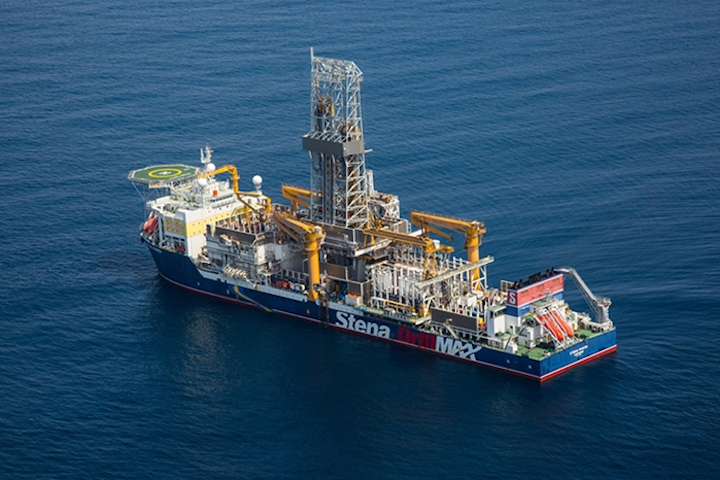 (Courtesy Tullow Oil)
North America
Talos Energy and its partners may drill further targets on block 7 in the Sureste basin offshore Mexico after gaining a two-year extension to the license from CNH, the country's National Hydrocarbons Commission. Prospects such as Pok-A-Tok and Xlapak could contain up to 150 MMboe in sands of similar age to those tested in the nearby giant Zama oil field, Talos claimed.
Cairn Energy expected to drill its first wells last month on block 9 in the same basin, with the jackup Maersk Developer focusing on the Alom and Bitol prospects. A discovery in either case could lead to swift follow-up appraisal drilling.
South America
Tullow Oil has pulled off its second successive oil find in the Orinduik block off Guyana. The drillship Stena Forth drilled the Joe-1 well in 780 m (2,560 ft) of water in a previously untested Upper Tertiary play in the Guyana basin. The well, which followed the earlier Jethro discovery, encountered 14 m (46 ft) of net oil pay, and the result, Tullow said, has de-risked the western part of the block. Last month, Repsol was due to spud the shallow-water Carapa-1 well in Guyana's Kanuku license, targeting a Cretaceous oil play.
The drillship Noble Tom Madden has delivered ExxonMobil's 14th deepwater discovery in the country's Stabroek block. The Tripletail-1 well in the Turbot development area penetrated 33 m (108 ft) of good-quality oil-bearing sandstone reservoir, 5 km (3 mi) northeast of the Longtail accumulation.
                                                        ◆◆◆
Australian contractor Searcher Seismic has agreed to work jointly with Perupetro on four new projects for the company's Offshore Peru multi-client seismic campaign. Searcher has already started reprocessing 25,700 km (15,960 mi) of vintage 2D field data for the Huayno 2D Pre-Stack Reprocessing project: the aim is to deliver a regional grid across the country's offshore basins tying in as many wells, leads and prospects as possible.
                                                         ◆◆◆
Petrobras' newest FPSO the P-68 should be on location in the BM-S-11A concession in the presalt Santos basin offshore Brazil. The hull was constructed at the Rio Grande Shipyard, with topsides module integration following at the Jurong Aracruz Shipyard in Aracruz, Espirito Santo state. The vessel, to be moored in 2,280 m (7,480 ft) water depth, is due to start producing oil from the Berbigão and Sururu fields during the current quarter.
 Total has contracted Subsea 7 to lay 35 km (22 mi) of flexible pipelines and 20 km (12 mi) of umbilical for the Lapa North East field in the presalt Santos basin. The structures will connect five wells to the FPSO Cidade de Caraguatuba.
CGG is using the Geo Caribbean for Nebula 3D, an extensive long-offset BroadSeis survey over the Santos and Campos basins. The initial focus is on blocks offered under Brazil's 15th license round, and the program will also take in areas where there is currently no 3D coverage.
West Africa
Morocco's government has awarded Irish independent Europa Oil & Gas the Inezgane Offshore exploration permit in the Agadir basin, an 11,228-sq km (4,335-sq mi) concession in water depths of 600-2,000 m (1,968-6,562 ft). Following ratification, Europa will operate in partner with state-owned ONHYM. Initial priorities will be to reprocess 1,300 sq km (502 sq mi) of 3D seismic and conduct technical studies, before deciding whether to commit to drilling under a second phase. The company has identified stacked prospects in the Lower Cretaceous fan sand play which it believes could each hold over 250 MMbbl.
                                                         ◆◆◆
Ghanaian company Springfield Exploration and Production expected to start exploratory drilling last month on the West Cape Three Points Block 2 offshore Ghana. The drillship Stena Forth was due to sail from Guyana last month, initially to spud the Oak-1x well, on trend with the Beech discovery in another block to the southwest. This should be followed by Afina-1x on a Cenonamian oil prospect.
                                                         ◆◆◆
Nigerian independents Lekoil and Optimum Petroleum Development have agreed to progress appraisal of the Ogo oil discovery on the OPL 310 block off Nigeria. Optimum will operate a planned two-well program over the next 18 months, pending government approval for an extension to the license. If successful, a full-field development could follow.
                                                           ◆◆◆
Sonadrill, Seadrill's joint venture with Sonangol, has won a nine-well, $101-million contract for the drillship Libongos, with six further one-well options. The campaign should be under way and is set to continue through early 2021.
                                                            ◆◆◆
Total has agreed to farm down portions of its interests in blocks 2913B and 2912 in the Orange basin off Namibia to Qatar Petroleum. Water depths range from 2,600-3,800 m (8,530-12,467 ft). Total and existing partners Impact Oil and Namcor plan to drill the first exploration well next year on block 2913B.
Mediterranean Sea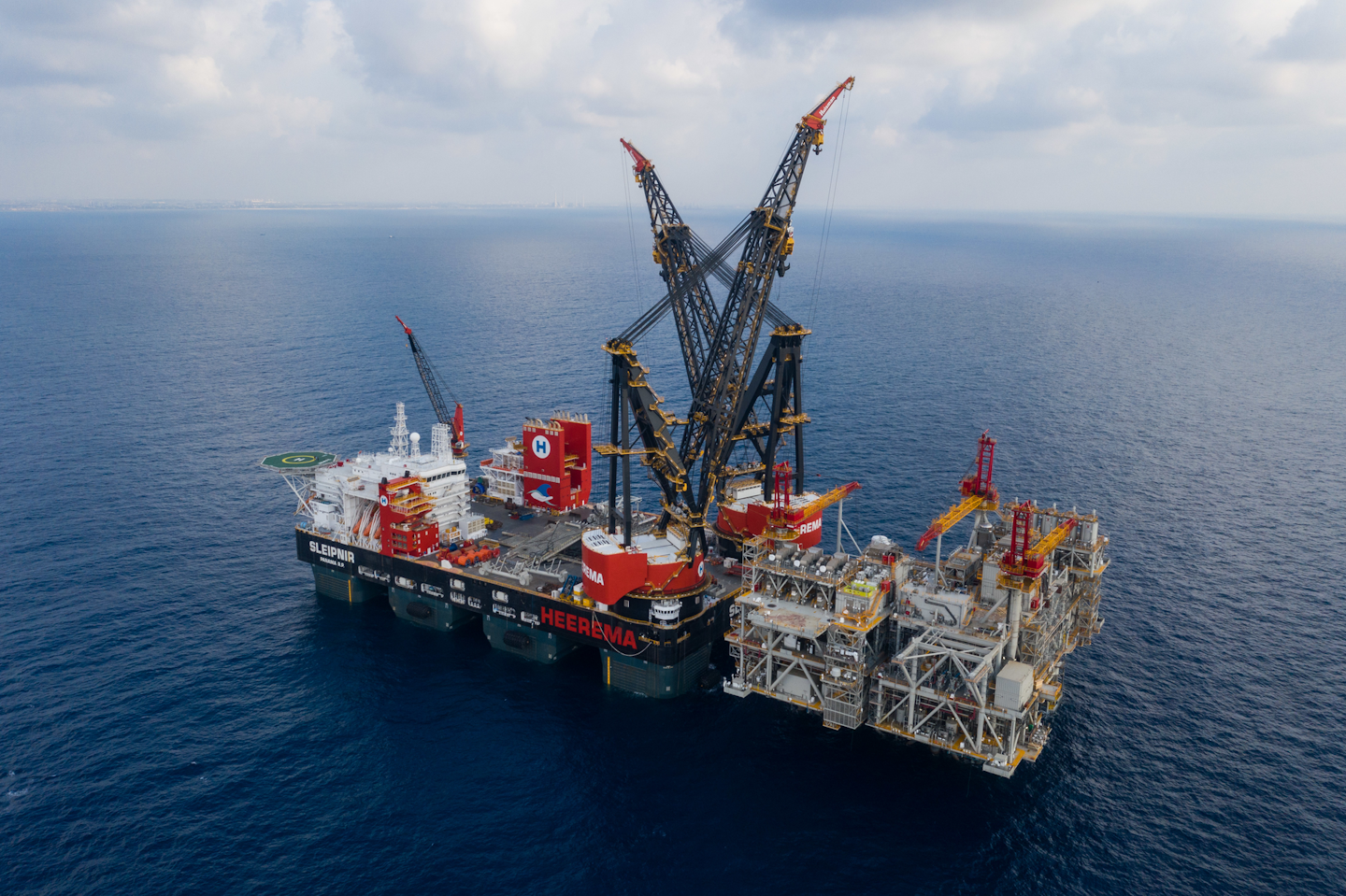 The Sleipnir at the Leviathan field location.(Courtesy Heerema Marine Contractors)

Heerema Marine Contractors' new semisubmersible crane vessel Sleipnir has successfully completed its first offshore job, installing the two main topsides on Noble Energy's Leviathan platform offshore Israel. One of the operations, a 15,300-metric ton (16,865-ton) lift, established a new world record for a crane vessel, Heerema claimed. The combined weight of the modules was 24,500 metric tons (27,007 tons).
Golar will assess the viability of a new floating LNG solution to support future development of the 620-bcm Leviathan gas field. Initially, Noble and its partners plan gas exports to the Middle East area via existing pipelines, with an FLNG vessel potentially brought in later to export LNG to global markets. Golar's study involves adapting its generic mark III newbuild concept to produce up to 5 MMt/yr.
                                                             ◆◆◆
Eni, BP, and EGPC have brought onstream the shallow-water Baltim South West gas field, 12 km (7.5 mi) offshore Egypt in the Baltim South development lease, 20 months after taking a final investment decision. The first well online was producing an initial 100 MMcf/d through a new platform, with production exported through a 44-km (27-mi) sealine to the onshore Abu Madi gas plant. Five more wells should follow, lifting overall output to 500 MMcf/d by next spring.
Caspian Sea
BP and its partners in the Azeri-Chirag-Deepwater Gunashli development offshore Azerbaijan have issued various large contracts for the Azeri Central East project. Among the recipients, the Bos Shelf LLC/Star Gulf FZCO consortium will construct the new platform's jacket and piles at SOCAR's Heydar Aliev Baku deepwater jacket factory. Azfen is responsible for fabrication and integration of the topsides and the lightweight drilling package, with NOV responsible for the topsides drilling engineering and supervision. The SOCAR-KBR LLC venture has an 'execute engineering' contract for the platform, subsea facilities and brownfield works.
Middle East
TGS and WesternGeco have started a 3D seismic re-imaging program in the Egyptian sector of the Red Sea. This will take in data from three overlapping surveys covering a total area of 3,600 sq km (1,390 sq mi), acquired between 1999 and 2008. Some of the results were due to be made available for Egypt's offshore Red Sea international bid round.
                                                           ◆◆◆
Saudi Aramco has commissioned Subsea 7 company EMAS AMC and L&T Hydrocarbon Engineering to supply and install 28 new platform jackets. These will be constructed at yards in the Middle East and India and installed on the Marjan, Ribyan, Safaniya, and Zuluf fields offshore Saudi Arabia.
                                                            ◆◆◆
Pars Oil and Gas Co. will develop the Belal gas field in the Persian Gulf, 90 km (56 mi) southwest of Lavan Island. Petropars will drill eight development wells and install a platform topside with a 500-MMcf/d capacity, with production sent through a new 20-km (12.4-mi) subsea pipeline to an onshore refinery that currently serves the South Pars Phase 12 development.
East Africa
Rosneft has signed co-operation agreements with Mozambique's Instituto Nacional de Petróleo and state oil company ENH. These grant the Russian oil company rights to study available data on various blocks offshore and onshore Mozambique and potentially join future associated development projects. The company's subsidiary RN-Exploration is a partner to ExxonMobil in three offshore blocks in the Angoche and Zambezi Delta basins.
Asia/Pacific
Indonesia's Ministry of Energy and Mineral Resources has awarded the West Ganal exploration block in the Makassar Strait off East Kalimantan to a consortium led by Eni. The concession, issued under the country's second conventional oil and gas bid round, covers 1,129 sq km (436 sq mi) and is adjacent to the Eni-operated Muara Bakau and East Sepinggan PSCs. It includes the 600 bcf-plus Maha gas discovery which Eni plans to tie into facilities serving the Jangkrik field in Muara Bakau.
Australasia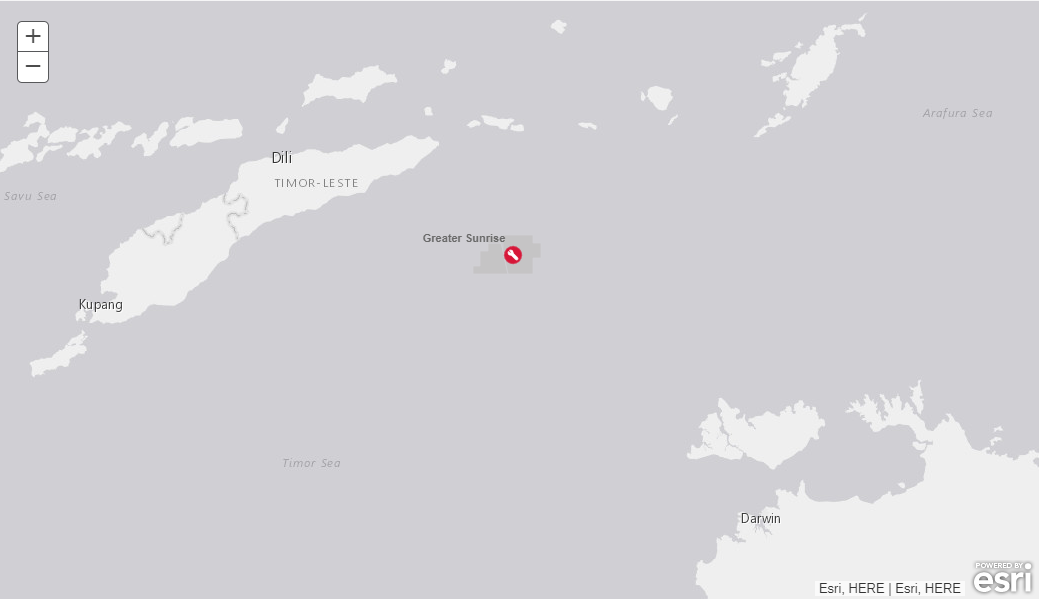 Greater Sunrise location in the Timor Sea.(Courtesy Woodside Energy)

The governments of Timor-Leste and Australia have signed a maritime border treaty which ends their border dispute in the Timor Sea. According to consultant Wood Mackenzie, the accord formalizes the governance structure and tax-sharing arrangement between the two countries, lifting some of the barriers that have held back the offshore Sunrise and Buffalo development projects. Woodside Energy, which operates Greater Sunrise, reportedly favors a program focused initially on the field's large liquid resource, followed later by an LNG plant onshore Timor-Leste.
                                                            ◆◆◆
Off Western Australia, Woodside has produced first oil from the Greater Enfield development through the FPSO Ngujima-Yin, which underwent an overhaul at the Keppel Tuas shipyard in Singapore. The project involves tying production from 12 wells on the Laverda Canyon, Norton over Laverda and Cimatti oil accumulations through a 31-km (19-mi) subsea connection to the FPSO located over the Vincent field, 50 km (31 mi) from Exmouth. •