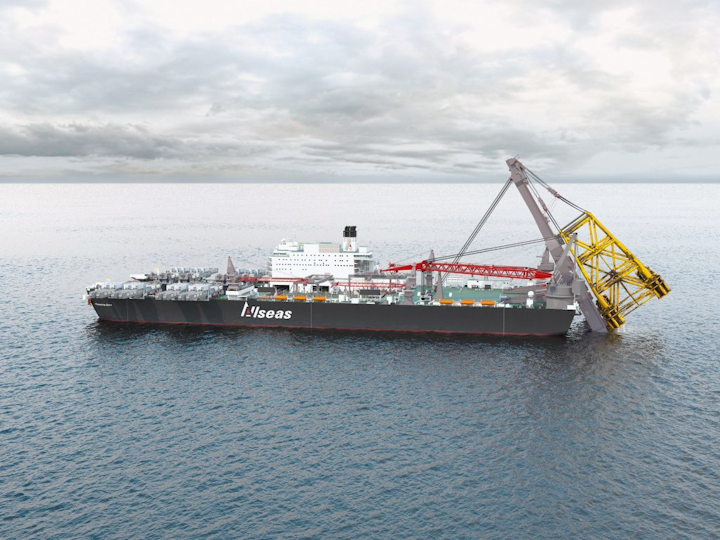 (Courtesy Allseas)
UK operators still wary on costs
Cutting emissions and costs were two of the priorities for the North Sea highlighted at the SPE Offshore Europe 2019 plenary session in Aberdeen. Patrick Pouyanné, President and CEO of Total, noted that "everything is changing very quickly. And we are being challenged to provide energy to billions of people while governments set net zero emissions targets."
Despite the offshore sector's expansion into new frontier regions, the UK North Sea remains part of Total's DNA, Pouyanné said, as it has since the 1970s when the company co-constructed the St Fergus terminal north of Aberdeen to receive gas from the Frigg field offshore Norway. Following its recent acquisition of Maersk Oil and first gas earlier this year from the Culzean project, Total is now the UK's fourth largest offshore producer, he added, and the North Sea area as a whole now contributes 15-16% of the company's worldwide production.
Pouyanné saw further potential in the region, thanks to Total's involvement in the Johan Sverdrup project and large new gas discoveries in the UK sector. "The industry has made incredible efforts across the region since the price crash of 2014: when oil sank to $30/bbl, that could have been the end of the business. The efforts since – the costs reduced, the ability to work creatively – have saved the basin. But cost discipline needs to be maintained in the North Sea as this is still one of the most mature and expensive places to operate in."
He also called for the sector to embrace new technologies and for increased collaboration between operators and the supply chain. Innovation should extend to offshore decommissioning, he added, with the UK alone facing a bill of $50 billion. In that regard, the sector needs to work on simplifying and standardizing its approaches, he suggested, and to consider alternative approaches such as leaving platforms in place to serve as sanctuaries for marine life. As for the emissions issue, Total is involved in two carbon capture storage projects for North Sea reservoirs – Acorn in the UK and Northern Lights offshore Norway. He suggested that in future, as R&D and investments in carbon capture grow, the North Sea's depleted reservoirs could act as "a giant cave for CO₂".
Shell Upstream Director Wael Sawan said his company had trimmed its North Sea development costs by 45% over the past five years, and this had fundamentally changed the attractiveness of the sector. "But there is also a need for the industry to think about the next level of integration, trusting each other and becoming less adversarial," he added, "with an improved uptake of digitalization." And somehow the UK offshore sector will have to bring in 40,000 recruits in future to fill new roles in data science and artificial intelligence, he warned, in direct competition with Google, Facebook, and Amazon.
Karl Johnny Hersvik, CEO of Aker BP, said that since his company had been formed from the merger between BP Norge and Det norske oljeselskap, its production has risen to 155-160,000 b/d. In today's North Sea environment, "you have to be allergic to waste in any form," he said, "and we have worked equally hard at cutting our CO₂ footprint as on costs. This industry still has too much complexity and bureaucracy, and there is a need to re-engineer the entire value chain…" He also called on the sector to shed its reluctance to share more of the vast data it compiles from its offshore operations.
Decommissioners need greater focus
In another panel session on Decommissioning, Jon Clark, EMEIA Oil & Gas Transactions Leader at Ernst & Young, said too many in the industry had used the excuse of the Oil & Gas Authority's maximizing economic recovery of UK petroleum (MER) strategy for not planning ahead for decommissioning, on the basis of "if we're producing, we're not decommissioning. But if you get more clarity on decommissioning, there will also be more focus on MER as these are two sides of the same coin."
Clark warned that UK offshore operators were paying insufficient attention to the imperative of the supply chain investing in decommissioning, "which is something it won't do without clear evidence of a market." And the sector was also facing a looming skills gap. "But how do you attract new people? Decommissioning is not a great brand – getting rid of rubbish, tacking oil onto that is a double whammy." The industry could counter that perception, however, he proposed, by highlighting the technical challenges of decommissioning and the fact that "not many other sectors can offer a 30 year-plus career."
Extracted Gyda platform could be re-used
Repsol has commissioned Allseas to remove and transport to shore the Gyda platform in the southern Norwegian North Sea, which the original operator BP brought onstream in 1990 in 66 m (216 ft) water depth. Allseas' Pioneering Spirit will remove the 18,000-ton topsides and 11,200-ton jacket, with an option to also take out the jacket's 32 conductors, weighing a total of 3,100 tons.
The drilling, accommodation and processing platform is still producing, in tandem with plugging of the wells. But the jacket presented a problem as it was originally fabricated by Kvaerner vertically, and could not therefore sustain loading in a horizontal position once onboard Allseas' vessel. The contractor and Repsol spent over a year considering how to move the structure and take it to the shore, and decided that it could be transported in a near-vertical position (60°) using the vessel's unique jacket lifting system.
Removal could take place any time from 2021 onwards and Kvaerner will dismantle and recycle the two structures at its specialist site in Stord. However, there is also an option to preserve the facility for a potential (and unprecedented) redeployment on another Norwegian field in future, as the structures are both in good shape. •