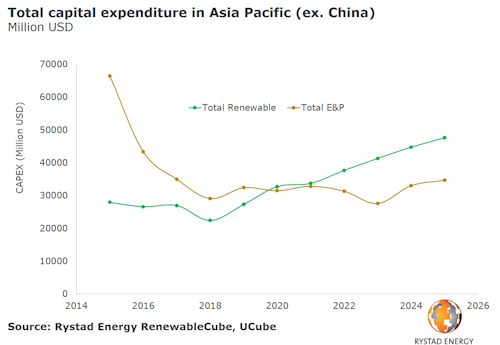 Rystad Energy RenewableCube, UCube
Offshore staff
OSLO, Norway – Renewable energy investment across Asia, but excluding China, could surpass upstream E&P spending in the region by 2020, according to Rystad Energy.
According to Gero Farruggio, Head of Renewables at Rystad, Australia, Vietnam, Taiwan and South Korea all have plans for renewable energy developments of all types, including offshore wind.
In Australia, the overall size of renewable energy projects is now over double the national electricity market, he claimed.
Presently the oil majors own just 1% of the country's solar, wind and utility storage projects, but that situation looks set to change.
"By 2020 it is feasible that the majors will be the dominant renewable developers in Australia as they pursue 'oil and gas' scale opportunities," he said. "Upstream companies will lead the charge, building sizeable utility storage, solar and – ultimately – offshore wind portfolios. Solar panels, lithium ion batteries and turbines will soon be conventional segments of Australia's oilfield services."
India too is growing investment in renewable energies, Farruggio said. "It is no surprise that Petronas and Shell have recently made moves in the Indian commercial and industrial renewables space."
05/28/2019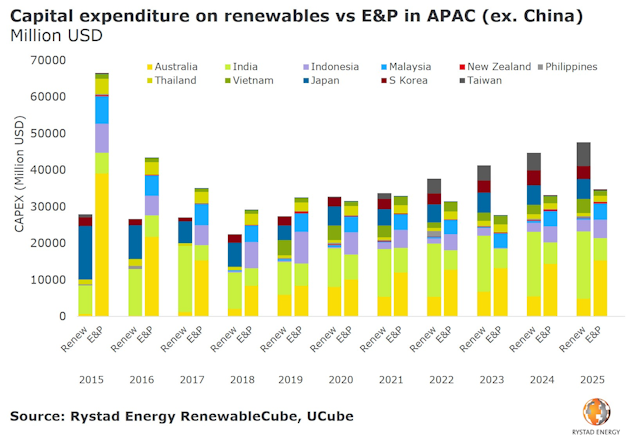 Capital expenditure on renewable vs E&P in APAC (ex. China)Rystad Energy RenewableCube, UCube