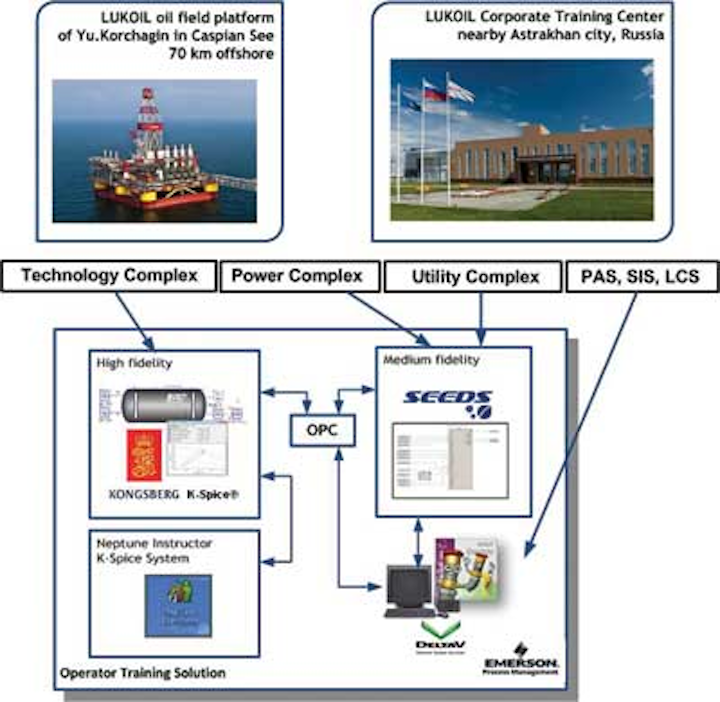 Displaying 3/3 Page 1, 2, 3
View Article as Single page
Instructor station
The instructor workstation provides an HMI for the instructor and handles instructor functions and operator evaluation. It runs Neptune Instructor, a monitoring and assessment system from Kongsberg Maritime, which is used to set up scenarios and evaluate the actions from the operators and their responses to the circumstances and scenarios given by the instructors.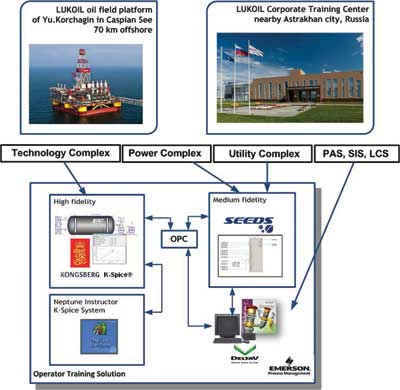 Integration of the complex process model into the LUKOIL facilities.
Project execution and schedule
The project was implemented in three stages. Stage 1, which ran from November through December 2011, was devoted to input data collection and project design. Project data was collected and analyzed in detail, and missing data identified. The initial design was then developed and sent for approval.
Stage 2, which covered the technology and power complex, ran from January to September 2012. It included the development of the Technology Complex model in K-Spice, the development of the Power Complex model in SEEDS, the transfer of copies of the DCS/SIS configuration and operator screens to OTS and field operator screens, system integration, and the model acceptance test.
Stage 3, which ran from October to December 2012, covered the utility complex and training organization. It included development of the utility complex model in SEEDS, development of scenarios and training courseware and trial operation and site acceptance.
Organization of training
A typical training class consists of an instructor at the instructor workstation to load training scenarios and conduct the session, while at the five operator workstations might be a shift lead, a senior operator, a production operator, a power operator and a field operator. The training instructor can choose among 29 customized shift training scenarios ranging from alarm reaction training to full-scale platform startup, and can configure and modify scenarios and introduce events and malfunctions as needed. Trainees are provided with scenario-based courseware to study, and their performance is automatically evaluated in the Neptune Instructor system.
Key success factors
A number of factors contributed to the success of the project. All needed input data was available from both LUKOIL and Emerson, and starting to collect that data early in the project allowed time for data analysis and mining. Similarly, starting early on the task of integration tests resulted in seamless integration. The engineers involved were well experienced; both the project manager and the DCS/SIS engineer participated in the Korchagin DCS project and know the system well. The Emerson and Kongsberg offices collaborated extensively. And the LUKOIL instructor and chief engineers provided their full support and expertise.
Results and future plans
The training system was successfully delivered to the LUKOIL Corporate Training Center on time, on budget, and in full scope. LUKOIL operating and engineering staff are now trained in a realistic environment onshore before going offshore. The system has proven to be a high-fidelity solution for both staff training and engineering studies, with scenario-based courseware and evaluation for various training levels – from beginners to experienced operators. Operators and engineers gain increased knowledge, and on-site operational safety is improved.
The OTS has made possible an expansion of LUKOIL Corporate Training Center offerings with offshore oil production training. The system will support the company's operations at the Yuri Korchagin field throughout the platform lifecycle, and the training facility will support operations at new oil fields as they are developed in 2015 through 2017.
The authors
Ilya Fotin is the Chief Metrologist, Chief of Automation and Metrology department of LUKOIL-Nizhnevolzhskneft, LUKOIL Oil Co., Russia, with 25 years of experience in the oil and gas industry. He began his career as a control instrumentation technician at oil production facilities in Perm region. His further career included the positions of chief technician, the head of laboratory and the head of automation, IT and communications department in LUKOIL-Perm branch of LUKOIL Oil Co. In 2004 he moved to LUKOIL-Nizhnevolzhskneft (North Caspian Region) where LUKOIL began development of its offshore oil production facilities. He participated in development of the Yuri Korchagin oil field and was responsible for the development, commissioning, and operation of the instrumentation, automation, control, and safety systems at the offshore oil production platform and FSO. His current responsibilities include supervision of the operation of instrumentation and automation as well as participation in the development of further offshore facilities at the oil fields in the North Caspian Region. He can be reached atilya.fotin@lukoil.com.
Viacheslav Kulikov is senior consultant and group leader of Strategic Services CIS, Emerson Process Management with six years of experience in industry and five years in academia. He has a Ph.D. from RWTH Aachen University, Germany. Following the graduation he started his career at Emerson Process Management as advanced process control engineer. Starting from 2011 he became a lead engineer for advanced process control and operator training simulator projects. In 2013, he was promoted to senior consultant position and became responsible for development of Strategic Services CIS group of experts in advanced solutions in process automation. He can be reached atviacheslav.kulikov@emerson.com.