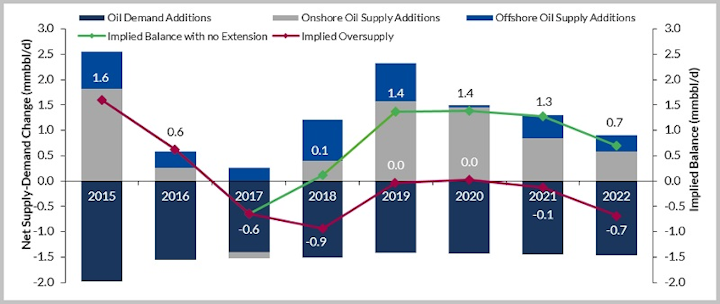 Offshore staff
LONDON – Westwood Global Energy Group's latest Upstream Investment Outlook (1Q 2018) suggests a dramatic shift in the oil market over the past 12 months.
Offshore ordering has benefited from the higher oil price, with 15 newfloating production systems ordered last year.
However, the lack of sanctioning activity since the downturn will likely lead to a shortfall in project executions early in the 2020s, the analyst warned.
It believes the oil market will develop a sustained undersupply from 2021, accompanied by high oil prices and a surge in sanctioning of new, fasttracked projects.
Advances in electric vehicles, renewables, and battery technologies appear unlikely to address the oil supply shortfall, but take-up may grow in the longer term – in which case, the oil and gas market will have to continue to adapt to a changing energy landscape, Westwood suggests.
Key conclusions of the report include:
A further -0.9 MMb/d oil market correction during 2018.
Saudi Arabia's production strategy after the ~5% IPO of Saudi Aramco remains unclear.
US shale production, already more than 10 MMb/d, set to reach 11 MMb/d by 2019.
A further 16 floating production systems are set to be ordered this year, in addition to the one already ordered.
Brent prices are outperforming industry consensus ($60/bbl 2018 average).
$1.7 trillion of upstream capex during 2018-2022.
02/08/2018