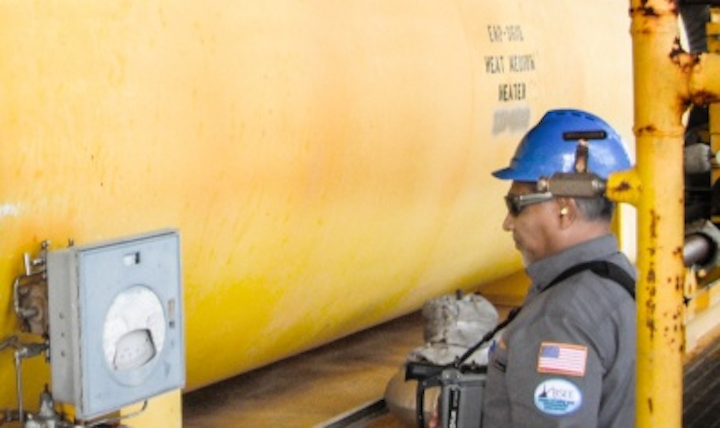 Offshore staff
NEW ORLEANS – The Bureau of Safety and Environmental Enforcement (BSEE) has released a Safety Alert highlighting the findings of BSEE's Gulf of Mexico-wide inspection effort under its Performance-Based Risk Inspection pilot along with recommendations. The alert included recommendations designed to reduce risks related to gas release hazards.
During a 2016 review of BSEE's oversight of offshore oil and gas operations, the Government Accountability Office found that the bureau had been unsuccessful in implementing a risk-based inspection component as part of its inspection program. In his first 90 days at the helm, August 2017, BSEE Director Scott Angelle instructed Gulf of Mexico regional staff to complete the pilot with the goal that risk-based inspections implementation would become a reality in 2018.
"There are great safety benefits to having a full cadre of inspection protocols to manage operational risk," explained Angelle. "I saw the critical need for the smart tools necessary to ensure an effective inspection strategy and this protocol helps deliver added safety for all offshore operators."
The pilot began with BSEE engineers reviewing recent compliance and incident data across the Gulf of Mexico Region to pinpoint areas where the offshore oil and gas industry faced systemic, or widespread, similar issues. One area identified for a closer review was gas release hazards. BSEE conducted these targeted inspections on both production and well operations.
"Having witnessed the Gulf of Mexico staff's efforts in completing this pilot, I am confident that BSEE will be able to achieve the goal of integrating a risk-based inspection protocol in 2018," said Angelle. "Having this risk-based inspection protocol as part of BSEE's strategy will move us further down the road toward safe and environmentally-sustainable operations."
As part of the protocol development, BSEE engineers analyzed recent compliance trends and incident data to plan specific inspection targets.
Lars Herbst, BSEE Gulf of Mexico Region Director, said that: "With the data we are capturing, it makes sense for us to analyze the information and look for opportunities to improve safety. Because gas releases can be significant safety risks, BSEE selected those incidents, developed a protocol for those inspections and conducted those targeted inspections during the pilot."
The risk-based inspection protocol will be integrated into BSEE's overall inspection strategy, with the first risk-based inspection scheduled for 2Q 2018.
01/08/2018