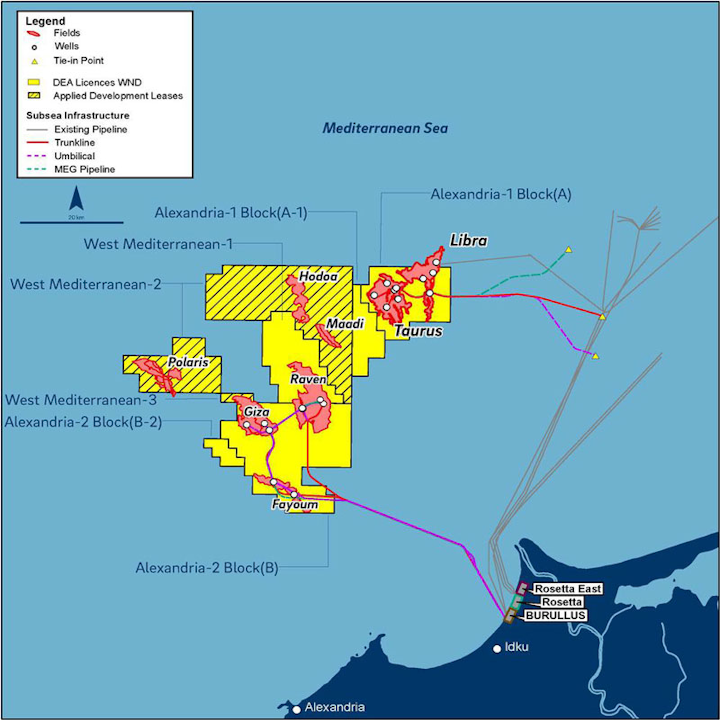 Offshore staff
CAIRO, Egypt – Gas production has started from the Miocene Taurus and Libra fields in the Mediterranean Sea, under the first phase of the West Nile Delta development.
Operator BP says start-up was eight months ahead of schedule with the program coming in under budget.
First gas was exported to Egypt's national grid on March 24 and commissioning of all the two fields' nine wells has been completed, as has ramp-up to stable operations.
The West Nile Delta development takes in five gas fields across the North Alexandria and West Mediterranean deepwater offshore concession blocks.
When fully onstream in 2019, combined production from both projects should be about 1.5 bcf/d, equivalent to around 30% of Egypt's current gas production.
Following approval for the program in 2015, development of the first phase was fasttracked to facilitate delivery of more than 600 MMcf/d to the Egyptian grid. Taurus and Libra are currently producing more than 700 MMcf/d of sales gas and 1,000 b/d of condensate.
The six wells on Taurus and three on Libra are tied back 42 km (26 mi) via subsea facilities to an existing onshore processing plant where gas enters the national grid via a nearby export pipeline.
The second-phase development of the PlioceneGiza, Fayoum, and Raven fields is also ahead of schedule and below budget. Here 12 wells are being drilled with two deepwater long-distance subsea tiebacks to the shore.
Fluids will be processed at the Rosetta onshore plant which is being modified for Giza and Fayoum and integrated into a new adjacent onshore plant for Raven. Production from these fields should start in 2019.
Germany's DEA has a 17.25% working interest in the North Alexandria and West Mediterranean deepwater concessions with BP being the operator and owner of the remaining share.
05/11/2017