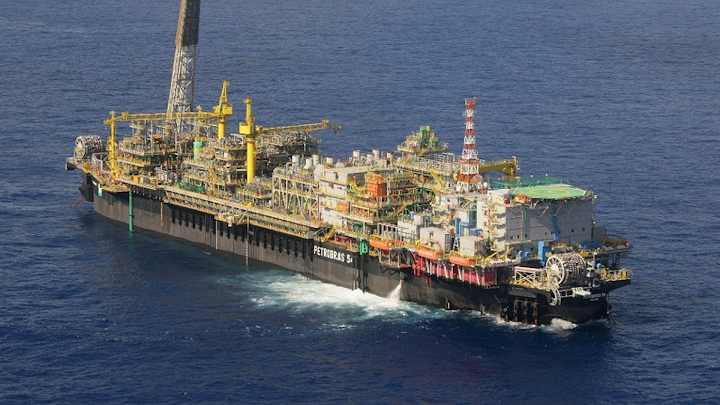 Offshore staff
STAVANGER, Norway – Statoil will acquire a 25% interest from Petrobras in the Roncador oil field in the Campos basin offshore Brazil, for an initial payment of $2.35 billion.
Additional contingent payments of up to $550 million could follow.
The transaction will virtually triple Statoil's production in Brazil, with the partners looking to also apply Statoil's experience in improved oil recovery (IOR) from its projects offshore Norway, and Petrobras' deepwater presalt expertise at Roncador and elsewhere.
According to Statoil, Roncador was the largest discovery off Brazil in the 1990s and is currently the third largest producing field in Petrobras' portfolio. In place reserves are around 10 Bboe, with remaining recoverable volumes estimated at more than 1 Bboe.
Production started in 1999, with output last month averaging around 240,000 b/d plus around 40,000 boe/d of associated gas.
The transaction will raise Statoil's production in Brazil by around 175% to 110,000 boe/d from roughly 40,000 boe/d at present. Petrobras will retain operatorship with a 75% interest. The companies aim to increase the recovery factor by at least 5%, lifting remaining recoverable volumes above 1.5 Bboe.
Currently the two companies are partners in 13 areas in either the exploration or production phase, 10 of which are in Brazil. Statoil currently operates thePeregrino oil field and block BM-C-33, both in the Campos basin, and the BM-S-8 block in the Santos basin.
Around 3,000 Statoil employees worldwide work on initiatives related to IOR. Representatives from both companies will oversee IOR collaboration.
Statoil and Petrobras have also agreed that Statoil will have the option to use part of the capacity at Petrobras' Cabiúnas natural gas terminal to allow for the future development of BM-C-33, where Petrobras is a partner, and which contains the Pão de Açúcar discovery.
Asset

Location

Interest

Status

Peregrino field

Campos basin

60% (operator)

Production at around
70,000-80,000 b/d

Reserves of 300-600
MMbbl of oil

Peregrino Phase II

Campos basin

60% (operator)

Construction

Production from 2020 at around
60,000 b/d

Reserves of around 255 MMbbl of oil

Roncador field

Campos basin

25% following
this transaction

Production at 280,000 boe/d

Block BM-C-33 including the
Pão de Açúcar discovery

Campos basin

35% (operator)

Evaluation/development

Around 1 Bboe in recoverable
reserves.

Ten exploration blocks

Espírito Santo basin

Six operated by Statoil

Exploration

Block BM-S-8 comprising the Carcará
discovery and exploration prospects    

Santos basin

36.5% (operator)*

Appraisal

Carcará North block

Santos basin

40% (operator)

Licence awarded and contract
to be signed.

Apodi solar project

Quixeré, Ceará State

43.75%

Under construction
Pending the closing of transactions with partners which are subject to certain conditions, including government approvals (interest in BM-S-8 is currently 76%).
12/19/2017