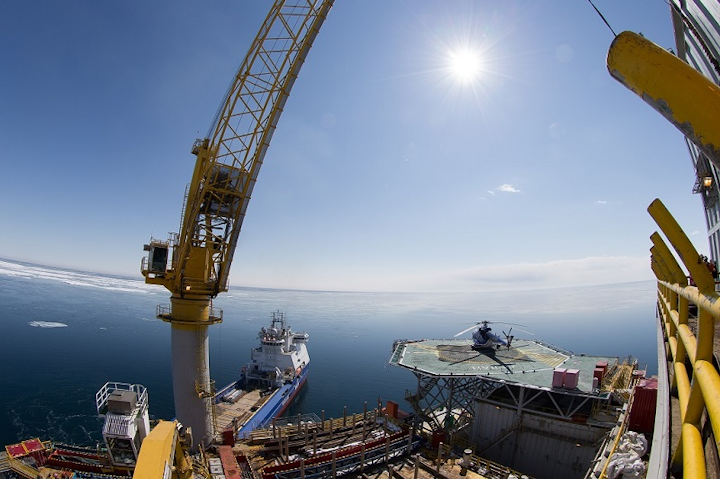 Offshore staff
MOSCOW – Sakhalin-1 consortium member Rosneft has successfully completed drilling a well from the Orlan platform at Chaivo field in the Sea of Okhotsk, Russia.
Said to be the longest in the world, the length of the well with horizontal completion is 15,000 m (49,212 ft) with directional drilling index of 8.0 and a stepout of 14,129 m (46,355 ft).
This latest record comes two years after theSakhalin-1 Consortium said it had drilled the world's longest well to date at the Chayvo field offshore Sakhalin Island. That well (the O-14 production) was drilled in April 2015 with a measured depth of 13,500 m (44,291 ft), with a horizontal reach of 12,033 m (39,478 ft).
Sakhalin-1 is one of the first large-scale offshore projects in Russia that comprises three offshore fields: Chaivo, Odoptu, and Arkutun-Dagi. Rosneft holds 20% interest in the project, while the remaining stake is with ExxonMobil (30%), SODECO (30%), and ONGC Videsh (20%).
The Sakhalin-1 extended reach drilling program used 'Fast Drill' technology that combines high-quality modeling of physical parameters along with a structured approach to well design to ensure faster drilling.
Chaivo, northeast of the Sakhalin shore, is in water depths between 14 m and 30 m (46 ft and 90 ft).
The water depth around the Orlan platform is 15 m (49 ft) with the nearest shore being 5 km (3 mi) away.
The platform was completed in July 2005 and drilling started in December of that year. It comprises minimum structures for crude processing as all produced oil is transported to the Chaivo onshore processing facility. The Orlan steel and concrete structure is capable of withstanding ice and icepacks with the height of a six-story building.
11/21/2017