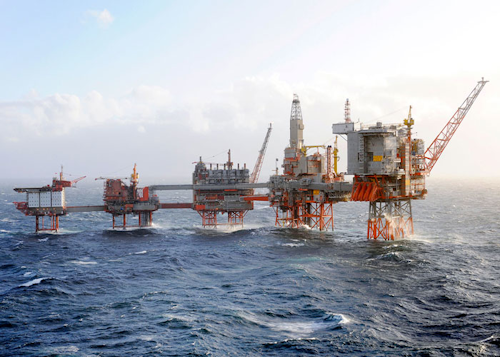 Offshore staff
LYSAKER, Norway – The Valhall and Hod fields in the southern Norwegian North Sea have produced more than 1 Bboe, according to operator Aker BP.
This is more than three times what previous operator BP anticipated whenoperations started at Valhall in 1982, and 15 years ahead of the target for this milestone when the facilities underwent a life extension exercise in 1995.
Valhall's oil and gas comes from chalk reservoirs up to 2,500 m (8,202 ft) subsurface. The field was discovered in 1975 and put into production eight years later via a process/production platform, a drilling platform, and an accommodation platform.
Operations from the new process/accommodation platform began in January 2013.
Currently theValhall complex comprises six bridge-linked steel platforms and two unmanned flank platforms to the south and north, both around 6 km (3.7 mi) from the field center.
Last year, average production was about 45,000 boe/d, with 55 of the 150 wells drilled to date currently in service. To support production, BP has commissioned 18 seismic 4D seabed surveys over the field since 2003.
Eldar Larsen, senior vice president of Operations at Aker BP, said: "Our new ambition is to further produce at least another 500 MMboe."
Hod is a normally unmanned wellhead platform remotely controlled from Valhall, 13 km (8 mi) away, and was the North Sea's first unmanned platform when production started in August 1990.
Production from this platform ceased in 2012, and Aker BP has submitted a decommissioning plan to Norway's Ministry of Petroleum and Energy.
Today the Hod license produces from wells drilled from the Valhall Flank South platform.
01/05/2017