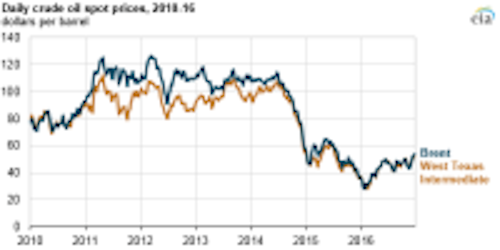 Offshore staff
WASHINGTON, D.C.– The US Energy Information Administration (EIA) determined the annual average WTI crude price in 2016 was $43/bbl, ending the year at $53/bbl.
Although 2016's price was down $5/bbl overall from 2015, WTI ended the year at $16/bbl higher than at the end of 2015. Similarly, Brent ended the year up $17 from the end of 2015, at $54/bbl, but the 2016 annual average of $44/bbl was $8 below the 2015 average.
Despite robust demand for petroleum products, relatively high production and inventory levels provided downward pressure on crude oil prices throughout most of 2016, the EIA said in today's (Jan. 4) note.
According to the EIA,OPEC's recent agreements to curb production over the next six months and additional pledges by some key non-OPEC producers put upward pressure on prices at the end of 2016, as markets appear to be anticipating tighter balances than previously forecast.
At the OPEC meeting in November, member countries agreed to reduce production by approximately 1.2 MMb/d from an October baseline tolower OPEC's production ceiling to 32.5 MMb/d beginning Jan. 1, 2017. Non-OPEC countries met following the arrangement and agreed to cut production by 558,000 b/d, with Russia making the largest cuts of around 300,000 b/d.
The EIA also found that US crude oil production was lower in 2016 than in 2015 by more than 500,000 b/d using estimates from its December "Short-Term Energy Outlook." The decrease was driven by reductions in Lower 48 onshore production, with an estimated decline in production from 2015 to 2016 of nearly 700,000 b/d.
Despite the decline,crude oil production is forecast to average 8.9 MMb/d in 2016, the second highest level since 1985.
The Brent-WTI price spread averaged less than $1/bbl in 2016, significantly less than the 2015 average spread of $3.45/bbl.
Internationally, EIA estimates that total OPEC crude oil and other liquids production increased 3% to 39.3 MMb/d in 2016.
01/04/2017