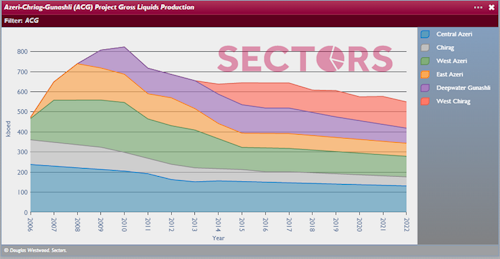 Offshore staff
FAVERSHAM, UK – Douglas-Westwood (DW) says the recently signed letter of intent between the BP-operated AIOC and SOCAR concerning continued development of the Azeri-Chirag-Gunashli (ACG) project in the Caspian Sea is critical to the future of Azerbaijan's hydrocarbons industry.
Production started in 1997 and peaked in 2010 at 823,000 b/d, but fell back to 644,000 b/d during the first nine months of 2016 – short of the 1 MMb/d third-phase production target.
This was due to a faster than expected decline at the East and West Azeri fields, and in spite of the start-up ofWest Chirag in 2014.
Under last month's agreement development of the project will continue through 2050. Over the short term, DW expects production from ACG to be flat, with natural continuing post-2017, despite additional production capacity from new fixed platform installations around the end of the decade.
Over the long term, the analyst adds, the agreement will be essential to maintaining the viability of the project and Azerbaijan's oil industry as a whole, with limited oil discoveries in the Azeri sector in recent years.
Gas and condensate offer better prospects for growth.BP's Shah Deniz Phase II is due to come onstream in 2018 and will ramp up over the course of the following three years to 120,000 b/d of condensate and 289,000 boe/d of gas as the Trans Adriatic Pipeline enters service in 2021.
More gas and condensate should come fromTotal's offshore Absheron project, the subject of a development agreement in November 2016.
SOCAR's geologists have said that as yet unexplored reserves in the Caspian Sea are more likely to contain gas rather than oil, DW adds.
01/09/2017