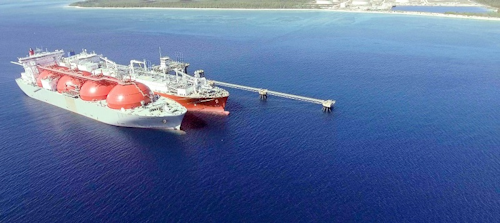 Offshore staff
GRAND BAHAMA, Bahamas– On Feb. 7, 2019, Excelerate Energy L.P. and Equinor Energy AS completed the first-ever ship-to-ship (STS) transfer of LNG in the Bahamas.
Using Excelerate's FSRUExemplar and Equinor's LNG carrier Arctic Voyager, a full LNG cargo was transferred using the double-banked LNG transfer system while moored at Equinor's South Riding Point storage and transshipment terminal.
Chief Commercial Officer Daniel Bustos said: "Excelerate conducted the industry's first commercial STS transfer of LNG in 2007, and since then, STS transfers have been completed and proven safe in a wide range of environments, now including the Bahamas."
On Feb. 3, 2019, Excelerate completed its 1,500th commercial STS transfer at the Engro Elengy Terminal in Port Qasim, Pakistan.
To date, the company has transferred more than 170.1 MMcm of LNG using its STS protocol. Also, of the 1,500 operations, more than 1,300 have been with third-party vessels.
02/15/2019