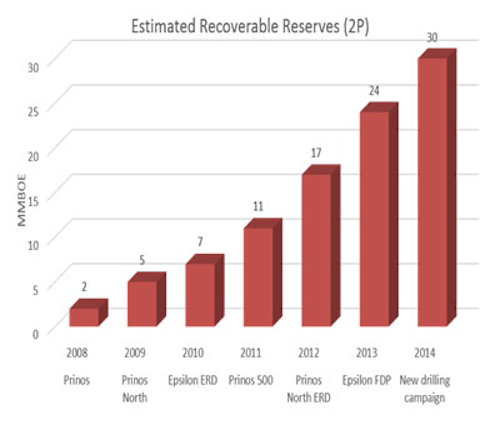 Offshore staff
ATHENS, Greece – Energean Oil & Gas has raised its estimate of recoverable oil at its fields in the Gulf of Kavala offshore northeast Greece by more than 10% to more than 30 MMbbl.
According to ERC Equipoise's Competent Persons Report, the main Prinos oil field holds 11.9 MMbbl recoverable, Prinos North has 3.4 MMbbl, while the Epsilon field has 15 MMbbl recoverable.
The upgrade follows an assessment of data obtained from an ongoing study of the three fields; reprocessing of a seismic survey; and information obtained duringdrilling of two wells on Prinos that Energean completed during fall 2013.
While Prinos and Prinos North are mature fields, ERC said, there is scope for lifting production through infill drilling and side tracks to target by-passed oil; recompletion, and/or additional perforations of existing wells on un-drained sands; optimization of the distribution of lift gas; and optimization of water injection for pressure support and improved reservoir sweep.
Additionally, Energean's phased development plan forEpsilon should lead to more oil production from this field.  
Mathios Rigas, Energean's chairman and CEO, said: "The recoverable reserves (2P) in 2007, when Energean obtained the Prinos licenses, were estimated at just 2 MMbbl of oil and an end to its production seemed both inevitable and immediate.
"Now, production from the Gulf of Kavala will continue for at least a further 15 years, and we will be announcing the detailed investment program in Kavala shortly, which will safeguard jobs and local economic growth. The continued production at Kavala is the result of a €180-million ($244-million) investment by Energean over the last seven years, and the dedicated efforts of our technical and operational team."
06/26/2014