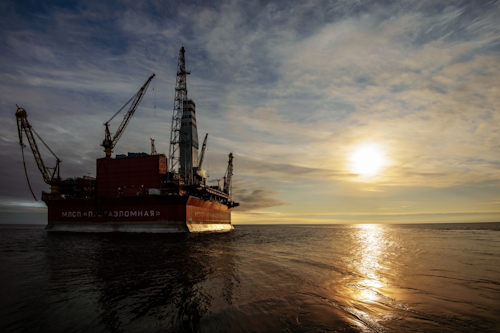 Offshore staff

MOSCOW– Prirazlomnoye field has produced its millionth barrel of oil. A second tanker is currently being loaded.
A further two tankers will transport around 1 MMbbl of oil from the Prirazlomnoye field before the end of the year. In total, 2.2 MMbbl are expected to be produced at Prirazlomnoye in its first year.
Prirazlomnoye is the world's first project involving oil extraction on the Arctic shelf by means of a stationary platform. Extraction as part of pilot production began in December 2013. The new Prirazlomnaya offshore, ice-resistant, stationary oil production platform was developed for this field to facilitate all technical operations, including drilling, extraction, oil storage, preparation, and shipping.
One production well has been drilled and an injection well should be completed soon. There are plans to complete the main drilling work for an absorption well by the end of 2014. Four more wells are to be drilled in 2015. In total, the project will involve the commission of 36 wells, comprising 19 production wells, 16 injection wells, and one absorption well.
The Prirazlomnoye is 60 km (37 mi) offshore in thePechora Sea. Recoverable reserves of oil at the deposit are in excess of 70 MM metric tons (77 MM tons). Gazprom Neft Shelf LLC is the project operator and subsurface license holder.
09/17/2014