Offshore staff
GORINCHEM, the Netherlands – A gas production platform and associated piles have sailed out of Rotterdam Harbor, bound for GDF Suez's G16a-B field in the Dutch North Sea.

Mercon constructed the 1,250-metric ton (1,378-ton) topsides at its yard in Gorinchem. It then headed west to Rotterdam, stopping to pick up the 950-mt (1,047-t) jacket which Mercon had subcontracted to Nami, based in Ridderkerk.

The topsides were built in eight months - the short fabrication time was a pre-condition of the contract, as GDF SUEZ wished to install the platform this summer.

The platform now heads to block G16, 80 km (50 mi) north of the Dutch island Terschelling, where installation will start shortly.

According to Willem Griffioen, Mercon's managing director: "Building such a platform usually takes between 12 to 14 months…While Mercon already started building the platform, the power module for the cellar, mezzanine, and main decks was still to be supplied and integrated in the platform which was another of the challenges we faced."

Once the platform is installed, it will be connected to GDF SUEZ's G17d-AP platform via a 14-in. (35-cm) pipeline and a 2-in. (5-cm) piggy-back pipeline.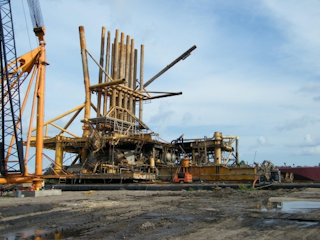 The gas production platform sails toward GDF Suez's G16a-B field in the Dutch North Sea.


07/21/2011