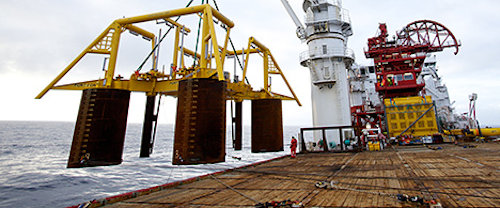 Offshore staff
STAVANGER, Norway – Production has started from Statoil's (OSE:STL; NYSE:STO)Vigdis North East oil field in the southern North Sea. Vigdis is the third project in Statoil's fasttrack program. 
Thefield development consists of a subsea installation comprising a template with four wells tied back to the existing Vigdis facility on Snorre A for processing. Total investment costs for the development are around NOK 4.3 billion ($751 million). The Vigdis North-East volumes are calculated at around 37 MMboe
Vigdis is in the North Sea, 7 km (4.4 mi) southeast of the Snorre A platform. The water depth is 290 m (951 ft.) and the reservoir is 2,600 m (8,528 ft.) below the seabed.
The partners are Statoil (operator, 41.5%), Petoro (30.0%), ExxonMobil (16.1%), Idemitsu (9.6%), and RWE Dea (2.8%).
"The project adds new and valuable volumes for Statoil and its partners, and we have managed to meet the ambitious schedule and cost frames for this type of fasttrack developments," says Edvin B Ytredal, head of Snorre, Tordis, and Vigdis production.
3/11/2013