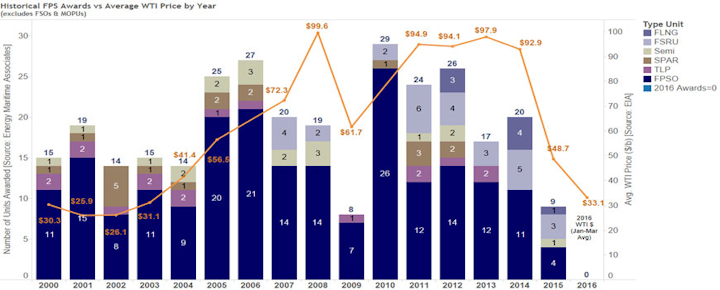 Offshore staff
SINGAPORE – In its 2Q 2016 Floating Production Systems Report, Energy Maritime Associates (EMA) reviewed and analyzed the market for floating production systems, including FPSOs, FLNGs, FSRUs, TLPs, spars, semisubmersibles, FSOs, and MOPUs.
Some of the key points from the report include:
Zero floating production systems have been awarded so far in 2016. No production units were awarded in 4Q 2015. The last orders for production units were placed in July 2015. These includedShell's Appomattox semisubmersible, Golar's third speculative FLNG, and Golar's fourth speculative FSRU.
11 units have been delivered in 1Q 2016: five FPSOs, two TLPs, three oil FSOs, and one LNG FSO.
Production of eight offshore fields have been, or will be, suspended in 2016. Four of these fields are being shut-in earlier than expected and involve the following FPSOs:Armada Claire, Petrojarl Varg, OSX 3, and Aoka Mizu. Termination for two of these FPSOs is without compensation, which is rare. Bumi Armada is disputing Woodside's termination of the Armada Claire, which was being leased through 2018.
The report also notes that the FPS backlog is decreasing, with the first major decline seen since 2013. The orderbook had been relatively stable at 62-65 units since 4Q 2013, but dropped by 11% in 1Q 2016. Declines are expected to continue as deliveries outpace orders. Eighteen deliveries are scheduled by the end of 2016, but a few may be delayed. By 2017, EMA expects the backlog to drop below 40 units, a level last seen in the 2009 downturn.
The report also commented on the record number of available units. It noted that 35 units are idle without contracts – 24 FPSOs, seven production semis, three FSOs, and one MOPU. Many of these units will eventually be scrapped; while a few may be redeployed as early production systems, or redeployed on short-to-medium term contracts on marginal fields.
EMA says it has identified 27 floating production units most likely to be removed from service over the next 12-20 months. These units are roughly split between leased and owned units with one-third of them operating in the North Sea. Fourteen units have been in service more than 15 years and are likely to be scrapped. Twelve of the units have been in service less than 10 years and many of these units will be laid-up while seeking new contracts.
EMA projects that there will not be much construction activity this year, and what little activity there is will only occur toward the end of the year.
The report also notes that oil prices and costs need to be in balance, since there is a strong correlation between oil prices and FPS awards. However, capital and operating costs also play a large role as explained by EMA's analysis of the relationship between FPS awards, oil prices, and costs. Costs have decreased sharply, but not as much as oil prices. Therefore, the report notes that costs must decline further and/or oil prices must rise before a true recovery can take hold.
With regard to possible awards, EMA says it has identified 28 projects with the highest chances of award by 2017. FPSOs account for over half of the possible projects, with FLNG, FSRU, semi, TLP, FSO, and MOPU contracts also potentially to be awarded.
According to EMA's Managing Director David Boggs, "There has been little to cheer about in the floating production market. No orders have been placed since July 2015. There are 35 units available and another 27 may be demobilized over the next two years. For the first time, we are seeing projects regressing through the planning pipeline as projects do not achieve FID, such as Browse, Chissonga, and Cameia.
"Very little is expected to change until costs and oil prices re-align. However, things are starting to move in the right direction. Oil prices have increased from record lows while operating and capital costs have continued to decline. Well-funded oil companies are waiting for the right time to place orders. We are currently tracking 240 projects in the planning pipeline, including a handful that could be awarded by end 2016 and more into 2017-2018."
04/20/2016