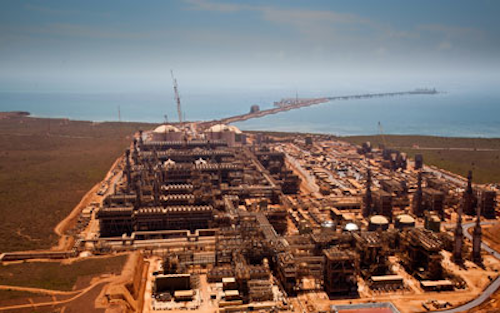 Offshore staff
PERTH, Western Australia – Chevron Australia Pty Ltd. has temporarily halted LNG production at the Gorgon project on Barrow Island offshore northwest Australia due to mechanical issues with the propane refrigerant circuit on Train 1 at the plant site. The project entered production one month ago, and is now estimated to restart within 30-60 days.
The propane refrigerant circuit is a closed system used to cool natural gas supplied to the plant. Work necessary to complete the repairs is ongoing while the site team continues equipment inspection and assessment.
Based on initial findings, the repair work is of a routine nature and all the necessary equipment and material is available on site, Chevron said.
Train 1 ramp-up to full capacity is still expected to occur over six to eight months from initial start-up of the facility. Meanwhile, construction activities continue to progress on LNG trains 2 and 3 with timing not affected by the work on Train 1.
The Chevron-operated Gorgon Project is a joint venture between the Australian subsidiaries of Chevron (47.3%), ExxonMobil (25%), Shell (25%), Osaka Gas (1.25%), Tokyo Gas (1%) and Chubu Electric Power (0.417%).
Gorgon's first LNG cargo was shipped onboard the Asia Excellencea few weeks after start-up, and was delivered to partner Chubu Electric Power in Japan, noting that production peaked at nearly 90,000 boe/d.
04/08/2016
Share your news withOffshoreat news@offshore-mag.com