Deepwater TEN project approaching first oil offshore Ghana
Tullow Oil expects first production early next month at TEN, its second deepwater development project offshore Ghana.
Jul 27th, 2016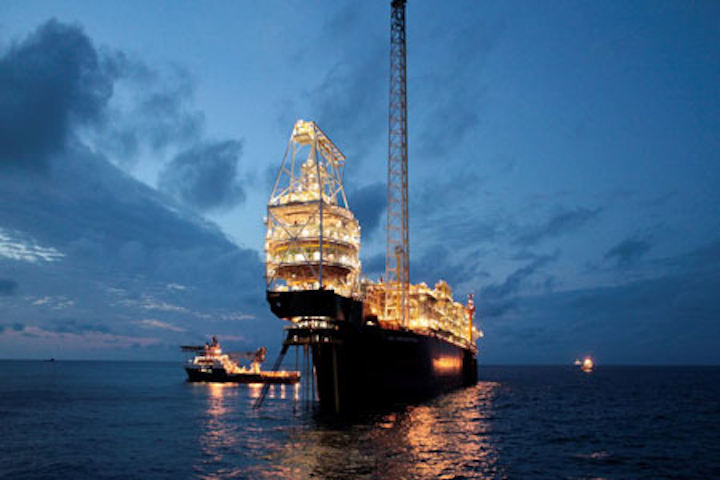 Offshore staff
LONDON – Tullow Oil expects first production early next month at TEN, its second deepwater development project offshore Ghana.
Since theFPSOProf. John Atta Mills was connected to the risers and subsea infrastructure, the integrated facilities have undergone final commissioning and testing ahead of the start-up sequence which begins with water injection to the Enyenra reservoir, followed by oil production.
This sequence will then be repeated for the Ntomme reservoir.
Eight of the 11 pre-drilled wells have been completed, with the ninth to follow this week. Total capex to first oil is within budget at around $4 billion, with forecast capex in the second half of this year of around $200 million as drilling completions continue and equipment and vessels are demobilized.
Following first oil, production should ramp up toward the FPSO's capacity of 80,000 b/d around the end of 2016 as the facilities complete performance testing and wells are brought up to optimum flow rates.
However, drilling on the three TEN fields will not resume until after the resolution of the Côte d'Ivoire and Ghana border dispute through the ITLOS tribunal – a decision is expected in 2017.
Associated produced gas will be re-injected into the Ntomme reservoir gas cap until gas export begins. Gas export is due to commence 12 months after field start-up, with the Tweneboa gas reservoir coming onstream a further 12 months later.
However, the partners are assessing options to accelerate associated gas export as fabrication of the gas export facilities is ahead of schedule and should now be completed in late 2016.
As for theJubilee FPSOKwame Nkrumah, new operating and offtake procedures involving use of a dynamically positioned shuttle tanker and a storage vessel have been working well, and Tullow expects to continue operating the field under these new procedures for the remainder of 2016.
The measures followed identification in February of abearing issue with the FPSO's turret.
Longer term, the partners plan to convert the FPSO to a permanently spread moored facility, with offtake through a new deepwater offloading buoy. The first phase of this work, which will involve installation of a stern anchoring system to replace the three heading control tugs currently on the field, should be completed around the end of 2016 and will necessitated short spells of reduced production.
The second phase of work, awaiting approval from Ghana's government, will involve rotating the FPSO to its optimal spread moor heading: this program should be finished during the first half of 2017.
Tullow estimates the total cost at up to $150 million gross, and anticipates an eight-12 week shutdown of the FPSO next year to undertake the second phase of work.
In December 2015, the company submitted theGreater Jubilee full field development plan to the government, which aims to extend field production and increase commercial reserves.
It has been redesigned, in light of lower oil prices, to reduce the overall capital requirement and allow flexibility on the timing of capital investment. Tullow expects approval for its plan during mid-2017.
07/27/2016
Share your news withOffshore at news@offshore-mag.com