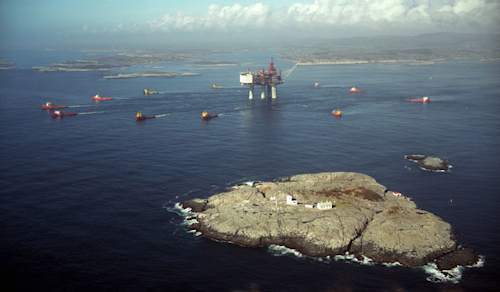 Offshore staff
STAVANGER, Norway – Statoil has commemorated 30 years of production from the Gullfaks field in the Norwegian North Sea.
This is also the first field where the company acted as both developer and operator.
Since operations started on Dec. 22, 1986, Gullfaks has delivered 2.6 Bbbl of oil via offshore loading buoys.
The name comes from "Gullblokken" (the Golden Block), as block 34/10 was known prior to its allocation in 1978. The original licensees were Statoil (85%), Nork Hydro (9%) and Saga Petroleum (6%), with the Norwegian industry accounting for nearly 80% of the total investments.
Over the years Statoil has developed various satellite accumulations in the area through the facilities.
Gullfaks South, via subsea facilities, came onstream in October 1998, with production of oil and condensate and reinjection of associated gas. Phase two started in October 2001 and comprised production and export of gas, linked to the Gullfaks A and C platforms.
Other tiebacks that followed were Rimfaks, via three subsea templates and flowlines to Gullfaks A; Skinfaks, linked to the templates on Gullfaks South; and Gimle, between Gullfaks and Visund, which is connected to Gullfaks C.
Gullfaks underwent a significant production dip in late, but output picked up after repairs to wells with compromised integrity and following water injection. The latter has been the main reason for the field's high recovery factor.
In addition, Statoil addedsubsea wet gas compression late last year to accelerate gas production. Installation of new loading buoys in 2014 was one of various schemes that should extend Gullfaks' lifespan to 2040.
Elsewhere in this region, Statoil has completed an investigation into a small fire on the Statfjord A platform this October.
The incident occurred in the seal oil in the loading pump transferring oil from the platform to the tanker. When the stop signal to the pump was activated, it caused fatigue fracture on the shaft inside the switch chamber where the power is connected/disconnected.
The fire was extinguished by the sprinkler system, and the investigation found that the risk of escalation was small.
However, Statoil will draw lessons from this experience to help strengthen safety on its offshore installations, pledged Øystein Arvid Håland, vp for safety and sustainability of development and production Norway.
12/23/2016