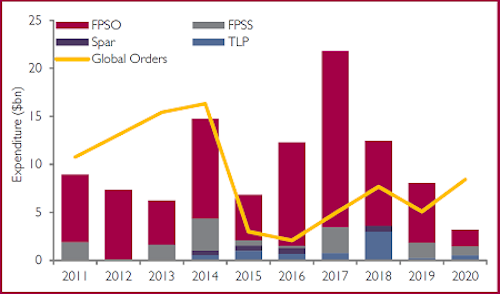 Offshore staff
FAVERSHAM, UK – As a result of improving oil prices, cheaper shipyard/module fabrication costs and re-engineered projects, the FPS market should see improvement in the second half of 2016, according to analyst Douglas-Westwood.
While no FPS units have been ordered so far this year and many projects such as theVette FPSO have been canceled, this year DW expects an FPSS to be ordered for Mad Dog Phase 2 in the US Gulf of Mexico and an FPSO for the Madura MDA/MBH project offshore Indonesia.
Expenditure on installations in the sector is expected to remain high and the analyst forecasts spend of $58 billion on FPS units between 2016 and 2020 – a 32% increase over the hindcast. Much of this capex is for units ordered before the oil price collapse with sustained high oil prices leading to the sanctioning of high capex FPS units.
The majority of spend will be in traditional high-capex regions of Latin America and Africa which account for 33% and 22%, respectively. However, beyond these regions, the analyst says spend will be diverse with Western Europe, North America, Asia, and Australasia each seeing more than 8% of total capex.
FPSOs will continue to represent the largest segment of the market with 79% of capex, TLPs and FPSSs will account for 9% and 10% of capex, respectively, and spars will account for 2%.
Despite the current lack of orders, there are still near-record backlogs to be worked through, ensuring shipyards remain active. The speed with which new orders arrive will be important and the analyst anticipates that the first order will likely lead to a spurt of other orders, as many operators wait for costs to bottom-out before ordering.
Consequently, the next few years represent a major opportunity for operators to capitalize on lower costs, DW says, while also providing manufacturers with the opportunity to move towardstandardization as the industry focuses on cutting costs. What will be vital is ensuring that the lessons learned are not forgotten should there be an unexpected increase in the oil price.
06/07/2016
Share your news withOffshoreat news@offshore-mag.com