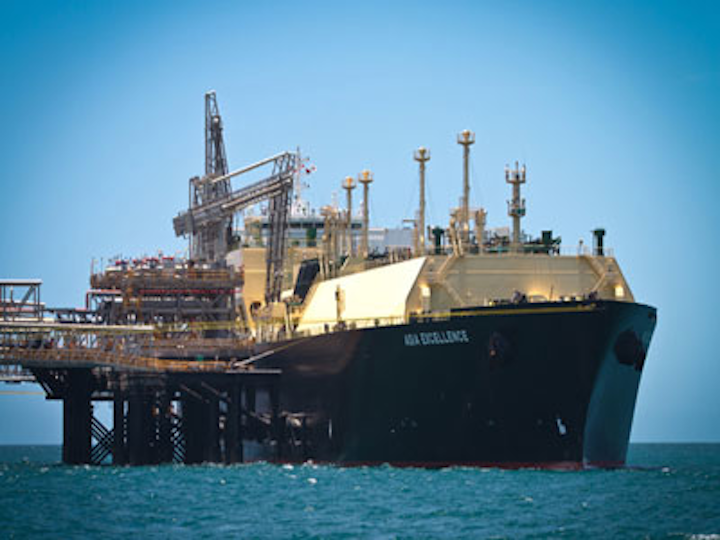 Offshore staff
SAN RAMON, California – Chevron Corp. says its first shipment of LNG from the Gorgon Project has departed Barrow Island offshore Western Australia.
The LNG cargo will be delivered by theAsia Excellence to Chubu Electric Power for delivery into Japan.
TheGorgon Project is supplied from the Gorgon and Jansz-Io gas fields, located within the Greater Gorgon area, between 80 mi (130 km) and 136 mi (220 km) off the northwest coast of Western Australia. It includes a 15.6 mtpa LNG plant on Barrow Island, a carbon dioxide injection project, and a domestic gas plant with the capacity to supply 300 terajoules of gas per day to Western Australia.
The Chevron-operated Gorgon Project is a joint venture between the Australian subsidiaries of Chevron (47.3%), ExxonMobil (25%), Shell (25%), Osaka Gas (1.25%), Tokyo Gas (1%), and Chubu Electric Power (0.417%).
Mike Wirth, executive vice president, Chevron Midstream and Development, said: "Departure of the first cargo from the Gorgon Project is a key milestone in our commitment to be a reliable LNG provider for customers across theAsia/Pacific region. This is also important for our investors as we begin to generate revenue from a project we expect will operate for decades to come."
03/21/2016
Share your news withOffshoreat news@offshore-mag.com